September 29, 2007.  The first USATF Certified (#NE07008KU) and Sanctioned sub 4 minute road mile in Nebraska history.   Omaha.  The day that re-ignited Real Racing.
The Rodeo Run.  Sending the runners off in front of the River City Round Up parade, covering the 1 mile in a hurry.  Race clocks every 1/4 mile.  One on the back of the lead truck.  Featured elite race with a promise, a boast.   I was building Team Nebraska into one of the top USATF Elite Development Clubs in the U.S.   It was time to bring in the big guns.  Sold my pitch to and became a Trail Boss with the Knights of Ak-Sar-Ben.   Linda too as Co-Race Director and a full race committee, but that is another tale.
Ryan Kleimenhagen, Rob Duncan, David Juliano, and Josh Moen.  These cats were known as some of the fastest road and track milers in the U.S.  My Mates  Shannon Stenger, Paul Wilson, Dustin Llewellyn, and Mark Hall changed the competitive landscape in Nebraska that morning.  Shook it out of a decades long doldrums.  This is their story, their contribution to what you and I enjoy today.  USATF competition at the highest levels.  In Omaha.  In Lincoln.  In Nebraska.
A sub 4 was guaranteed that morning.  The men above delivered it into the history books.
When filled in on the plan the mates were Giddy!  Shannon and Paul and Dustin trained together and like never before, hell bent.   They relished the opportunity to race a national class field on their home course.  Made it the focal point of that fall.  Turned it in to the race of their lives.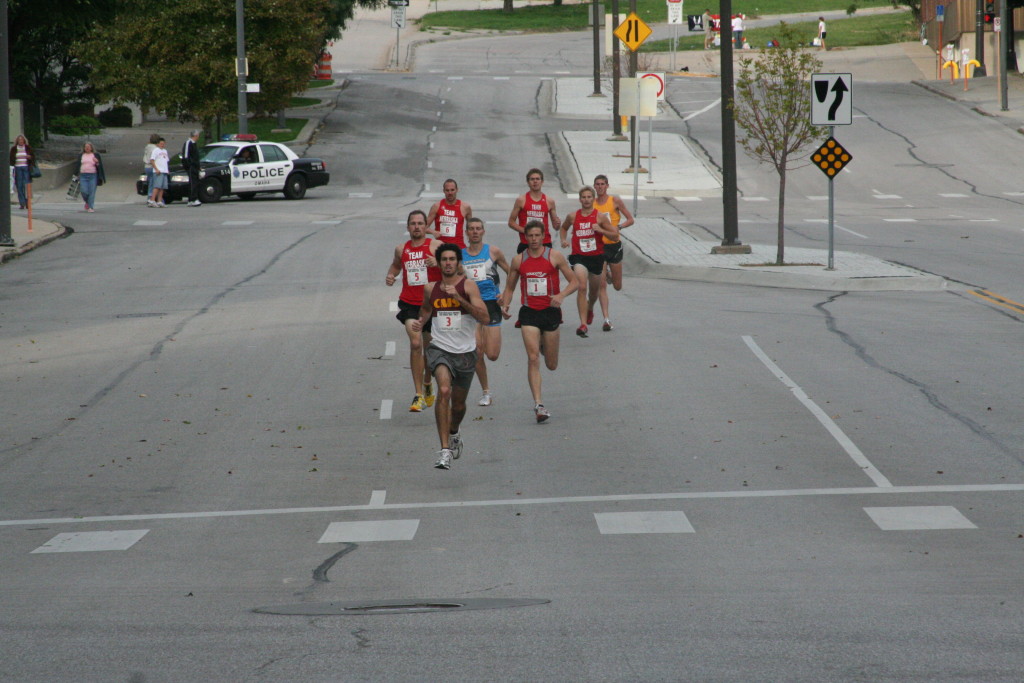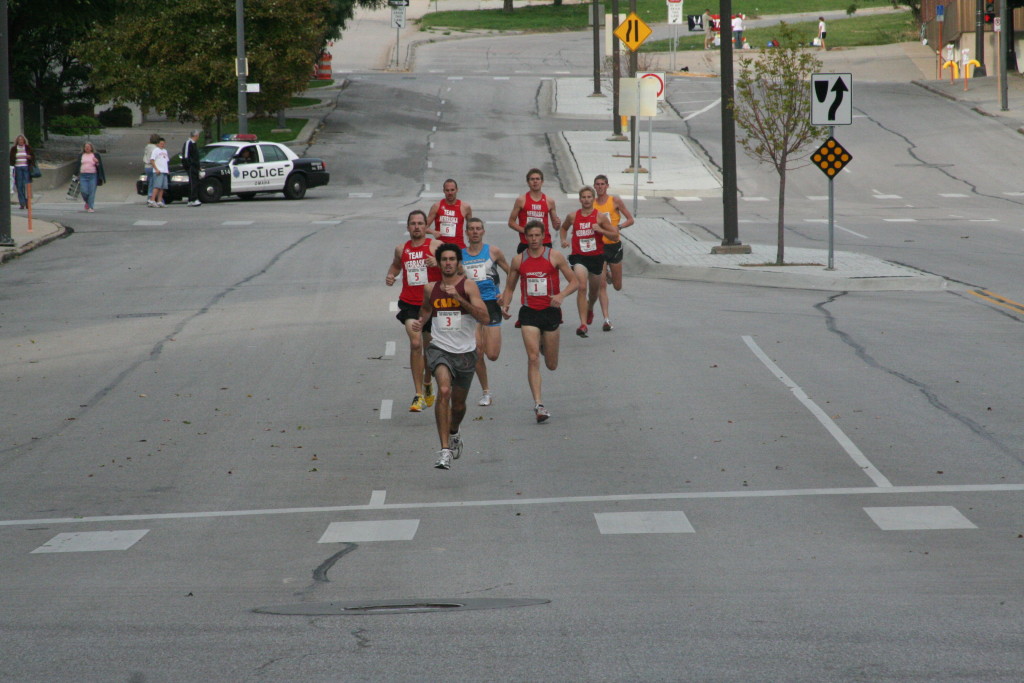 David Juliano took the lead early.  Rob Duncan in the blue.  Ryan Kleimenhagen to his right.  Shannon Stenger to Rob's left.  Dustin Llewellyn, Paul Wilson, Mark Hall, and Josh Moen in the back row.  The fastest, deepest mile in the history of Nebraska.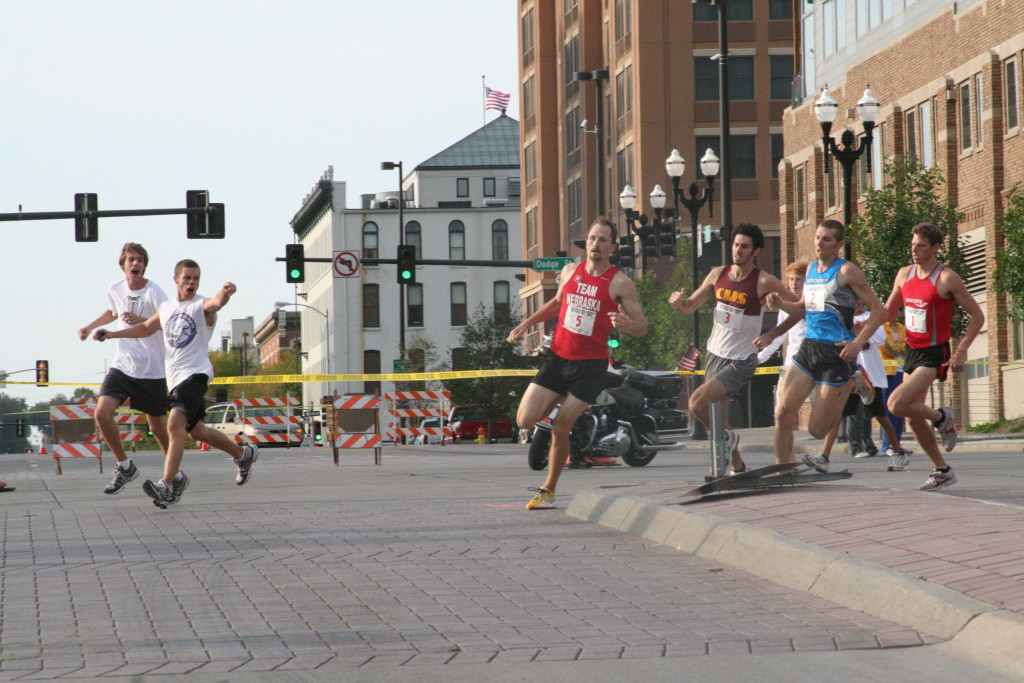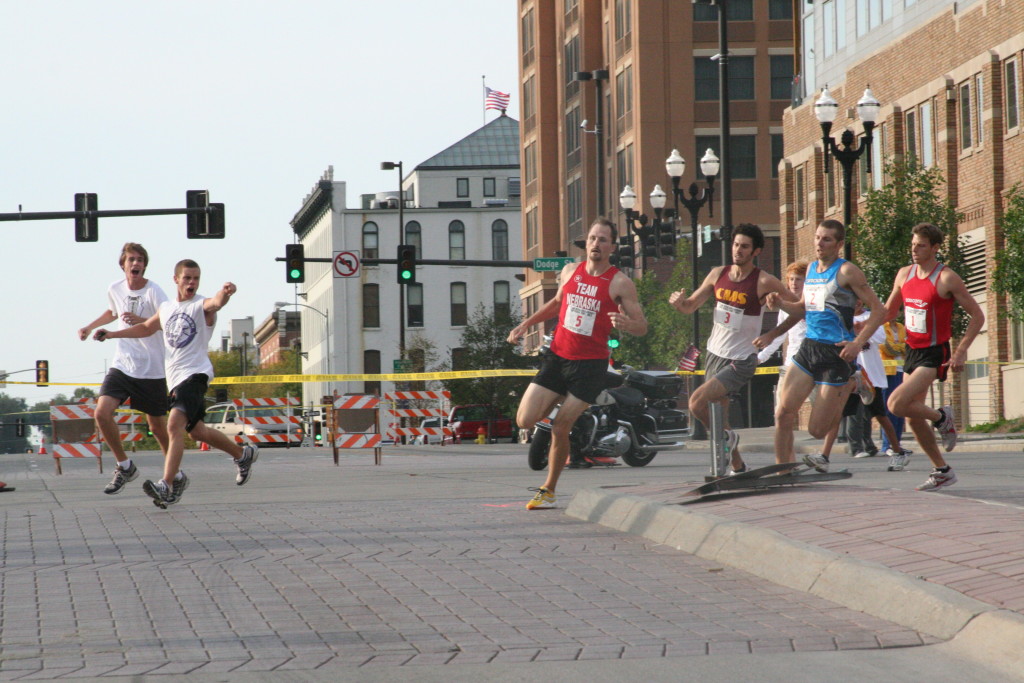 This is the exact moment that changed competitive racing in Nebraska.  A good mate leading the field into the final (only) turn on the course.  This is one of my all time favorite photos, the two lads cheering Shannon on, the future of racing in Nebraska.  I want you to study this photo and understand the courage Shannon displayed heading this national field into the final 300 meters.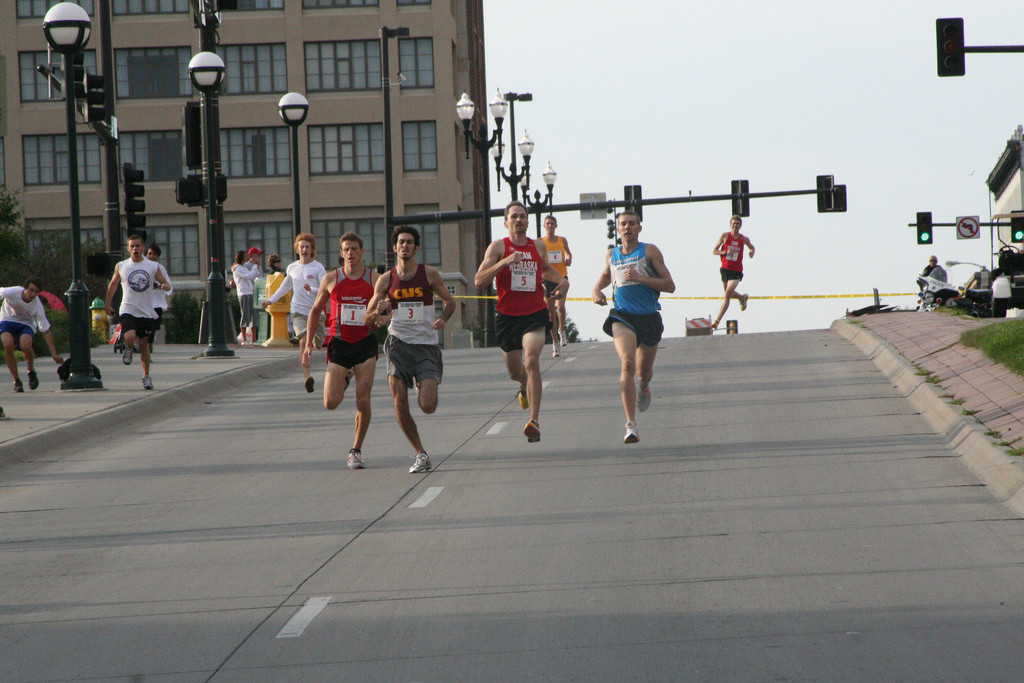 Another downhill on 10th St.  Flying into the finish and the history books!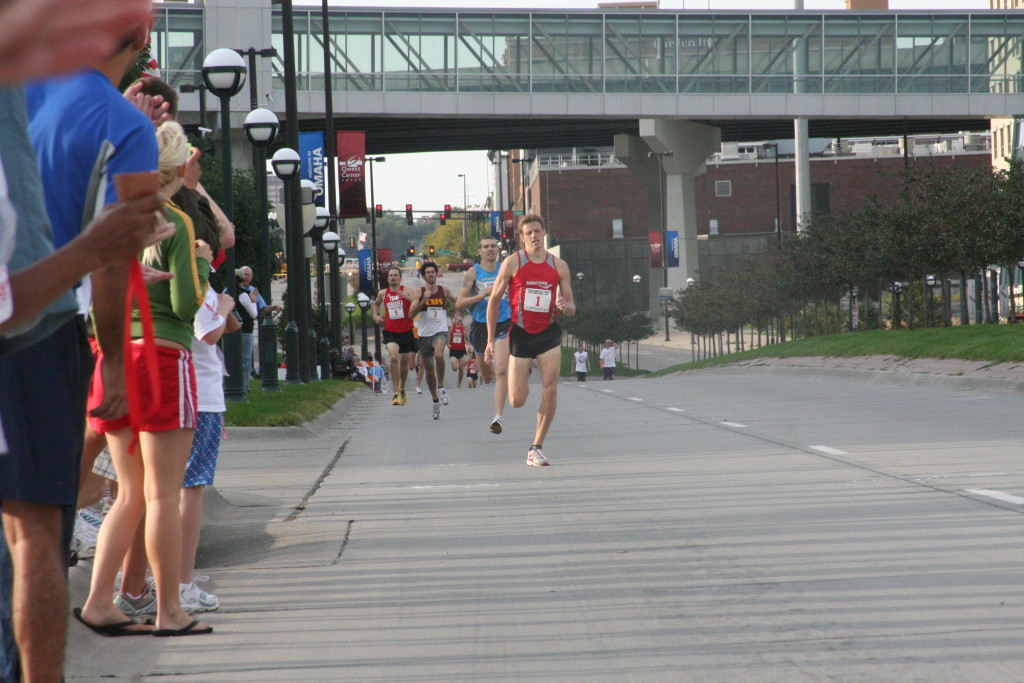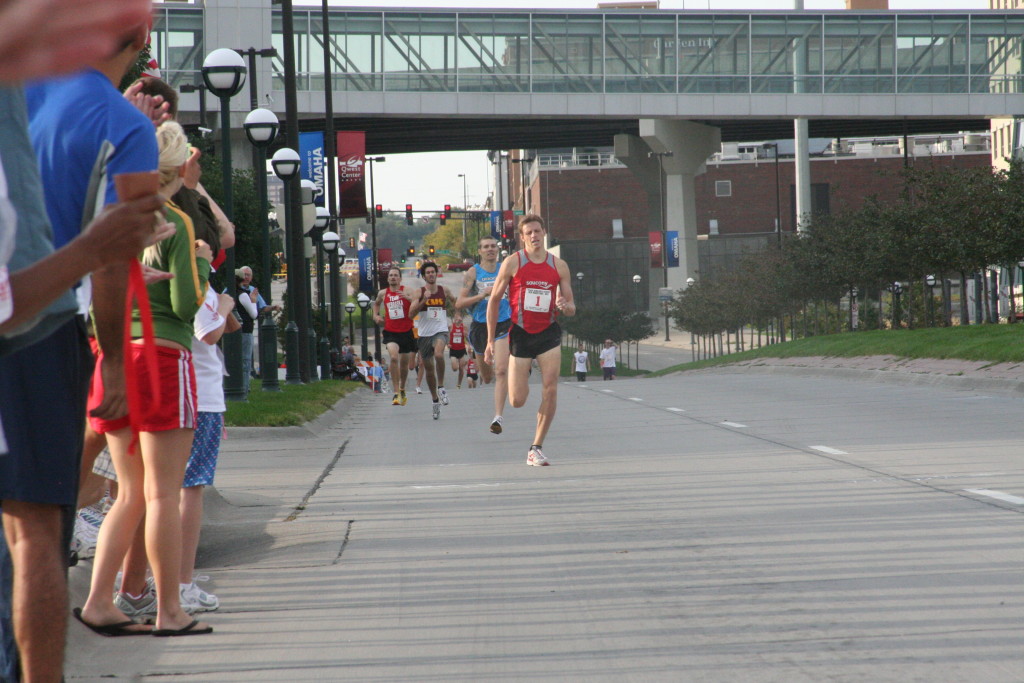 The final separation on the very slight uphill to the finish!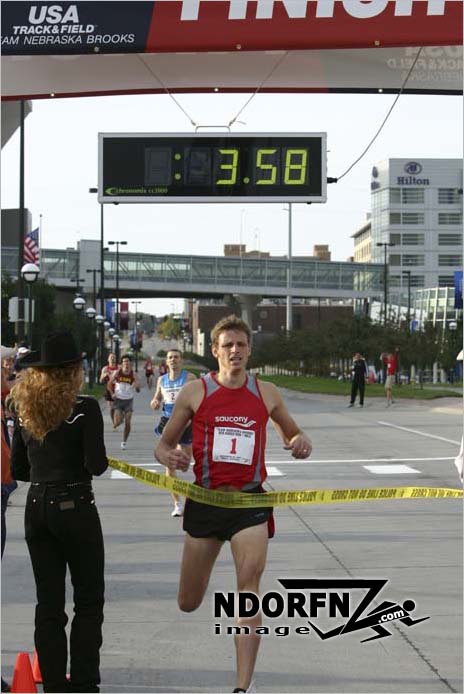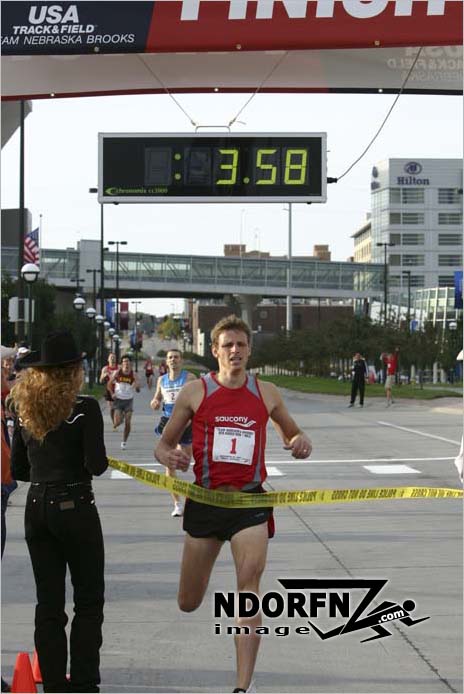 Ryan Kleimenhagen for the win.  USATF Nebraska.  Team Nebraska Brooks.  History books.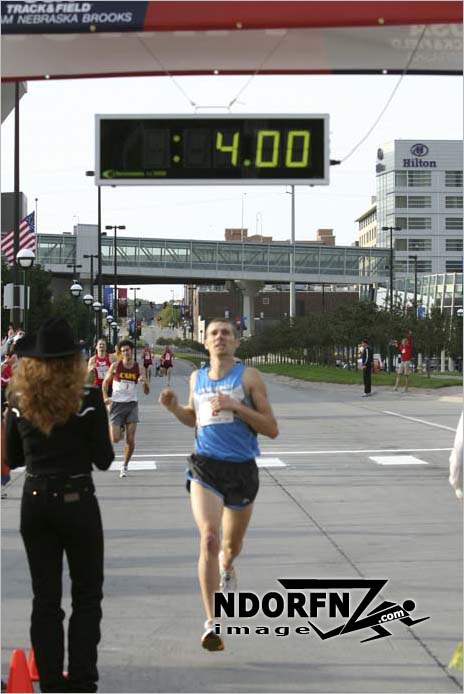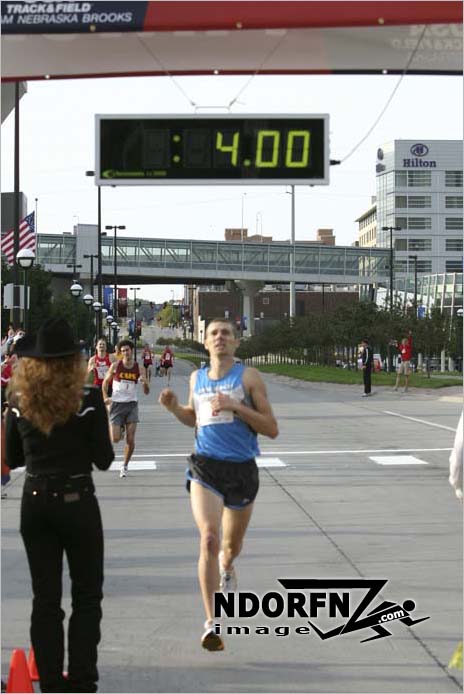 Rob Duncan second in an official 4:01.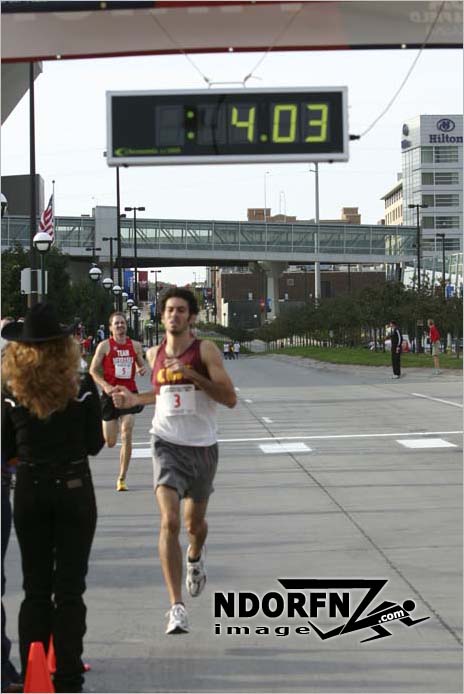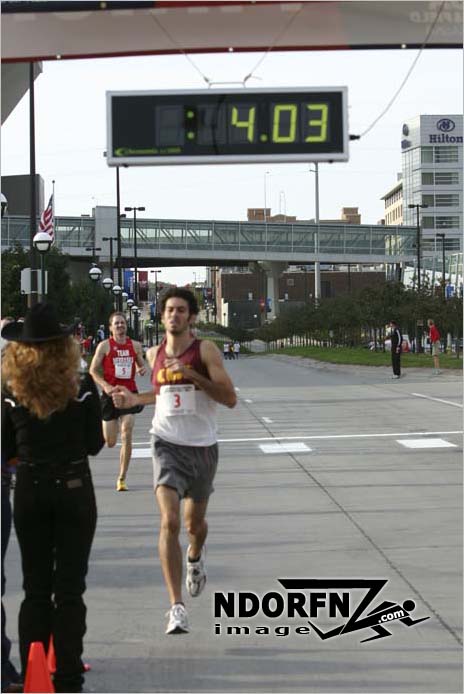 David holding on for 3rd (4:04) in front of a fast closing Shannon.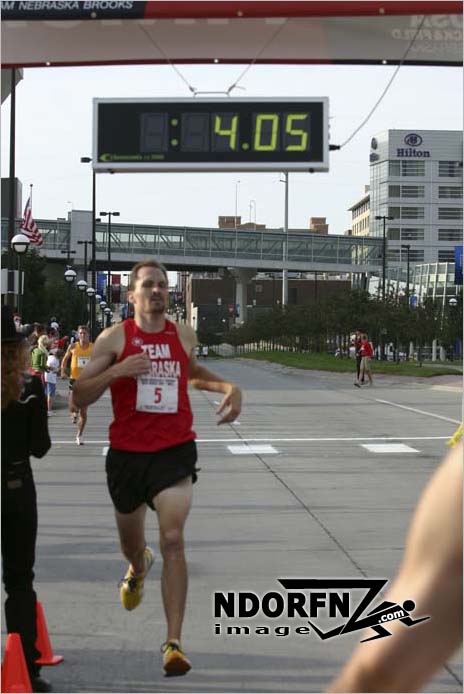 Shannon Stenger crosses in a lifetime best 4:07.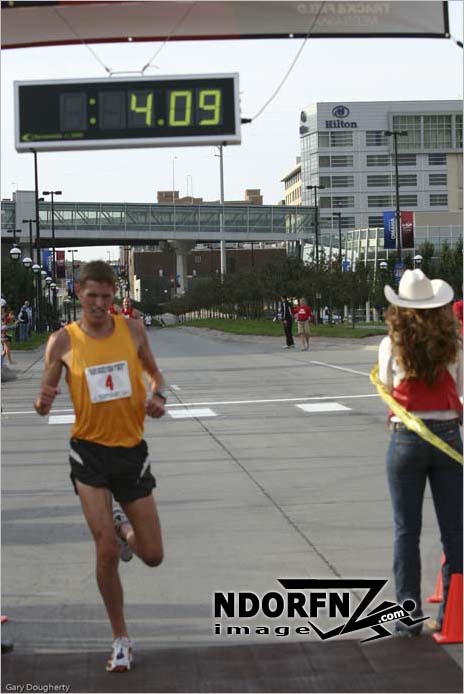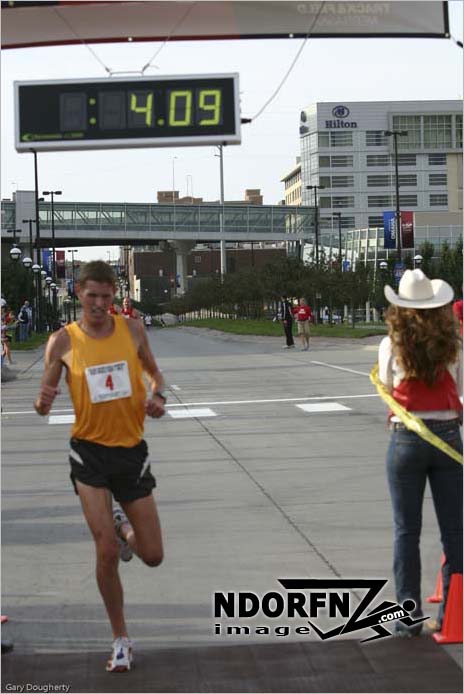 Josh Moen next in 4:10.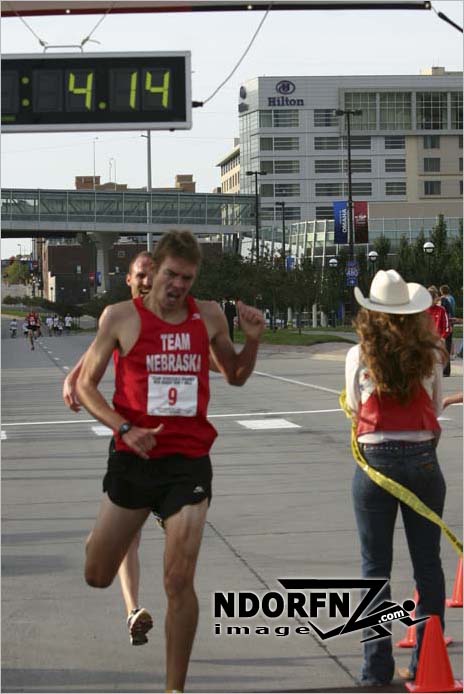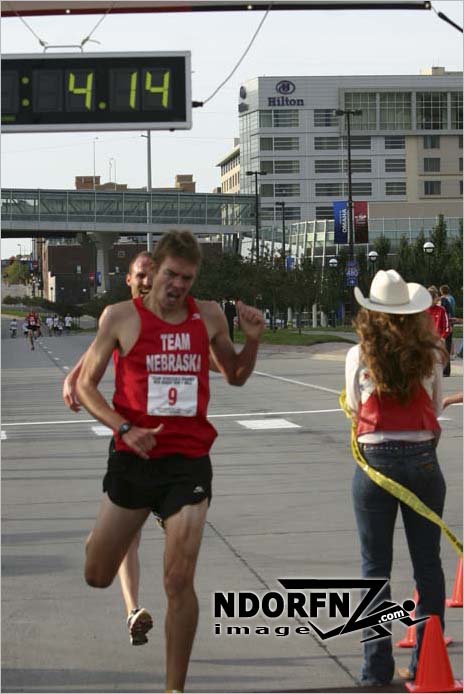 Paul Wilson and Dustin Llewellyn next, both credited with 4:16.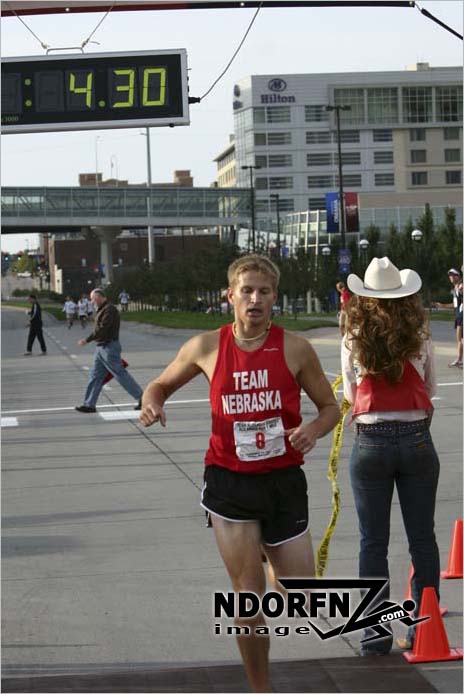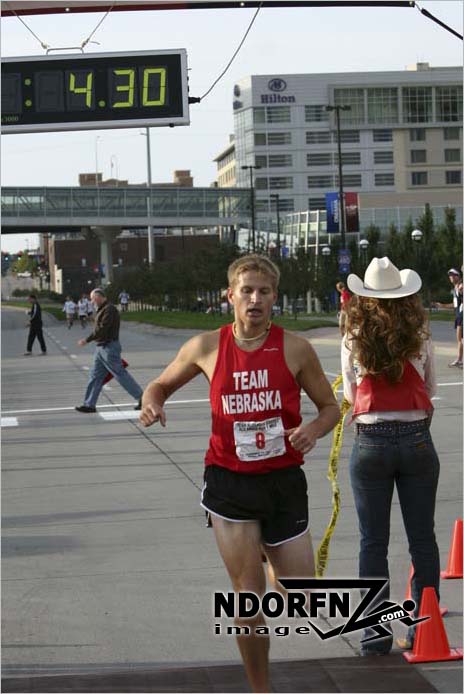 Mark Hall ran 4:31.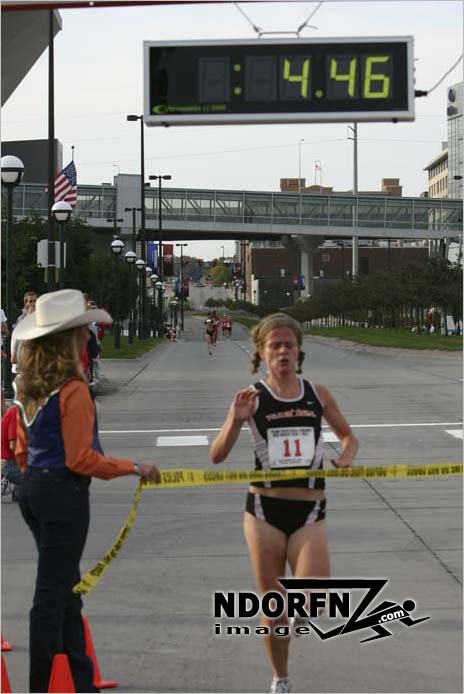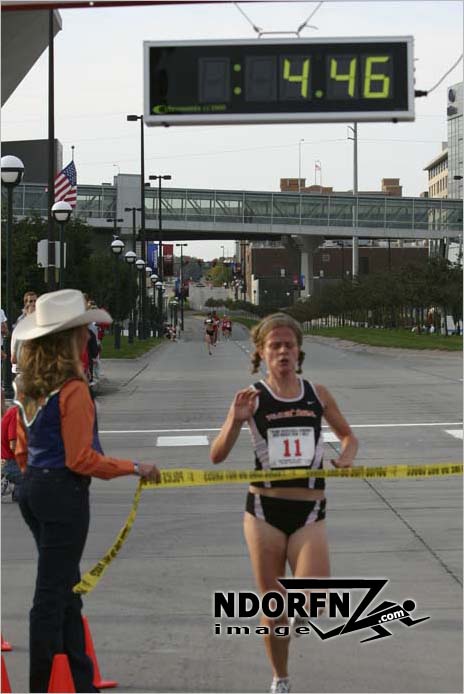 Casey Owens of Des Moines led the women in 4:48.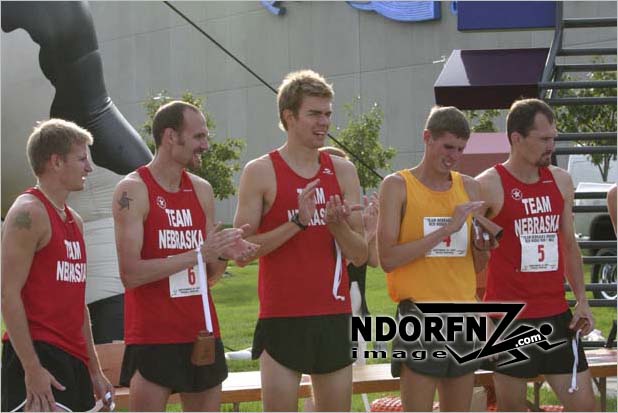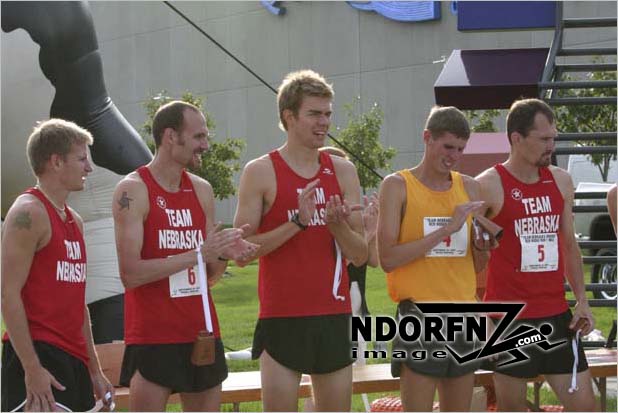 I want to thank Shannon and Paul and Dustin and Mark.  And Ryan and David and Rob and Josh.  This is the standard that I hold.  This level of courage, excellence and performance.  Inspiring the next generation.  Your generation.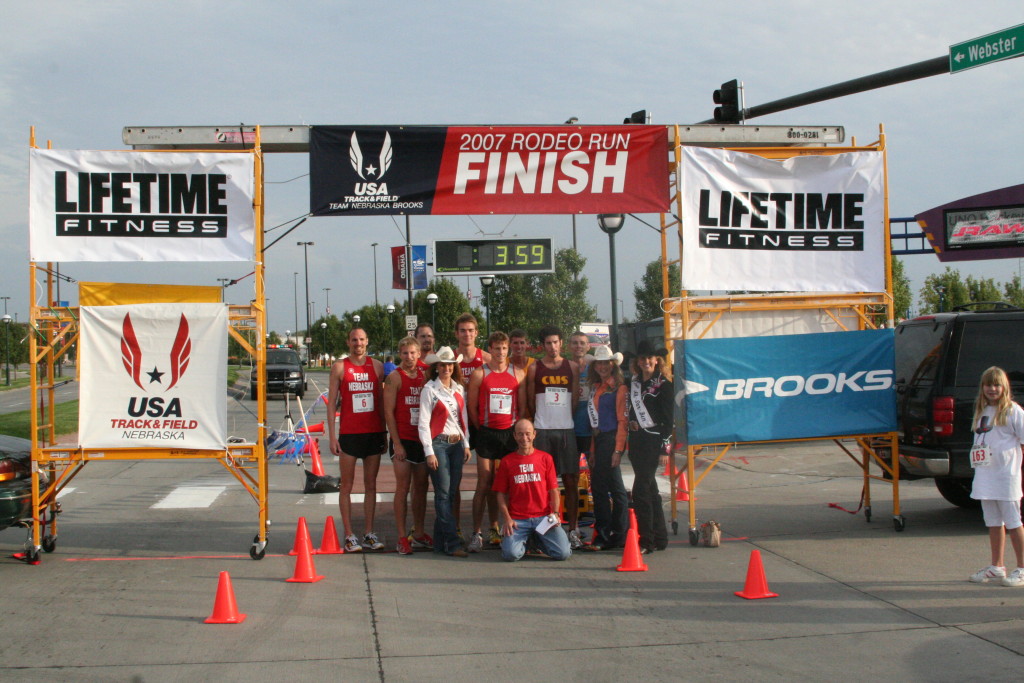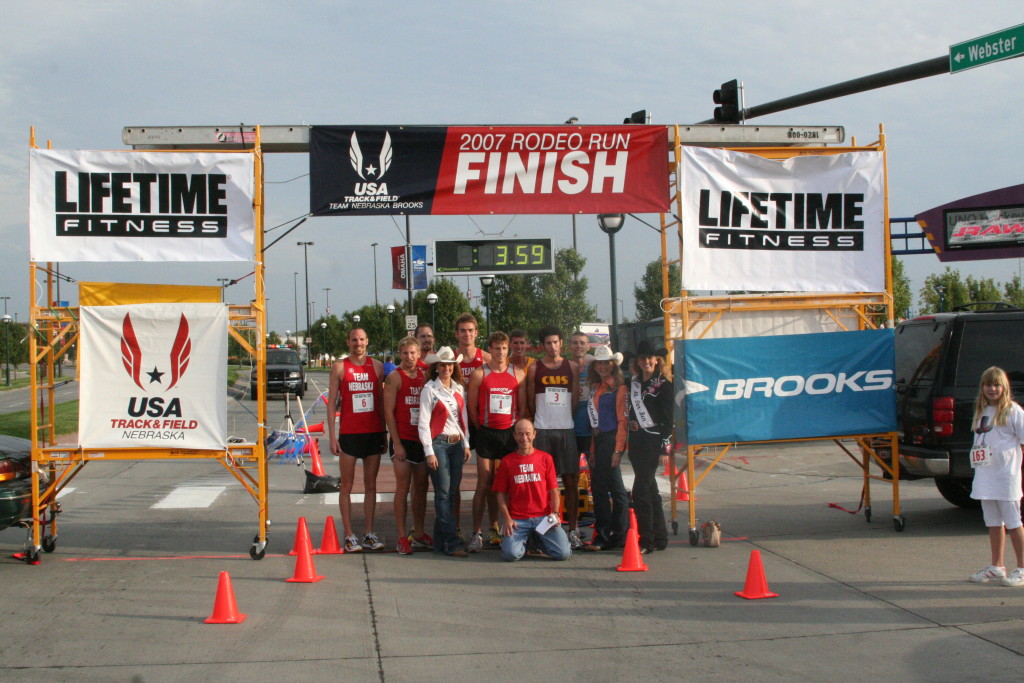 The fastest mile in the history of Omaha and Nebraska….until the very next year!
WHERE ARE THEY NOW?  I reached out to the field from that historic morning and received the following updates.
From Ryan Kleimenhagen: "It's hard to believe this historic day in Omaha happened 10 years ago.  I was recently married and moved to Madison, WI.  I remember driving the 6 hours to Omaha, NE wondering what kind of shape I was in since September is usually "off season" for us milers.  It was a beautiful morning for the race and my legs were felling awesome during warmup, so I had a feeling something special was about to happen.  I remember David Juliano taking the race out hard, so I tried to close the gap and beat the clock to the 4 minute mark at the finish.  The race and making history still means as much today as it did 10 years ago and will never be forgotten.  After battling calf injuries for the better part of a decade, I've taken up cycling and swimming and competed in my first Triathlon a few weeks ago with great results."
David Juliano:  "I remember that race fondly and relished the chance to run as fast as possible.  It was exciting to feel the rush and combine the thrill of the mile with the challenge of a road race.  I haven't run in five years or so but thing about starting again every so often.  I am a high school math teacher so it is sometimes hard to find the time during the school year to give it an honest effort."
Rob Duncan: " I wanted to run a fast mile on the road and what better way then a good down hill and with friends. The prize money was good and Omaha was close and a great town to spend the weekend in. Great race and great crowd support. Still have that pic of me looking up and the clock reading 4:01″
Josh Moen: Living in Eden Prairie Minnesota and works at the TC Running Company.
Shannon Stenger: "Oh yeah!! !  I remember that run very well.  It was a nice morning, about upper 60s and I think the elite group went off around 8:45 am.  Goal going in to that run was to run under 4:15 and I did that. Ran with the top three runners that went 3:59, 4:01, and 4:04 for about the first 1200m. Felt really good going down Capital and strong turning from Capital to 10th St. and decided to take the lead and start to push it.  (I have attached the picture- love that pic!).  Legs started to get a little tight with about 300m to go and I could no longer stay with the leaders. Turnover was good until that point. Again, a great race that I will never forget.  Glad I ran it with no regrets!
I am currently running some ultramarathons.  Will run a 100k in California on Saturday, October 7th, only two weeks out.  Since I will be turning 39 in October, my goal when I turn 40 is to get back to the track and make a serious run at breaking 2 minutes in the 800m when I turn 40.  Will see. . . . .
Dustin Llewllyn:  I have never been a person with great speed. The longer the race the closer to the front I was. Shannon and Paul are much stronger, but I never thought I couldn't beat them or wanted to give it my all to stay with them. Both have far better running credentials than I, but for some reason on that day I felt I could not only stay with them, but maybe even finish ahead of them. That thought went out the window as soon as we got 40m into the race with Shannon taking off like a rocket. I kept Paul in my sights and coming down in that last 200-250m I thought I could get around him. I finished right behind him and with my fastest mile time ever. Even though I did not finish in the front pack or beat Paul, it was one of if not the best race that I took part in. Too be able to race and also watch Shannon take a lead and to see Paul ahead giving me the motivation that I needed to give my best is something I will remember for ever. Those guys mean the world to me and the friendships that we formed over so many miles, races, and meals has been a blessing.
Paul Wilson and Mark Hall unavailable for comment.