One of the brightest years in recent memory  for Real Racing.  My buttons fairly bursting about the contributions made by several of our Run Guru Elite mates.  But there was more.  If you'll bask in my glow just a moment…
2017 started off with Cory Logsdon winning the Full Wolf Moon 5K in a chilly but quick 15:38.  Tim Meyer 2nd in 15:41, and Jay Welp and Ross Lorber also under 16:00 in January.  Jay would run 15:44 and Nicole Norris 19:51 to lead the Dalton Gang 5K the first week in February.
February brought the Valentines Day Run 10K (Tim Fry- 40:22, Nicole Norris 40:49) and a snowed out Halley's Comet 10K.  Both are on the schedule for 2018.   February also brought stern admonishment from The Powers That Be regarding the Nebraska Trail Run Half Marathon scheduling.  Flimsy portent, and a promise strung out for the next 8 months undelivered, surprising no one in Waterloo.  The main reason the event ended its 11 year run at Platte River State Park.
March saw Grant Wintheiser run the fastest State Farm 10 Mile (50:51) in twenty years.  For perspective Cory was 2nd nearly 4 minutes back.  On the same morning Jay Welp (15:44) defeated the Best of the Rest in the 5K with Johnny Rutford (15:47) and Colin Morrissey (15:44) rounding out.  A great morning for Run Guru Elite!
April found my old buddy Patrick Rizzo (4 time Olympic Trials Marathon qualifier) defending his Nebraska  Trail Run Half Marathon title.
May and the Lincoln Half Marathon.  Grant Wintheiser (4th-1:07:09) and Jay Welp (10th-1:10:51) propelling our little club to the only such from Nebraska with 2 in the top 10.  Another great morning for Run Guru Elite!  Grant using it as a tune up for his 1:06:30 at Garry Bjorklund in June.  The fastest by a Nebraskan in over 15 years.  Jay using it as a springboard to an undefeated summer campaign and event record (8:33 3K at Havelock, Peter Falcon 2nd in 8:48).  Jay would race often and not lose a race until the fall.
May also brought graduation and Run Guru Elite a bunch of hungry athletes with blue collars.  LRC Racing also capitalized and bolstered an already formidable team.  Our main competition along with Team Nebraska.  More challenges from across the river regarding our new makeup leads to our name change from Nebraska Run Guru Elite to simply Run Guru Elite.  And so it goes.
June found Nicole Norris making her marathon debut/36th birthday at Grandma's in a stellar 3:13:52.  Eyes now set on sub 3 at Boston y'all.
July, no Nebraska representation at USA Club T&F Champs.  Drats.
August doldrums.
September, the camel's last straw.
October saw Brogan Austin of Iowa set a Nebraska State Half Marathon Record of 1:04:08 at the Good Life Halfsy.   Fernando Cabada 2nd in 1:04:53.  Ben, I can't tell you how much I appreciate your bringing that level of talent to us!  Al Sanabria (3rd, unattached, 1:06:45) the first Nebraska finisher, Nolan Zimmer (5th, LRC Racing, 1:07:34) the first Nebraska Club finisher.  Katie Wetzstein (LRC, 1:15:26) turning in the fastest women's half marathon on Nebraska soil in memory.
November yawns.
December, USA Club Cross in Kentucky and LRC Racing representing.  LRC's Johnny Rutford running the fastest marathon by a Nebraskan in nearly 10 years at California International (2:21:34) also a highlight, leading a trio of his mates under 2:30.
Here's to hoping the trend continues.  That all of our Nebraska athletes, regardless of kit, regardless this blog, are afforded the opportunity to compete against themselves and the best of the Midwest and beyond.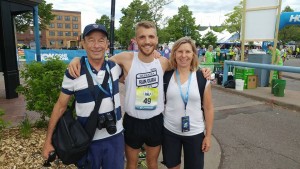 Grant Wintheiser, the most talented runner in Nebraska since Mike Morgan.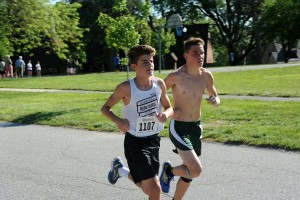 Sam Runde finished 10th overall at the USA Junior Olympics 3000 in a very fast 8:31.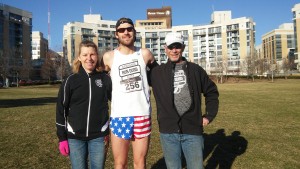 Jay won our Nebraska Association 1 Mile Championships (4:17), besting 2nd place finisher Colin Morrissey by  :10.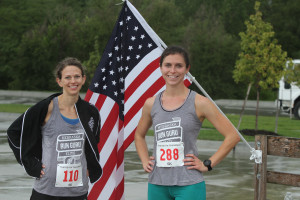 Run Guru Elite's Elizabeth Starbuck (right, 5:17) finished 2nd to Erica Doering (5:07, LRC) at the 1 Mile Champs and is looking very much forward to representing/competing in 2018!  Nicole (left) an emerging talent with high aspirations in the longer distances.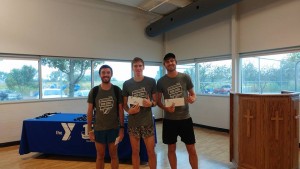 Sean and Mark, joining Jay on a mission to stimulate the running community to a more competitive culture!