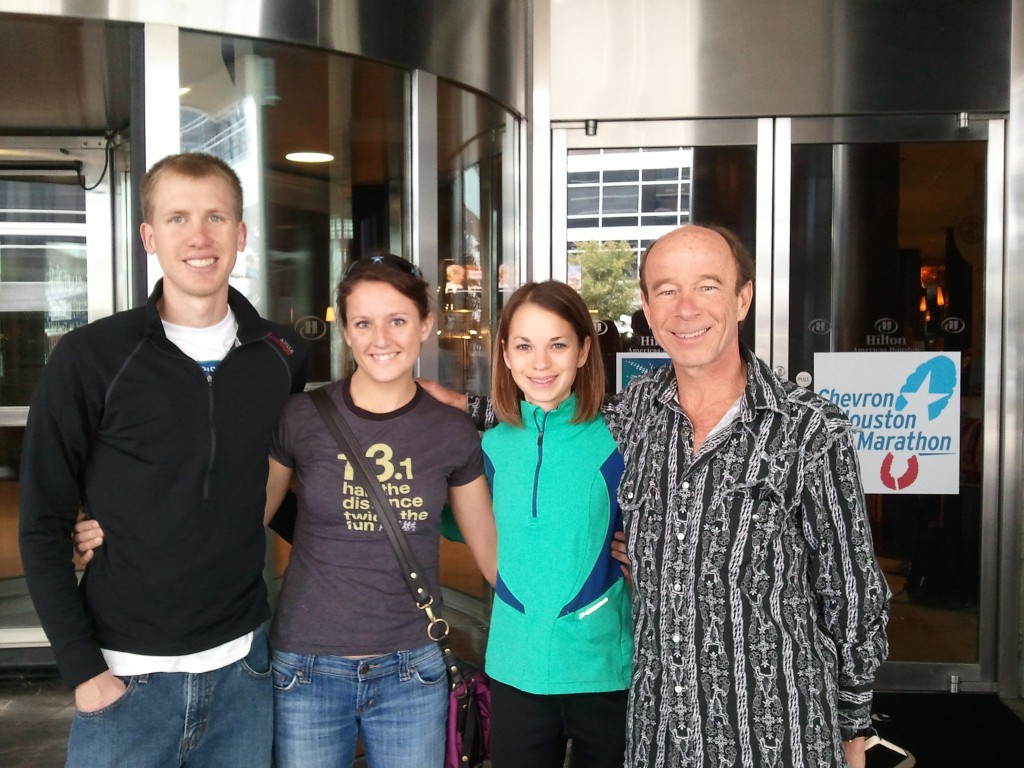 Three years ago I took Eric Rasmussen, Kayte Tranel and Kaci Lickteig to the USA Half Champs down in Houston.  I see Luka Thor is listed as entered for this weekend's race  so I'm pulling for him and my old buddies Meb, Fernando Cabada and Patrick Rizzo.  If you're interested in what it takes to run with the best see the standards and amenities listed below.  And the prize purse, pretty sweet.
The Houston Marathon Committee and our Half Marathon title sponsor, Aramco Services Company, are proud to host the 2014 USA Half Marathon Championships.
Race Date: Sunday, January 19, 2014
Start Time: 6:55 a.m.
The demand for the USA Half Marathon Championship fields has been fantastic, we have reached capacity in both the men's and women's fields.
Qualifying Standards & Athlete Funding Information:
Women's Qualification Standards

Half Marathon
Marathon
10K
Travel Allowance
Accommodations
sub 1:18:00
sub 2:44:24
sub 0:35:15
n/a
Shared Lodging up to 3 nights
sub 1:17:00
sub 2:42:18
sub 0:34:48
$100
Shared Lodging up to 3 nights
sub 1:16:00
sub 2:40:11
sub 0:33:54
$200
Shared Lodging up to 3 nights
sub 1:15:00
sub 2:38:04
sub 0:33:26
$300
Shared Lodging up to 3 nights
sub 1:14:00
sub 2:35:57
sub 0:33:26
$400
Shared Lodging up to 3 nights
sub 1:13:00
sub 2:33:50
sub 0:32:59
$500
Shared Lodging up to 3 nights
Men's Qualification Standards

Half Marathon
Marathon
10K
Travel Allowance
Accommodations
sub 1:09:00
sub 2:25:23
sub 0:31:11
n/a
Shared Lodging up to 3 nights
sub 1:08:00
sub 2:23:16
sub 0:30:44
$100
Shared Lodging up to 3 nights
sub 1:07:00
sub 2:21:09
sub 0:30:17
$200
Shared Lodging up to 3 nights
sub 1:06:00
sub 2:19:02
sub 0:29:50
$300
Shared Lodging up to 3 nights
sub 1:05:00
sub 2:16:55
sub 0:29:23
$400
Shared Lodging up to 3 nights
sub 1:04:00
sub 2:14:49
sub 0:28:56
$500
Shared Lodging up to 3 nights
Prize Money:
| | |
| --- | --- |
| Place | Men & Women Prize |
| 1 | $12,000 |
| 2 | $10,000 |
| 3 | $7,000 |
| 4 | $5,000 |
| 5 | $3,000 |
| 6 | $2,000 |
| 7 | $1,000 |
| 8 | $750 |
| 9 | $500 |
| 10 | $250 |