It has been described as bucolic and idyllic.  Peaceful, quiet, rejuvenating.  Training Center for the Body, Mind, & Soul.  Life at the Bar None is all of these.
And a place of rebirth, or maybe better put, reinvention.
Yesterday I shed the final remnants of 20+ years.  Of being told I was worthless and could never take care of myself or amount to anything.  Ah marriage, I don't miss you at all.
Bar None Produce was officially launched yesterday and it has me feeling almost young again.  My own hard work resulting in some of the finest farm fresh veggies anywhere.  The dirt beneath my nails now a permanent fixture.  Tan lines testimony to time Best spent with the Good Mother.  First round of deliveries made and now just glowing that I can be the boss of me.
The fact that it has absolutely nothing to do with running gives me an insulated, comfortable, safe feeling.  The Complaint Department after all is right here at my desk.  Constructive criticism too.  I got some as soon as I opened up our facebook page yesterday.
https://www.facebook.com/pages/Bar-None-Produce/679879668768943
Thanks to my old buddy and Chef Extraordinaire Paul Braunschweiler for the assist in considering price structure.  I've spent much of the summer surveying the area farmer's markets but am fortunate to not have the overhead that goes with them.
I will be picking on Monday and Thursday mornings.   Delivery will be to A Hill of Beans Coffee located at Harvey Oaks Plaza (144th & W. Center).  Pick up is between 2:00 and 6:00 pm (store closing) on those same days.
Yesterday's picking included cucumbers, four varieties of peppers, 5 varieties of tomatoes, eggplant, kennebec potatoes, beets, carrots, rutabagas, and fresh basil.  I've got my fall and winter beds prepped and planted, announcements on what is great at the moment will be on our facebook page, thanks for checking in.
Get Your Farm Strong On!
Cellar Tally:  21 pints beets.  12 pints salsa.  12 pints enchilada sauce.  8 quarts spaghetti sauce.  6 quarts mixed tomatoes.  6 quarts tomato sauce.  2 quarts tomato juice.  Not bad for half way through the canning season and not counting what's been put in the freezer.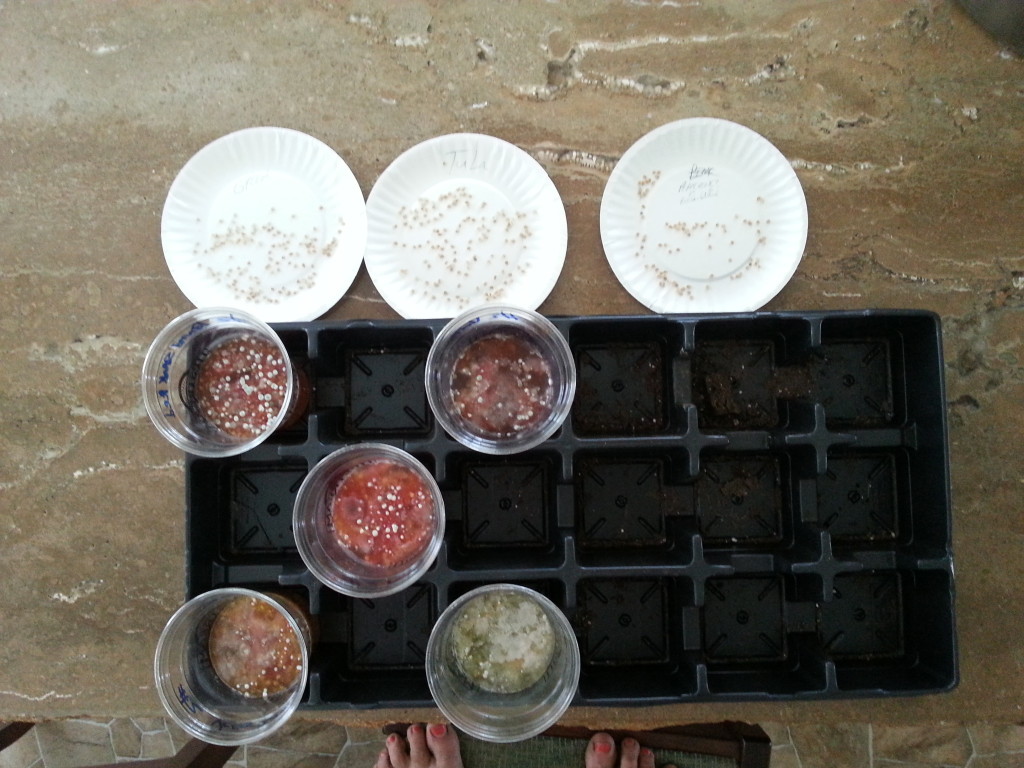 These cups hold fermenting tomato seeds, selected from only the best fruits off the best plants.  This is how you harvest and retain seeds from your favorite heirloom varieties.  The seeds will yield true to the parent, no guessing games at all next year.  The paper plates hold and identify those processed a couple of days ago.  I'll repeat this until I am all set for next spring's planting.