Ten years ago this weekend is an anniversary etched into the historical excellence of athletics in Nebraska.  Peter vd Westhuizen broke  the magical 4:00 barrier at the 2008 Omaha Mile, the last person to crack that on Nebraska soil.  With all due respect to Messrs. McGown, Morgan, Adams, and Wintheiser, Peter in my opinion the single greatest athlete to come out of Nebraska in the modern day (USATF) era, maybe ever.    I had the pleasure  of catching  up with Peter for a fond reminisce.
Will:  Ten Years! Please tell us what you and Michaela have been up to for the last decade.
Peter:  After officially retiring from running in 2013 Kayla and I moved to Austin TX to pursue a career with Saucony and now Under Armour. We have also been busy growing our family and have an almost 3 year old, Sienna and 6 week old, Jude.
Will:  For a little background, what are your lifetime personal bests? 800-1500-mile-5000-10000?
Peter:  1:47.60, 3:35.33, 3:54.90, 14:07 (road), 30:00 (road)
Will:  My favorite memory is you wearing the Team Nebraska singlet at the 2010 Wanamaker Mile at the Millrose Games. Or maybe your race with Alan Webb. Or maybe the Adidas Classic. You were truly a World Class runner! What do you attribute such a successful career to?
Peter:  I was lucky enough to grow up around running as my parents were very involved in the sport from a young age. Running at the University of Nebraska also opened up many doors form me and allowed me to develop as an athlete. Lastly, I have to attribute my success to great coaching throughout my career namely my dad, Glen van der Westhuizen and Jay Dirksen.
Will:  Do you have any special memories from the 2008 Omaha Mile? You remain the last Nebraskan to break the magical 4:00 mile on Nebraska soil.
Peter:  The 2008 Omaha Mile was one of my favorite races. I mostly remember being shocked that we were able to break 4 min that day. I also remember the steep downhill on the first quarter mile which made the race very interesting and helped us get under 4min that day.
Will:  Who was your biggest inspiration?
Peter:  I've always been inspired by the Seb Coe / Steve Ovett rivalry.
Will:  Who was your favorite competitor?
Peter:  Johan Cronje, the current South African 1500m record holder.
Will:   What was your favorite race?
Peter:  2009 New York Adidas Grand Prix where I ran my 1500 PR.
Will:   What is your favorite beer?
Peter:  Karbach Rodeo Clown Double IPA
Will:   Are you still running? Any desire to compete again?
Peter:  With the little ones being so young I'm only getting out a couple of times per week these days but I'm always itching to get back into 5k/10k race shape. I may even consider training for a half next year if time allows.
Will: Would you consider coming out of retirement and running for Nebraska Run Guru Elite?
Peter:   My days of running track are over but would definitely run for Nebraska Run Guru Elite on the roads.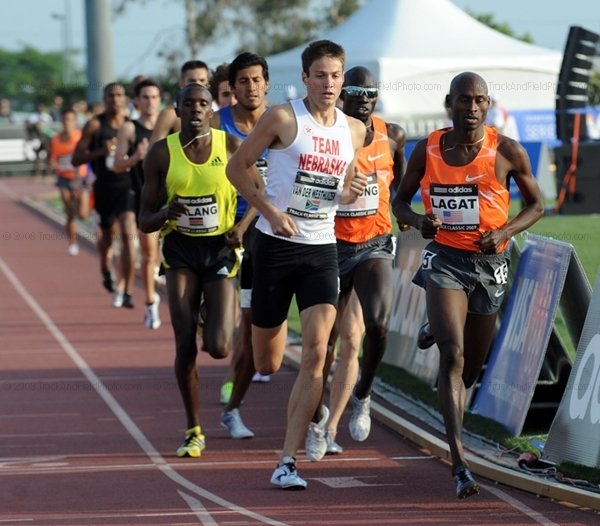 The  2009 Adidas Classic.  Bernard Lagat.  Lopez Lomong.  Peter embodied everything that Team Nebraska was founded on.  A special time that should never be forgotten.
Peter vd Westhuizen.  The fastest Nebraskan ever!  Who will be the next?