Today's is one of my hardest columns ever.  Because I'm bidding adios to a good friend.  But we are also excited to be wishing him great success and happiness as he embarks on his new path in life.  Matty P., we love you son.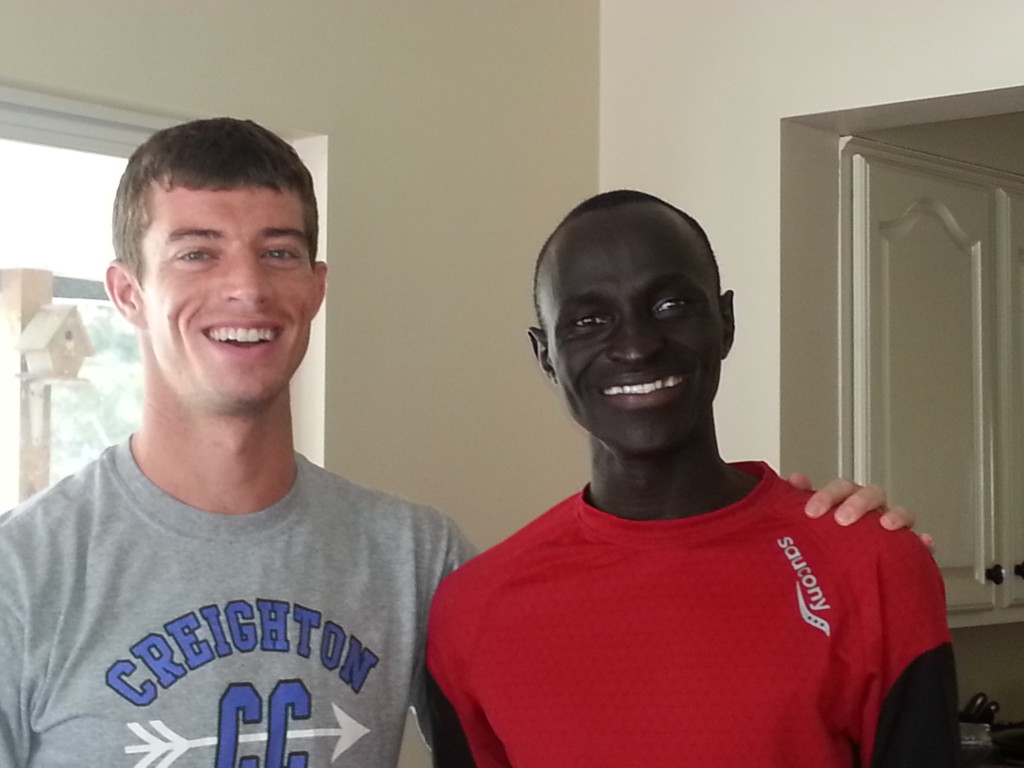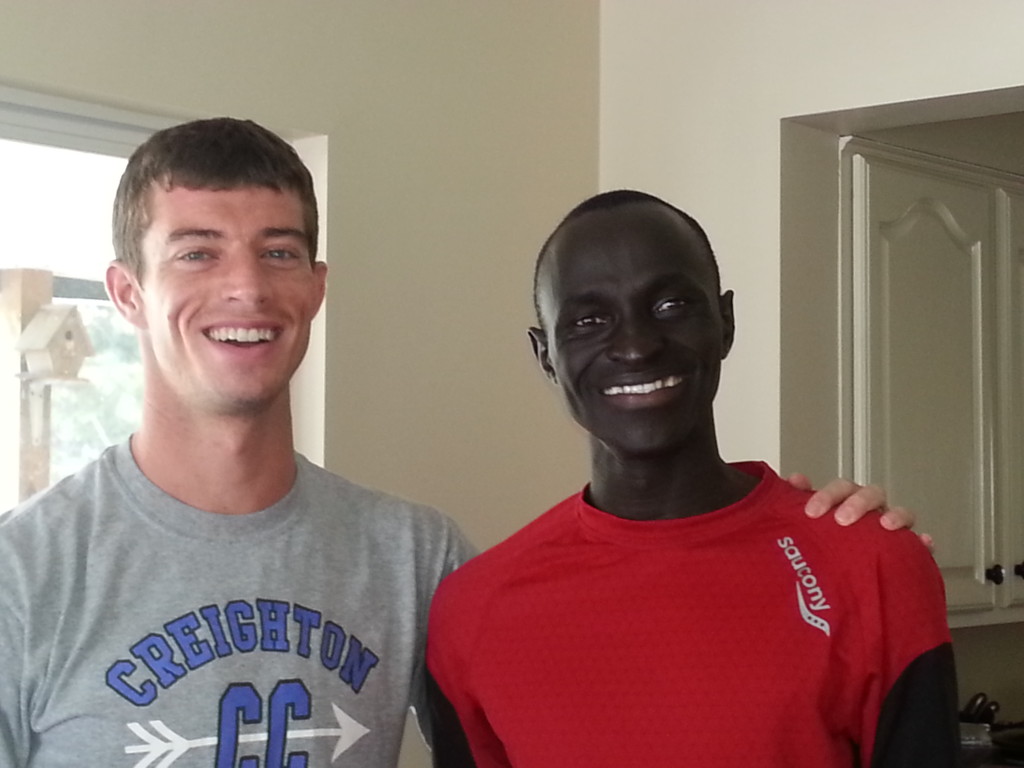 Matt and Luka Thor after a recent run at the Bar None.
Will:  First of off congratulations on the wonderful opportunity and exciting new chapter of your life!  Can you please tell us just a bit about where you are headed and what you'll be doing?
Matt: Thanks Will!!! I am now in New York. In upstate NY in a town called Oneonta about 1 hr west of Albany. 45 mins away from Cooperstown where the Baseball HOF is. MY new job is the Assistant Athletic Director and Head Men's and Women's Cross-Country Coach at Hartwick College. It's a DIII school with two DI sports in Men's Soccer and Womens Water Polo. My administrative responsibility is to oversea the DI sports in addition to my Coaching. It's a good opportunity and job for me and my aspirations in my career goals.
Will:  We first met over 6 years ago and I've watched you grow as an athlete and a person.  Can you tell us who a couple of your early influences were in athletics?  I'll add that your parents are a couple of wonderful people, they have to be very proud of you!
Matt: It has been a while huh? Well my favorite athlete is and will always be Michael Jordan. I wanted to "be like Mike". Call it cliché or not, but I tried to embody in every way as a kid. Gatorade, clothes, a couple pairs of shoes, you name it. I wanna be wanna be like Mike! Ha Basketball was my first love of sport and always will be, I have been playing ever since I was 5 and just love that sport but anyway…
What I would like to make a point in saying and would like to stress is I feel I have evolved a lot in the past few years as a person and as a runner. My perspective has changed drastically and I have come to appreciate running more and appreciate how it has helped mold me as a person. Teaching me discipline, hard work, sacrifice etc. What I have most importantly truly realized and tried to embody more is that running for me is a privilege, anything I have gained and have earned is not by my own design or benefit it is God's. Anything I have is because of him and I try to run more knowing my gifts are his. As I have grown older I have changed greatly and my approach to running has changed to. I still have the same runner mentality when racing and competing but how I have almost grown into a better mold and it has helped my growth overall as a person. But when I started out running, it certainly wasn't that way at all.
I started to run in Jr high. Back then I wasn't a fan of running at all but did Jr High track just as something to do. Running for me then was certainly more of a social opportunity but I liked to compete and me and my friends always enjoyed a little competition. Track was something to do outside of basketball and soccer. It would be common that I would not work very hard in practice. On occasion I would skip practice and my coach at the time would hunt me down and make me go. I was terrible for doing that to her and being that way and its great she cared so much because she knew I had talent. Funny thing is is that I was pretty good in Jr high and still hold some school records ha. But no matter what, track was just something to do.
My goal was to try out for basketball and soccer when I got to high school. I ran XC in the fall my freshman year just to stay in shape for those sports. But I also had a decent freshman yr to my surprise but at the time it wasn't my focus. I tried out for basketball, and got cut!….. tried out for soccer…. Got cut! What most people don't probably know about me is that when I went into HS as a freahman I was about 5'6" and a 110 pounds wet. Kind of hard to make the basketball teams and soccer teams like that. Once I got cut for those sports, ….. that is when I truly had an epiphany in my mind and my competitive career… I went back out for XC my soph year and at that moment running became a VENDETTA against all those people who told me I couldn't play basketball and soccer. I ran JR year and got better and stronger ( had a growth spirt (I was a late bloomer) in height but certainly not weight lol) and by SR year I was fortunate enough to be our best distance runner, medal at state and have a pretty good track season as well. But that turning point was where running became my outlet, my motivation. It wasn't even about running it was about proving all those people wrong who said I couldn't do the sports I loved. I basically ran angry…and with a chip on my shoulder through most of high school and into college. I pretty much kept that same mentality all through college and for the majority of my early running career, anger and the desire to prove people wrong is what fueled my motivation as a runner. Oddly enough it has only been until the last 3-4 years and the last 2 years in particular where I have evolved greatly as a runner and my passion for the sport and my motivation for how I run/race have truly changed. It has been a great transition and journey and I really want to stress that. Personally, I have come a long way and my appreciation for running and all it encompasses for me has been a great transition.
With that being said, I have always been a competitor. I love to compete and to progress. I had a lot of early influences in my career. To name everyone would take forever but those people know who they are and I would not be here without them, coaches, teachers, relatives, neighbors etc, my heart goes out to all of them and they will not be forgotten. My oldest sister Jessica influenced me a lot. I probably never said that to her much, but I looked up to her a lot. She set the bar for all of us kids being the oldest and all I wanted to do was be as successful or more successful than she was. She was a pretty decorated soccer player in HS and college and all I wanted to do was best her, but she influenced me greatly. She deserves a lot of credit. She and her husband are expecting their first child and I am really happy and excited for them.
You mentioned my parents and surely I cannot forget them. Being my parents they have been here along the entire journey through good times and bad, emotionally, physically, gear/equipment etc. Driving and being at games and practices and everything in between, that is something that I will always remember as well. My father in particular has been a key influence too. He was a coach for me a lot when I was younger in basketball and soccer and I learned a lot from him. It wasn't uncommon for him to be a little harder on me and use me as examples when coaching the rest of my friends and teammates. Ed Pohren was a coach that knew his stuff, expected hard work but did a great job, everyone knew it, especially the parents. In that role I learned a lot about sacrifice, discipline and shouldering the load for others at times. To this day I carry some of those principles, that is why I am so hard on myself but I know it was for good reason. He dealt with a lot as a child and had to assume a lot of responsibility at a young age and that was certainly his way of defining that in me too. He gave me a lot of good direction then and continues to, to this day.
These last two influences are really important and come when I was in high school and running was becoming something I was good at. Besides my own motivation and agenda as stated before, these two people really influenced me and supported me as a runner and friend. My HS coach Fr. Bob Tillman aka "Tilly" was a great supporter of me and my running. Always encouraging and he knew what he was doing to. Without his training, who knows where I would be. He has become a close friend to me and someone I look up to as a person also. The last shout out goes to one of my good friends and someone I looked up to a lot in HS, Mead Goedert. Mead was a year ahead of me in school. By my soph year, Mead and I became good friends. We talked a lot about goals, running and what we looked to accomplish. Mead was our best distance runner. When he was a Senior, Mead medaled at state, got All State and had a great track season. All I wanted to do was be as successful as Mead! He was the first person to really inspire me and brought to my attention my; JR year, the reality that I could run in college. Up to that point the thought really never occurred to me. Mead went on to run at Detroit Mercy. I give him a lot of credit in inspiring me, motivating me and believing in me as well. He was one of my best early influences by far and deserves a lot of credit in helping mold me as a runner and competitor.
Will:  You really have embodied the very essence of what I've tried to sell as Real Racing over the last 6 years.  Can you give us a favorite memory (or two) while representing Team Nebraska?
Matt: There are so many I guess. Two stick out to me in particular. Back in 2007, when I joined the club, I was asked to run Club Track Championships by Shannon Stenger. I remember being somewhat taken and surprised that I would be asked to run at such an event just joining the team a month ago. I just love to race and compete so I jumped at the opportunity. At the meet in Olathe, KS I ran the steeple (my 2nd ever) and the 800 of the DMR consisting of me, Shannon, Paul Wilson and Dustin Llewellyn. I got 3rd in steeple and our DMR got third too. The best part was establishing a good rapport with those guys and their respect for me in jumping in right away and contributing to the team. That led to a lot of great races, meets, Club Track and other races with those guys and that crew that help carry the club at that time.
The other great memory was Shamrock Shuffle in 2012. It was an 8k in Chicago of about 40,000 people, probably the largest race I have ever been in. We ran as a team that year of Me, David Adams, Luka Thor, Matt Schneider and Jon Kern. That races was set up so well. We were part of the elite field that year so we had comped rooms, special starting sport, elite corral, special bathrooms and all the perks. I felt like a celebrity. That race had some of the best runners in the Midwest there that year and some of the best runners from across the nation too. The most famous runner there that day was Abdi Abdirahman (the Black Cactus). Abdi is one of the fastest runners in the world and if you all recall was one of the 3 runners that represented the US in the Olympic Marathon in 2012. He didn't have a good race in the Olympics but needless to say he is a good runner! Well David ran a crazy fast time, got 3rd and beat Abdi!! He was super excited and in addition, myself, Luka and Matt S all ran great races that day and finished pretty close to one another. Jon didn't have a great race. But I remember all of us being excited about the race, the experience and the competition etc. We had a great race that day and that was a memory that I definitely remember.
Will:  If I could bottle one attribute of yours and sprinkle it on my athletes it would be your absolute "In It To Win It" attitude.  Having said that, I've seen your truest character revealed after a couple of heartbreaking losses.  A tough one here, but how would you describe the lessons and motivations you gain through defeat?  (note to readers- I saw Matt take full responsibility for a 5 second loss to the Boulder Running Co. at the 2012 Hospital Hill Team Challenge, and that "tie" at the 2012 Market to Market Relay).
Matt: Well thank you Will that is a nice comment. As I mentioned before, I feel I have come a long way as a runner. I have evolved a lot but when it comes to racing, I certainly have an "in it to win it" attitude! From when that gun goes off to when I cross that line, I am all about business and I like to leave it all on the line. But in anyone who knows me, rarely am I satisfied with how I race and finish. I am very hard on myself and always feel I could have done more and done something better. Its at those moments usually when I finish a race or shortly thereafter where I can reflect and make note as to what I did wrong and how I could have raced better. That is when many sometimes catch me and feel that I am overly critical of my races but it is my best time to make notes, recall how I felt and try and make inferences as to what I can do better next time.
I guess the real question is what is deemed as a loss or defeat? Is defeat simply not winning or getting first or is it not meeting an expectation or goal such as a time or standard? That is where I have learned a lot of lessons. Honestly, I feel I have lost far more times than I have won. Probably 99% loss to 1% win in my experiences. Its far more common to lose. In my opinion, its nearly impossible to have a perfect race or to have everything go as you plan it and actually "leave it all on the line". We are human and all it takes is one thing to go wrong, physically or mentally before we can mess up a race. I personally feel that I have rarely had a perfect race and actually done what I can "to leave it all on the line" and been satisfied with my race. I have learned far more lessons from racing because of that as well. That in turn is why I am so critical of my racing and something I have also worked on to not be so hard on myself but to approach racing and running with a more evolved attitude or to combine the two.
Not matter what I am a competitor and I will leave it on the line as best as I can. But having said everything else, my motivation comes from many areas. I am motivated to keep improving because there is always a new bar to be set. I am motivated to not feel the same feelings I have had of loss, defeat or mistakes I have made in racing and that in turn motivates me to improve and which is why I am so critical of myself at times. But most importantly my motivation now stems from how I have evolved I am motivated to keep improving but I am motivated by other things in life. I am motivated by goals I have, people and friends that influence me, those that have passed on that I look to for guidance and grace and most importantly God. I am reminded, or try to remind myself that my gifts and what I have are all to His credit not mine. I can have it all gone at an instant. My glory and what I love through running is because of his gifts to me, I only hope that I can do what I can to stay humble and cognizant of Him and knowing that I need to race and compete for God and God alone.
Will:  2012 was something of a pinnacle in your career with Team Nebraska.  A lifetime personal best at 5K Indoors in the spring and then a USA Club National Championships in the Steeple in July (Matt was also on my Club Champs Committee that brought the first ever T&F National Championships to Omaha).  You've modeled hard work, achievement, and humility while inspiring many Team Nebraska (and other) athletes.  Who locally has inspired you to push harder and aim higher? Any favorite training partners you'd like to give a shout out to?
Matt: Well I have gained inspiration and much from many people locally. Teammates of all kinds and levels I have been inspired by and I have gained from and I am very appreciative of that. The numbers are endless and it would be hard to be where I am at without their support and being able to train with them all especially those as of late and some of the old guards in Shannon, Paul and Peter.
Locally, I gained a lot from David Adams recently. He had an awesome year last year as a runner. He accomplished a lot and I hope he continues to. Being able to train with him last year and see his progress really opened my eyes and made me expand my goals as a runner. I thank him for that and continue to wish him the best, Im just trying to get on his level ha. Another goes out to Matt Schneider, he is someone that has a similar attitude to me and mindset as well as ability level. He is a good man and someone that I have enjoyed training and racing with, missing him these days. The other shout out goes to Luka "The Hammer" Thor! Luka is just a beast, he is better than me too. He is probably the nicest guy as well. Always positive and never has anything negative to say at all. If he wasn't my friend I would probably "hate" the guy for being so nice. Haha jk. But Luka is a heck of a runner and does it all while doing many other things too. Sometimes I wonder how he does it but Luka is a Godly man and he always treats others with respect and I am sure that is how he continues to excel and be who he is. He is someone I look up to as far as character goes and that is a credit to him. I only hope I could do what I can to inspire others as those guys have for me.
And you too Will you have inspired me too. You have always supported me and had my back and that too is an inspiration. Without your support I certainly wouldn't be here. And no one is perfect and I certainly am not but I know where your heart is and you care about running and the sport, and I have benefited from that passion you have and I appreciate that, very much!
Will:  Your contribution to our sport goes far beyond your competitive prowess.  You were the first person I selected to the Team Nebraska Board of Directors.  You were also elected as the USATF Nebraska Association LDR Chair last September and attended the USATF Annual Meeting in December.   Under your watch the Association Championships program started to blossom this year with the addition of the Lincoln Mile and this coming weekend's Columbus Downtown Run Around 5 Mile.  You genuinely care about athletics in Nebraska.  Do you plan on remaining active in our association or will you become involved in New York?
Matt: Well I was very fortunate to be able to serve in the capacities that I have. The board of directors for TN was a very great opportunity as well as LDR chair. I was very happy to be able to attend the Annual meeting and was gracious to have that opportunity, I learned a lot. I think a lot of this credit goes to others though as far as TN goes, Will you have had a remarkable impact and role in structuring that team, everyone recognizes that. Credit also goes out to Kelly Crawford, Tim Langdon, Tony Sorrentino and Megan Thomas. Those individuals do a lot for TN and running.
But I think all Nebraska USATF members and Association individuals do a lot for distance running in Nebraska. I just tried to oversee without getting in the way for LDR. I tried to do my best representing as an athlete and tying that into my role. Credit goes to all Nebraska officers, and other individuals that help form those races, I had no part in that, that is to their credit and deservingly so.
I do care about athletics in Nebraska and look to remain active in Nebraksa. I will plan to become more involved with NY if running and training makes it so and being active in their association works out in that capacity.
Will:  You have a prodigious capacity for work.  I've known you to work nights at the College World Series, take shifts at Peak Performance, and even work weekends at Arrowhead Stadium in Kansas City.  All while pursuing your teaching and administrative career.  And still making time to train at an Elite level.  Will you "take it easy" now that you've set foot on your chosen career path?
Matt: I do all that work to stay on top of things. If I am not doing something, I feel like I should be. And yes all those things are in pursuit of my passion of sport, athletics and running. Its all part of keeping me well rounded as a person and professional. I will certainly NOT "take it easy" now that I am more in tune with a career path. If anything I plan to be more active and train at a higher level, I have goals for sure still.
Will:  Do you have any specific competitive goals for 2013?  2014?  Will you ever consider running a marathon?
Matt: I do have specific competitive goals for the future. I hope to stay healthy and injury free, fingers crossed. I want to still train for that steeple chase and try to reach a time of 8:50 or faster. I also have hopes to run a 14:30 or faster 5k. I have those goals for sure. I will run a marathon one day for sure, but only when I am ready to "walk away" from the track! Not for about 6 more years hopefully ha!
Will:  I know you can dance as well as you run.  And that you are a huge fan of basketball.  Any other hobbies or interests that you'd like to share with our readers?
Matt: I am a sub par dancer but I love to dance. I don't care what anyone thinks, but give me a good atmosphere, people or even just the beat and I am game for sure. I could go all night! I am a huge bball fan and will be till I die, its my first love and you never forget your first love or kiss for that matter ha! Other interests are spending time with my family and friends and those of a similar mindset. Reading and sometimes a good nap! I also enjoy tinkering with electronics every now and then.
Will:  You are one of the most pious young men I've ever had the pleasure to meet.  How has your faith contributed to where you are today and where your bright future awaits?
Matt: Will that is a very nice comment and flattering, thank you. My faith now is stronger than ever or at least I appreciate it and utilize it and apply it to my life now more than ever! I am not perfect and don't ever claim to be but I am always looking to improve. God and my faith is important to me. I constantly try and remind myself that I am here by His graces and my gifts are meant to glorify Him and not me, in any way. I try and realize how much he factors in and how much I can in turn influence others as a person and leader.
It keeps me very humble and sometimes guilty when I know I make mistakes. I always try and look forward and press on to new goals as well always looking to improve as a person in his eyes. I had a really hard time and went through some personal hardship about a year ago and I evolved a lot with some personal loss and a realization that my attitude and outlook as a person needed to change, and that has stuck with me ever since. The foundation of that change and desire to improve come from people very close to me but is instilled in realizing I had to improve as a person for others for me and most importantly for God. I am hoping that has become evident to those that are close to me and more so to people I come across in my journey. I am very blessed and I am fortunate for that. Not a day goes by where I don't try and recognize that. I draw a lot of inspiration from friends, family, those that are close to me that have passed on and realizing that God always has more in store, I just hope I can make the grade and can do for others and be conscientious of what he has and continues to do for me.