Here's what I'm hoping all you little rascals get in your stockings: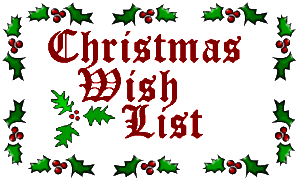 Kyle Clouston– A sub 24 hour 100 Mile and the belt buckle that goes with it at the Rocky Raccoon in February, the USA 100 Mile Trail Championships.
Kaci Lickteig– The win at Rocky Raccoon and the National Champion title she is capable of.
Stacy Mangers, Roxi Erickson, and Linda Kunasek– An injury free year and some head to head competition with the rest of the best and best of the rest.
Ivan Marsh– The Ivan Marsh Trek up the Tower Award.  Overall winner's trophy named in honor of his years long undefeated streak.
Agustin Delgado– The marathon personal best I know he is capable of.
Dordio–  2014 Merriam Webster Compendius Dictionary of the English Language.
Cameron Cummings– The win at 2014 Lincoln Marathon.
Luka Thor– A bed.  A day job.  His Nursing Degree.  A Real Marathon.
Lindsey Brezenski– The 2036 Olympic Marathon Champion.
Matt Schneider– Dinner with Ryan Hall and Phil Robertson.
Pete Kostelnick– Endurance, say what?
Ashley Miller– All of Suzanne Weeder Einspahr's Team Nebraska records.
James McGown– New Nebraska State Masters records for every distance he races.
Michael Rathje– The support of all of us.  A Spring and Fall Series replete with competitive opportunities across all disciplines and distances.  And prize money, lots and lots of prize money.  An LDR Awards night next fall recognizing the top individuals and clubs in our association.
Omaha Running Community– A flat, fast, closed course, prize money laden, USATF Certified Marathon with Real Competition.  Security cameras finally installed at Lake Zorinsky.
Nebraska Running Community– Fewer Mud Runs, Rad Runs, Color Runs,  Foam Runs, Glow Runs, Warrior Dashes, Obstacle Clashes, Mary Thons, and every other bastardization of our sport.
Lincoln Half and Full Marathon– New Event records for open and masters men and women!
Nebraska Run Guru Elite–   Difficult, challenging, and arduous training and racing resulting in an equally rewarding year of accomplishments.  You want easy?  It ain't here dear.