Starting off this chilly Monday with a warmer heart.  Big thanks to Lucky and Mandy Sue for inviting Linda and me to services yesterday morning.  I've been to a lot of churches in my life.  Including the Southeast Church of Christ in Houston where they baptized this little devil back in 1981.  A negotiated term with parents of the young lady I was dating at the time.  Wrong reason but I'm hoping it still counts.
When we walked in there was no lightning bolt to strike me down as many of you might expect and couple of you might hope.  Instead, I turned to hold the door for the next person and was greeted by smile and salutation of one of the truly nicest people I've ever had the pleasure of advocating for.   And one of the greatest stories in the annals of Team Nebraska, I share it briefly here so that this significant piece of history is not forgotten.
Mike Beattie won the community division of the 2008 Omaha Mile (4:30).  Approached me and was approved as a mate.
Between October '08 and July of 2009 Mike worked harder than all but a few athletes I've ever worked with.  Trained with Shannon Stenger, Dustin Llewellyn, Peter van der Westhuizen, Matt Pohren, and Paul Wilson.  Raced often.  With the goal of achieving the 1:59:00 necessary to qualify for USA Club Champs in NYC.  His initial effort was ~2:08, that's huge improvement in a half mile.  At age 30 he would need to achieve  his lifetime collegiate personal best to hit that 1:59.
The ticks and tocks kept falling.  Slowly, incrementally, edging first toward 2:00, finally achieving that.  And then the 1:59 came, I believe at the Team Nebraska Last Chance Qualifier Twilight Meet hosted by Paul at Northwest H.S.  Yep, we used to put on meets for the mates as part of the rigorous demands of excellence.
Mike punched his ticket to NYC!  There he won his heat of the 800 in a lifetime best of 1:56.68, good enough for 9th overall.  How strong was the club back then?  Very.  Nick Suing finished 4th in 1:52.75 and Evan Knight (Abbie's brother) 6th in 1:54.29.  The Good Mates would finish 4th Overall in the Men's Team Competition.  That strong.
All of this came rushing back yesterday morning.  He and wife Joy also have a new addition, little Joshua is but 8 months old and as cute as a bug in a rug.  Joy too has a piece of fabric in the Team Nebraska quilt.  She traveled to NYC with the mates and produced a documentary of the weekend.  I've shown it a few times over the years, am holding it now and remembering, remembering a period of greatness in Nebraska athletics.  And hoping for its return in 2014.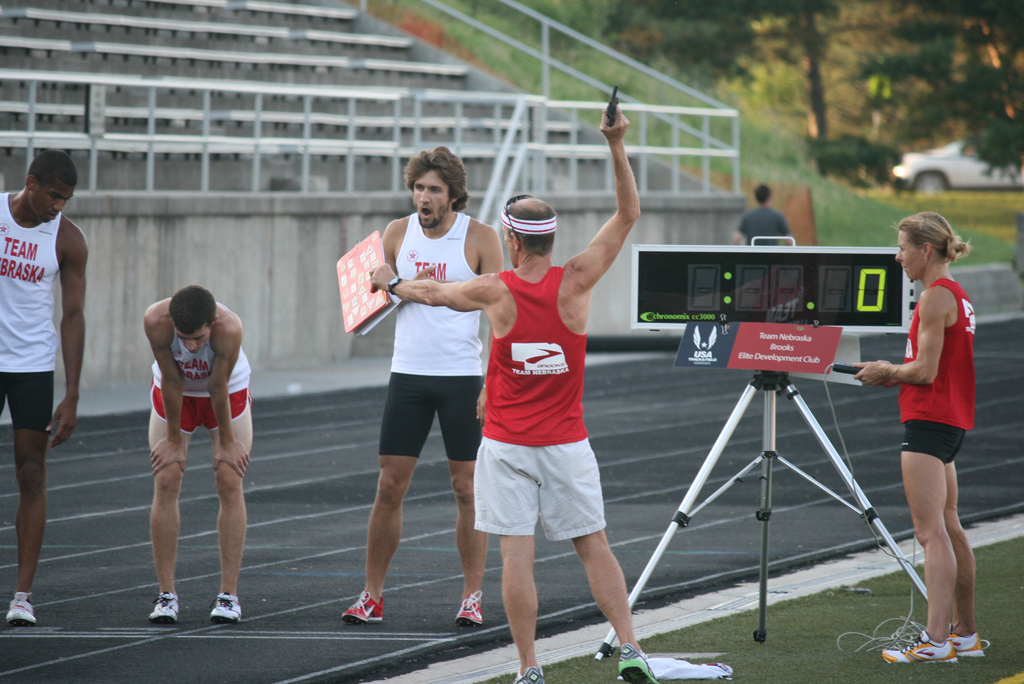 Mike's last chance.  Runners to your marks!  Evan Knight yawning, Matty P, and Mike.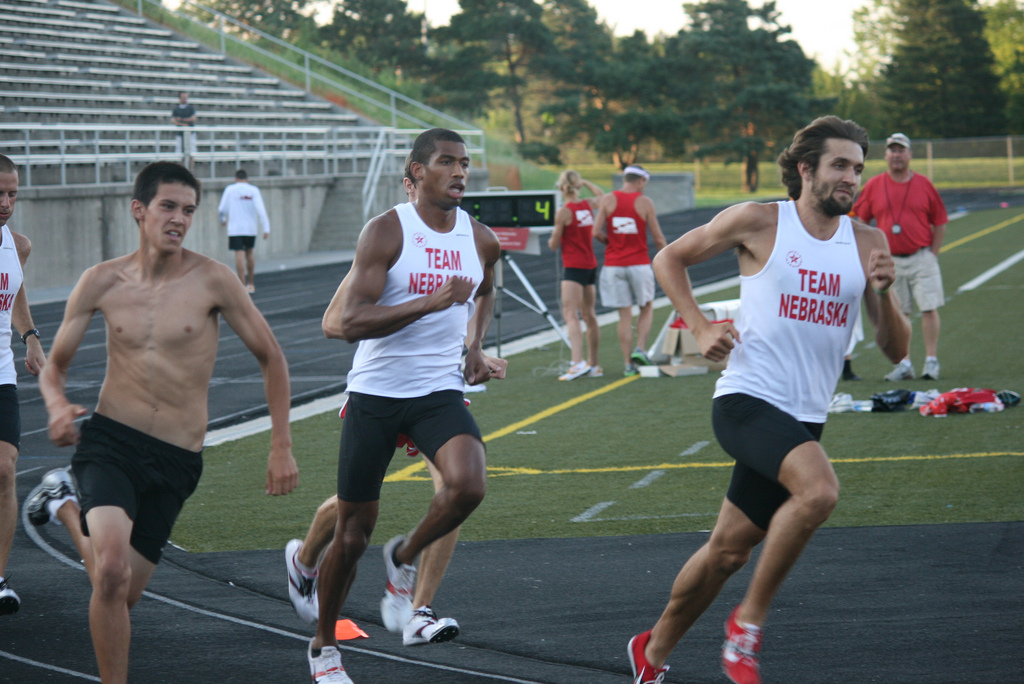 Giddyup!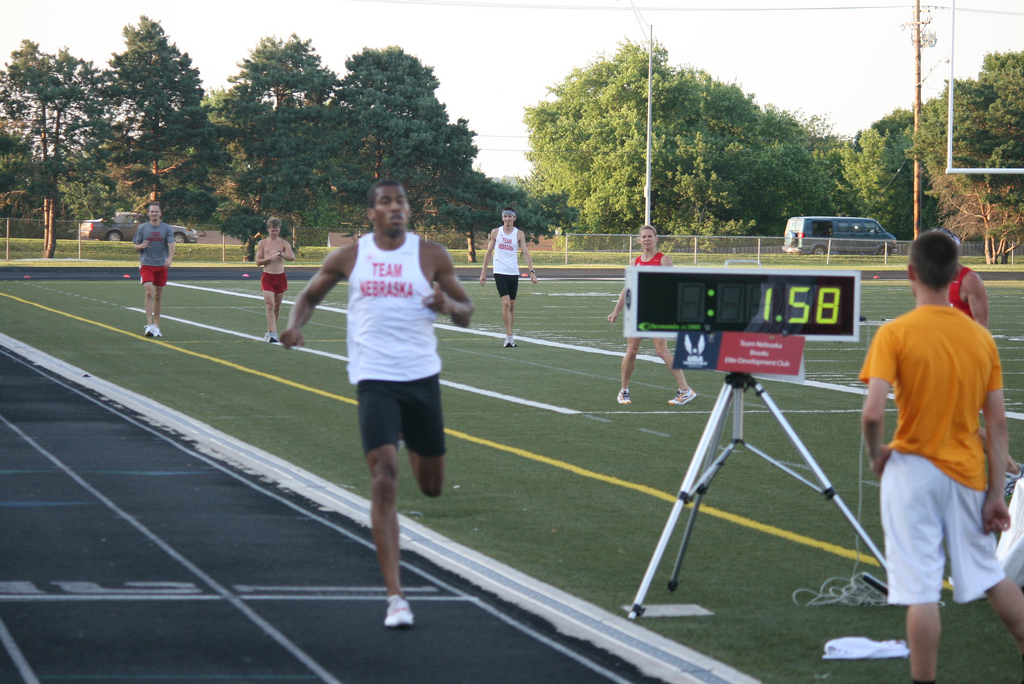 Success!  Hard fought and hard earned!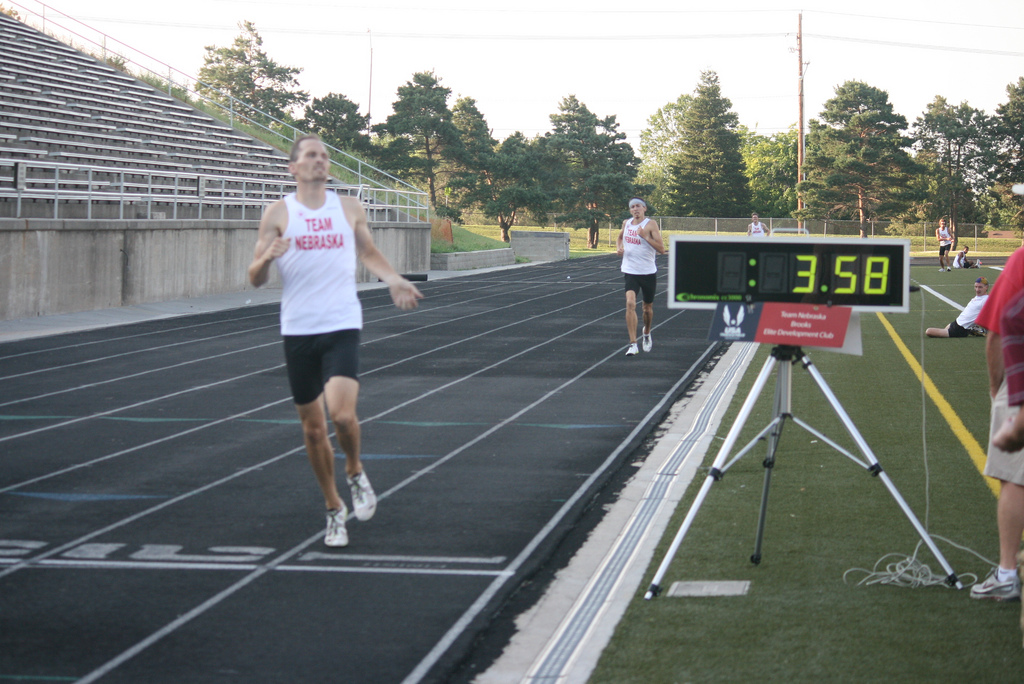 Shannon Stenger also hit his 1500 meter qualifier that evening.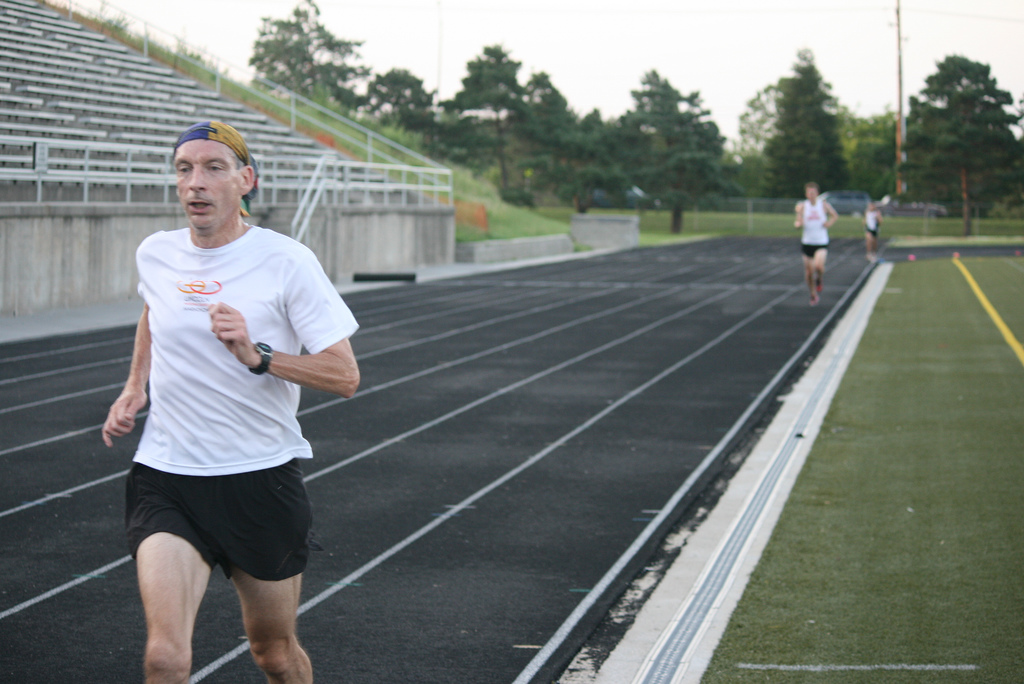 We even let an old hippy hop in.