Interesting weekend on the local roads and you know I've got my own spin.
Are you kidding me?  How did I miss that there was a decent prize purse available at the Diva Dash 5K?  Top five finishers in the 5K ($400, $300, $200, $100, $50) and the top Masters finisher ($200).  Christy showed that she might be getting quite long in the competitive tooth but can still hand it to the youngsters.   Surprised the heck out of me.  Zavorka tuned up for this coming weekend's 8K Club Champs.  Over $1000 in prize money and No LRC gals, 1 Team Nebraska, and a couple of NRGE masters.  Credit to Kear and Vincent, some youth to look out for later this year perhaps?   Michel Davy at 35, a lot of untapped potential.  Morgan Chaffin, tri studette.  Very interesting indeed.
1. Christy Nielsen      38           18:52****Red Dirt Running Co.
2. Megan Zavorka      27           19:31****Team Nebraska
3. Breelan Kear          23           19:45*****unattached
4. Kara Vincent           22           20:07*****unattached
5. Kelly Russ               25           20:16*****unattached (Plymouth, MN)
6.  Michel Davy           35          20:18*****unattached
7. Stacy Shaw             48           20:42*****NRGE
8. Morgan Chaffin     31           20:55*****HOKA
11. Roxi Erickson       51            23:06 *****NRGE
For those that preferred something a little longer there was the No Frills 10 Mile to wrap up Craig Christian's 2014 series.  NRGE's Mike Wasson (48) did not relinquish his stranglehold on the top spot, earning some frilly frills in the process.  That ageless studette Anne Medeiros (70) took the series title for the women.  Great work on providing opportunities to get/keep sharp Craig!
I went to the USATF site and found the Lincoln Running Co. Racing Team has entered a men's team into this coming weekend's USATF Club 8K Road Championships.  LRC Racing – Team A:  Tanner Fruit, Andrew Jacob, Tom Nichols, Michael Rathje, Logan Watley
Who will bring bragging rights back to Nebraska?  LRC Racing?  Team Nebraska A?  Team Nebraska B?   Tom Nichols is representing LRC Racing.   Interesting as our old buddy has lived in Colorado for at least a couple of years now.   Either Logan Watley has cracked the code or there will be some questions raised.  Its a hot seat here on the USA Track & Field Elite Development Club Council.  Seems like somebody else's business is always mine in this arena of post collegiate competition, tough job but somebody has to do it.   Me!  Me!
Fond farewell to one of my favorites.  Kathy Nary headed up the Women's LDR International Competitions Committee for very many years.  It was Kathy that would call me (and Linda) with offers of "USA Team Leader" or "USA Coach" for international traveling teams.  Her volunteer position has been "relinquished" to the USATF National Office.  Expect more shenanigans from Indy and ire from the athletes.  Kathy, we love you and appreciate all you have done for our American women athletes!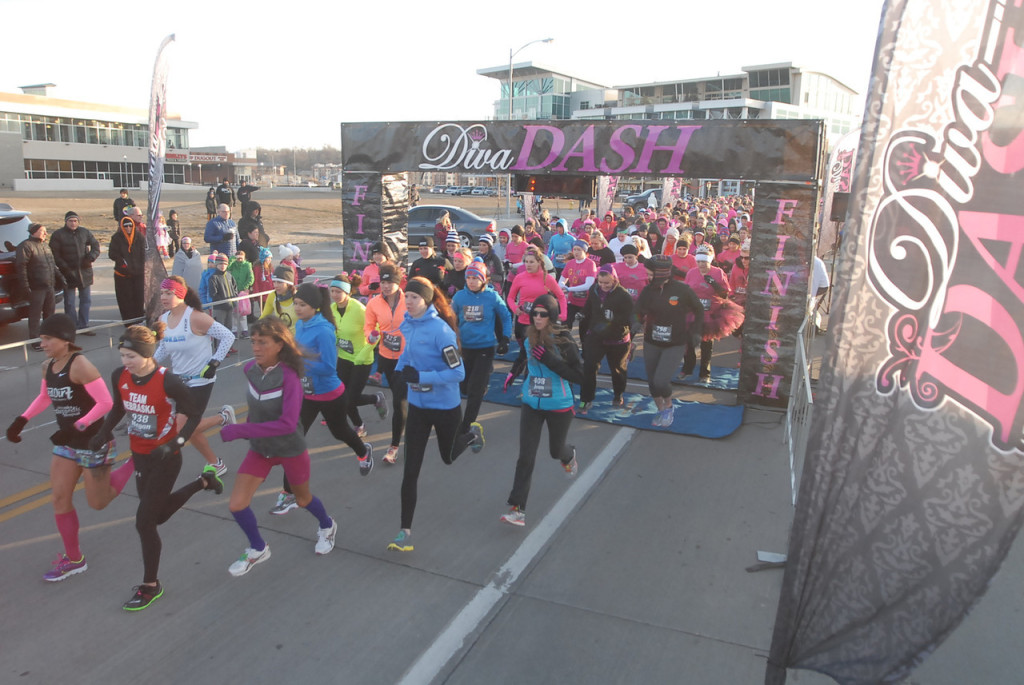 Pedestrian times and a decent prize purse has the Diva Dash squarely on NRGE's 2015 calendar.  Christy earned $133 per each 6:05 mile.  I will have athletes trained up and ready for that challenge!  Poor dear, I always seem to be slapping a target on her back.  Heavy is the mantle…