I volunteered for the US Navy as a wee lad of 19.  I was more than a little surprised when finding at that point I immediately fell under the Uniform Code of Military Justice instead of the US Constitution.  It was foreign to me and I didn't like it.  I looked for every way around this confusing paradigm, none to be found.  So I got used to it and lived with it.
Few have fought the status quo, railed against authority, or pushed the defining limits of "social convention" as I have.  Makes the world a better place in my opinion.  But I've less pepper in the shaker these days, am more selective how I dole out the spice.
Like the military, you've got to put in your time, your service, in order to have any prerogative, any Real Say, in just about any organization you choose to become involved with.  Otherwise you're just another little know-it-all Snotty Scotty.  (Little Snotty Scotty, Always with the 'tude, Even when you're nice to him, he's extremely rude!)
My old buddy Sean Wade is, at 50, quite the hep cat.  Long time readers will know that I sat in Olympic Stadium in 1996 and watched him lead the first 7 miles of the marathon at the Atlanta Olympics.  And that he has let me take his Ferrari out for a midnight spin around the 610 loop in Houston.  Been buddies for the last 20 years in fact.
And while my running career is likely over, Sean, he just keeps keeping it Real.  A week ago- I did mention he's 50 correct?- he ran 15:07 for 5K on the track.  This weekend he ran a 4:10.85 1500 meters at the Fred J. Duckett Invite.  One more time, he's 50 folks.  I'd like to see how many of our current crop of USATF Nebraska association athletes could hang with this old man.  Not many, not many.
More superlatives:  Linda's colleague on the USATF WLDR Executive Committee, Camille Herron,  became the first 3 time winner of the OKC Marathon in 2:54:55.    In the accompanying half, Ashley Miller- made her debut for Team Oklahoma a successful one winning in 1:20.54.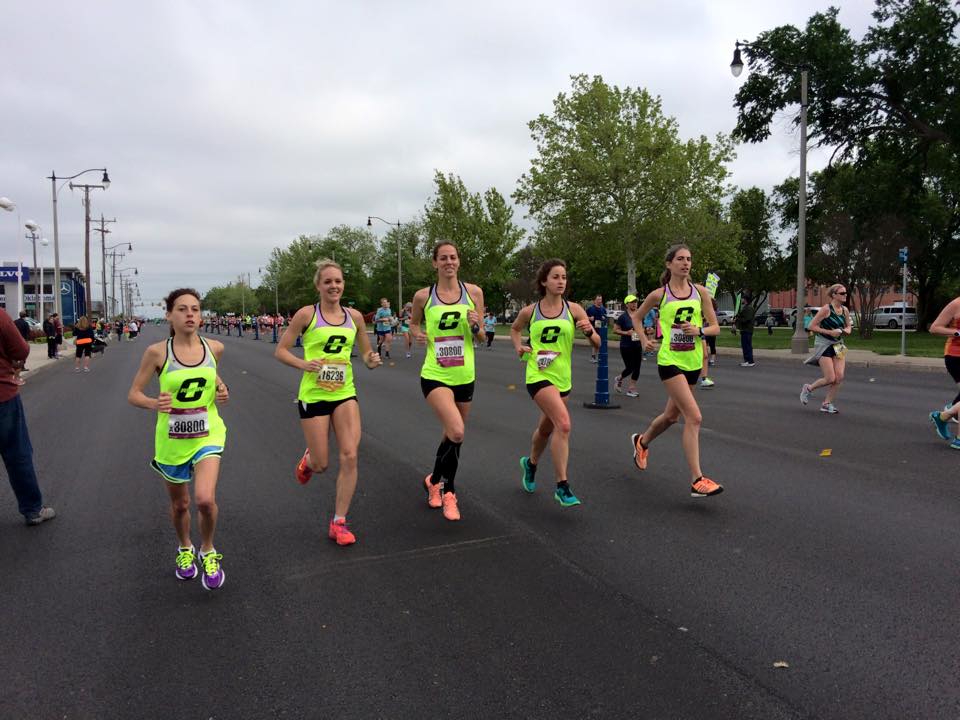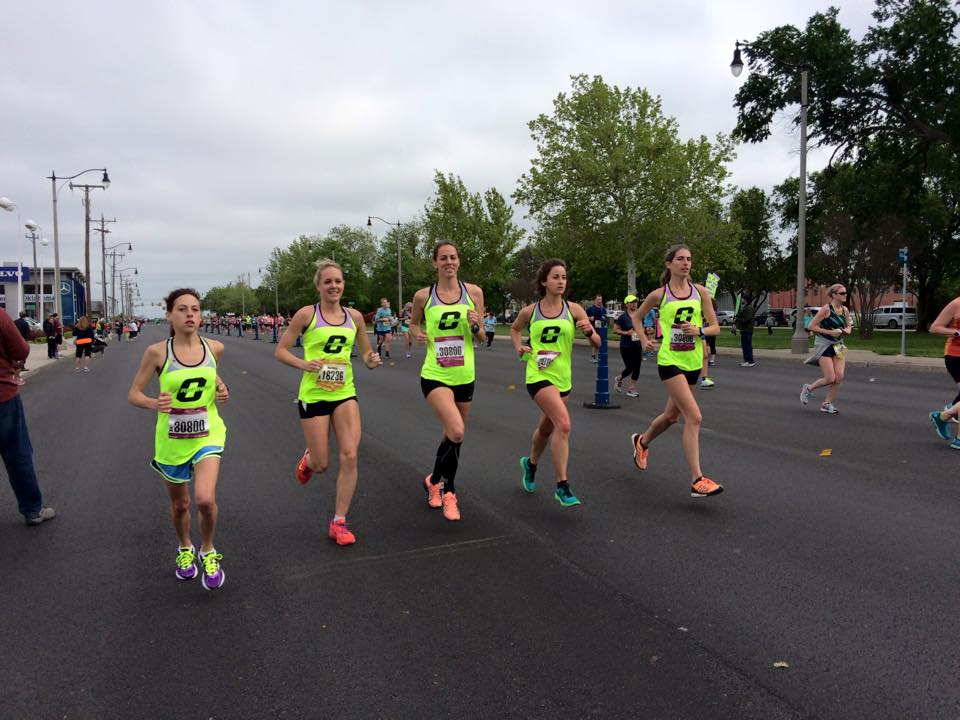 Ashley Miller, second from left, leading a new surge in competitive distance running in Oklahoma.  Team Oklahoma, I like the sounds of that.  She and Camille Herron both live in the Red Dirt state, could be the start of something big.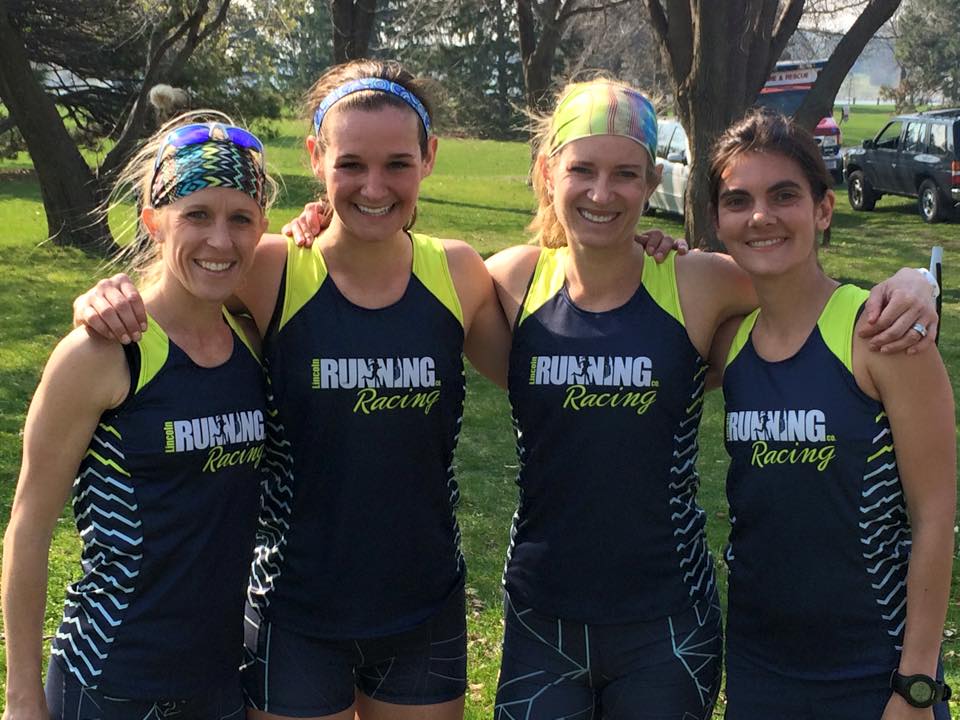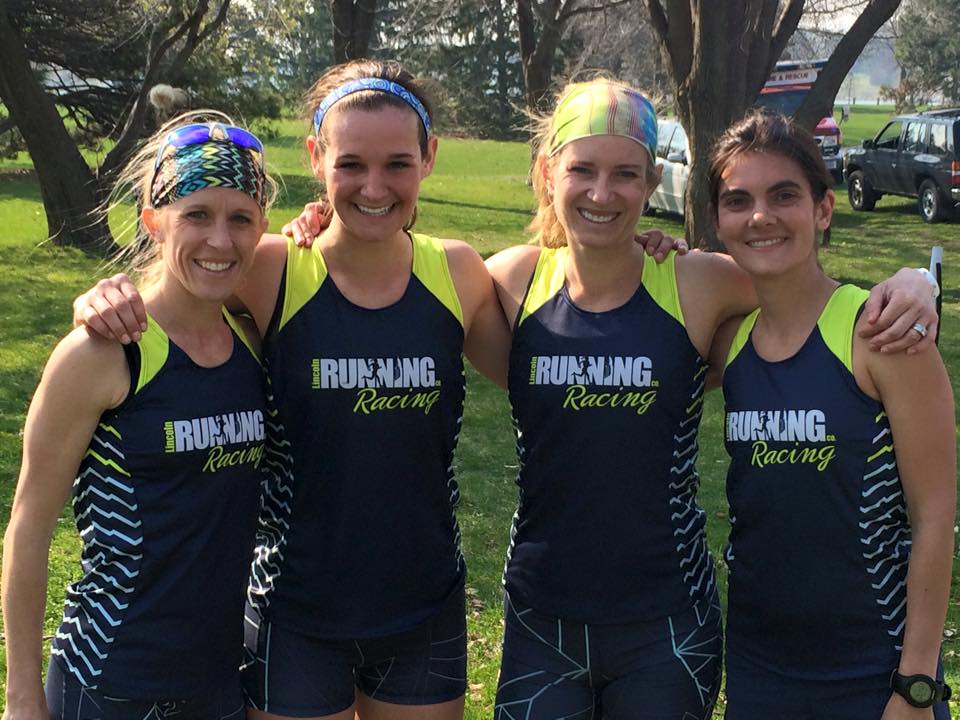 The Lincoln Running Co. Racing team has new kits courtesy of Oiselle.  Until further notice, Bridget Easley, (left) is the toughest current marathoner in Nebraska, male or female.  I base this on the fact that she has the best shot of hitting the USA Olympic Trials standard, in 2015, for either gender.  In my never so humble opinion of course.  Michelle Paxton (2nd from right), I first took her to St. Louis and the USA Women's Marathon National Championships in 2003.  She has shown a durability that doesn't surprise me, I've seen her grit, was proud of her when she ran for me, am proud of her now.  They are joined by Hayley Sutter and Frankie Petersen.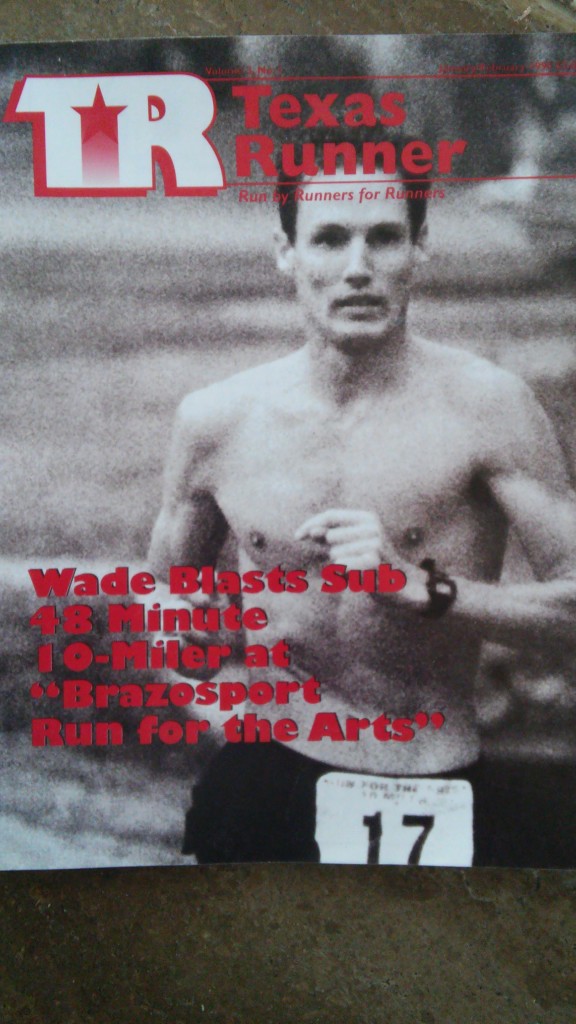 Sean Wade on the cover of Texas Runner magazine, January 1996.  My Run For The Arts was December 1995.  Sean's 47:55 a springboard to the 1996 Houston Marathon (4th, 2:10:59) which in turn punched his ticket to Atlanta representing his native New Zealand.