The Chief.  Chef de Mission.  Kyle Clouston is reprising his role as logistical head of Pete Kostelnick's Excellent Adventure.  The General Public knows Kyle as a Swell Guy, which he is.  I've also been fortunate enough to know another side, My Side, of Kyle.  Ha. Ha.
Will: This will be your second time through Badwater with Pete. What makes this adventure so special?
Kyle: Pete's what makes this race special, Will. Once we are out at the race, all the intangibles of a big time ultra are present so those can't be taken for granted. When it really comes down to it though, watching this dude work his ass off for the last few months is what gets me going for this adventure. Anybody can be a tough guy or girl for a day and nut out a ultra finish but the work that is put in when people aren't ringing f*cking cow bells is what sets Pete apart. Helping a guy like that achieve a goal? I'd be crazy to pass on the opportunity. As a bonus, that race is one of the most beautiful places I have ever been. It's so dramatic and unforgiving but there is a beauty that can't be mistaken, even if it scares the living shit out of a person.
Will:   Seeing the race first hand, what challenge would you most like to tackle?
Kyle: Ha, I'm not much for challenges. I just want somebody to accuse me of being an all-around good runner someday.
Will:  Same scenario, what challenge would you most fear?
Kyle: I still have a healthy fear for 100 milers. I don't think anybody ever truly beats them (similar to a marathon) but I watch the way some people are picking apart crazy 100's like they are a track 10k. I have big day dreams but until I can run an easy 100 with a small amount of success, it's unrealistic for me to think about races like Badwater and Western States.
Will:  You're tuned in like few others, any comments on the field going in?
Kyle: There's a few of the front runners back from previous years so there will be plenty of talent on the line. This race has a little bit different skill set than mountain ultra's but there is a few really solid resumes up there. As for comments around how Pete mixes in with that group, I think the Boone Badass' legs will do all the commenting that is needed haha.
Will:  Pete's Badwater crew is charged with technical details, how long has this work been in progress?
Kyle: Pete and I have been talking about the technical details of this race since the day after the race last year. We had a great group of guys last year but I think we are even better this year. Even though I haven't met either of the guys, I'm very confident and excited about what they bring to the table.
Will:  You've covered 100 miles in a race, what do you think Pete's strengths are?
Kyle: Dude can grind on the pavement. Pete would tell you himself that he's not an amazing trail runner but when it comes to pavement, he's on the verge of being a national level runner. With the way he trained, his legs can handle the distance without a doubt. Key factors will be like any other marathon or longer race.. pacing, hydration/fueling and race management.
Will:  You're a historian of Nebraska ultra running lore. Put what Pete is tilting at in merely mortal terms.
Kyle: That's a good question. In the cult that is ultra running, there are two somewhat separate tribes. There are the racers and then the distance milestone people. Pete still has some work to do but he's working on a resume that has stout achievements on both sides. If he can continue on that path, few before or after will be on the same level. He proven he belongs, this race is an opportunity to take the next step.
Will:  How do flatlanders like Pete and Kaci Lickteig (2nd female, Western
States) run with the best trail and ultra runners in the United States?
Kyle: Hard work. They are respectively the two best pound for pound runners in Nebraska right now. I'm sure that gets a few eyes rolling but I'm happy to have people come out to the Lincoln Marathon next year and make me eat those words haha.
Will:  Your second time through Badwater, with that experience do you entertain any notions on attempting "The Toughest Race in the World?"
Kyle:  Ah it's just a daydream at this point. I need a few quality 100's before I can put a serious bid in to run the race. The thought is certainly there though. At least I know some asshole that would probably crew for me.
Will: Who will be on your playlist in the deepest, darkest hours?
Kyle:  I probably won't have the luxury of putting in headphones at Badwater. If I were, here is how it would go.. Mojo working – Muddy Waters, Little Wing – Stevie Ray Vaughn, Sweet Jane – Velvet Underground, Black Throated Wind – Bob Weir, and I hate to admit it but probably 0 to 100 – Drake. I'm going to hell for that one..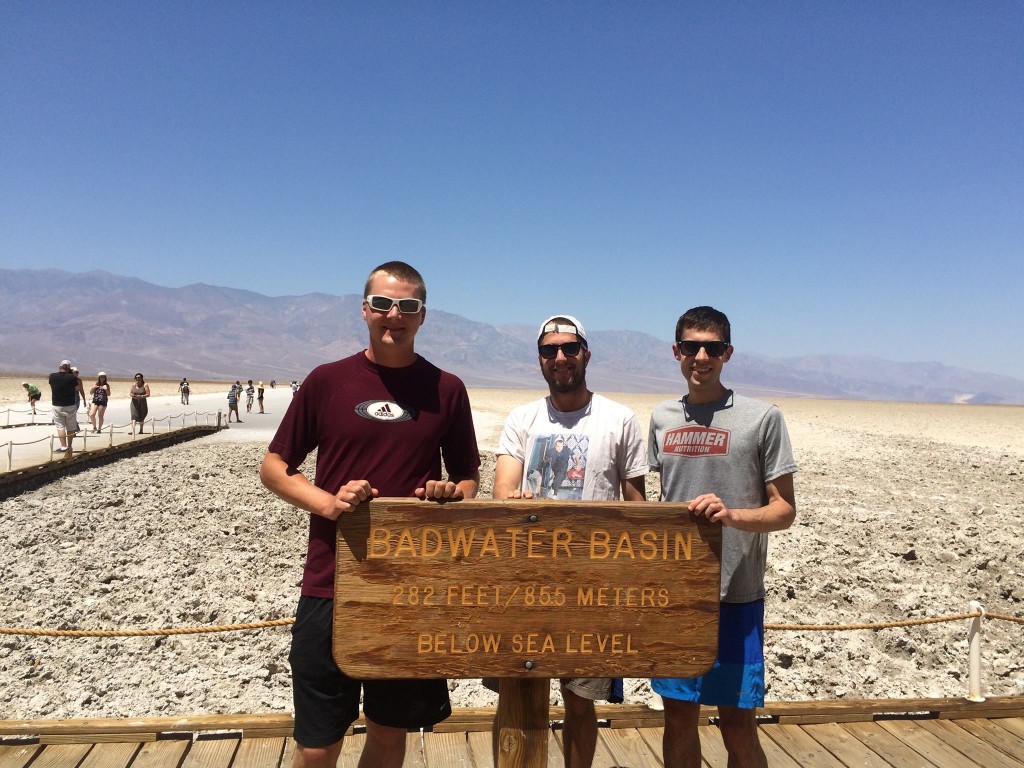 Some bad, bad, bad fellas right here.  Don't doubt if for a moment.