Three simple little letters.  LHF.  The Race.  Not the novelty.  Up Front.  Always First Class Competition.  And Deep.  You Win This and It Matters.  Why?  Because you establish yourself as maybe the best cross country club in the Midwest, that's why.  Teams from Wisconsin, Minnesota, Missouri, Nebraska, Kansas, Iowa, and beyond.  Good ones.  That's why.   Team Nebraska has not had a team presence since 2012.  LRC Racing has regularly sent a team.  Hopefully both will have kits on the line this Saturday.  I've always held this to be the most important regional race of the fall.  Thanks for taking a moment to see why, some significant and historic Nebraska moments over the last 12 years, most as I rode over my previous herd.
2004, 43 & Overcast
Open Men **10K
1. Three's Co. (1:50:58) * Iowa
2. NDORFNZ (1:52:49)  Shannon Stenger- 33:50, Dustin Llewellyn-38:14, Craig Christians-38:47, Gary Dougherty-40:03
2005, 40 & Overcast
Open Men**10K
1. Runnin Lopes (1:47:42) comprised of Iowa and Nebraska talent
2. Dreaded Chasers (1:48:48)
3. Ledgewood (1:49:00)
4. Team Nebraska Brooks (A) (1:49:54) Stenger-35:27, Llewellyn-37:12, Chris Kopp-37:16
5. 533 Rushmore (comprised of athletes from MN & WI)
6. Team Nebraska Brooks (B)  Jason Brindle-37:09, Ben Sandy-38:40, Christians-39:20
Open Women
1. Team Nebraska Brooks (2:12:09) Gina Morgan-42:51 (2nd Overall), Courtney Clinard-44:20, Kelly Yacevich-44:59
2. Norse Women (Iowa) (2:18:50)
3. Run-n-Fun (MN) (2:22:23)
2006
Open Men
1. wrrt-Henkes Heroes (1:54:06) Matt Downin-37:47, Ladarius Gold-37:47, Henry Dennis-38:33, Pascal Dobert-38:59
2. Runnin Lopes (1:58:00) Luke Garringer-38:26, Eric Rasmussen-39:11, Brandon Jessop-40:24
3. Team Nebraska Brooks (2:01:03) Stenger-39:19, Llewellyn-40:58, Kopp-41:15
Henkes Heroes out of Wisconson.  Downin a Trials Qualifier, Dennis a 5K Road National Champ, studs all.  Runnin Lopes, this is how close I missed both Garringer and Jessop, I would have loved to have had the chance to work with them.
Open Women
1. Hoof Hearted (2:25:02) out of Minnesota
2. Team Nebraska Brooks (2:32:07) Michelle Paxton-50:01, Yacevich-51:02, Courtney Mann-51:05, Kristi Gibbs-51:54, My Dear Sweet Linda (!)- 53:13, Melissa Schmidt-57:57
Masters Men
1. Team Nebraska Brooks   Christians-42:53, Todd Nott-45:24, Brian Bergt-45:59, Will Lindgren (!!)-54:21
2007
Open Women
1. Run Ablaze (2:19:49)
2. Team Nebraska Brooks (2:25:12) Stephanie Randall-48:16, Jessica Rettig-48:24, Mann-48:33, Bridget Easley-49:58, Yacevich-51:52
2008 low 20s, wind, overcast
Open Men
1. Run Ablaze (1:58:11)
2. Fitness Sports (2:01:34)
3. Pr1pak (2:03:35)
4. Team Nebraska Brooks (2:04:05) Stenger-39:28, Brian Wandzilak-42:12, Kopp-42:26
Open Women
1. Dirt Divas (2:30:08)
2. Team Nebraska Brooks (2:32:20) Randall-49:50, Mann-49:51, Schmidt-52:41
2009  40, foggy and damp
Open Men
1. Team Nebraska Brooks (2:02:32) Matt Pohren (4th o/a)-40:02, Stenger-41:14, Matt Schneider-41:17, Wandzilak-43:04, Jordan Tucker-43:40, Dylan Wilson-46:48
2. Little Rascals (2:03:01) athletes from Iowa, Minnesota and Wisconsin
3. Run Ablaze (2:03:11)
Open Women
1. Run Ablaze (2:35:19)
2. Team Nebraska Brooks (2:40:11) Mann-51:19, Linda-54:07, Nicole Nelson-54:45
2010  28 & Sunny
Top 3 Male Overall   Julius Rotich-40:14, Scott Gall-40:48, Shannon Stenger (!)-41:24
Open Men
1. Team Nebraska Brook (2:08:23) Stenger-41:24, Tucker-43:27, Wandzilak-43:33, Justin Mollak-47:52
2. Sweet Feet (2:10:04)
3. Run Ablaze (2:1:11)
2011  46 & Cloudy
Top 4 Male Overall * Matt Pohren-38:56, Randy Bill-39:36, Mason Frank-39:38, Julius Rotich-39:56   *First Nebraska  Winner—Only :15 separating Run Ablaze and Team Nebraska!!
Open Men
1. Run Ablaze (2:01:41) Randy Bill-39:36, Scott Gall-40:59, Joe Aulwes-41:07
2. Team Nebraska (2:01:56)  Pohren-38:56, Cory Logsdon-41:15, Andrew Jacob-41:47, Wandzilak-43:38, Dylan Wilson-50:52
2012   42 & Sunny
Top 4 Male Overall **Matt Pohren-38:09 (course record), Ben Englehardt (Ohio)-39:16, Mason Frank-39:44, Chris Robertson-40:20
Open Men
1. ISU Running Club (2:01:40)
2. Collegeville (2:11:37)
3. Team Nebraska Pohren-38:09, Logsdon-43:23, Richard Eads-51:09
Open Female
1. Ndorfnz (2:34:27) Kaci Lickteig-47:45, Mann-51:54, Joni Schmidt-54:50
CO-ED
1. Kansas City
2. UpTown Orange (Minneapolis)
3. Quacktastic! (Des Moines)
4. TC Running Club (Minneapolis)
5. LRC Co-ed  Andrew Jacob-43:53, Ben Cohoon-49:55, Laura Friesell-55:20, Adeline Hohman-56:42
2013  14, N wind @ 12 mph, ground snow
Open Men
1. Iowa State RC (2:06:05) Mason Frank-41:15, Chris Robertson-42:15, Denny Ducharme-42:35
2. Winneshiek TC (2:09:49)
3. LRC Racing (2:13:28) Jason Zakaras-44:10, Wandzilak-44:36, Jacob-44:42
Open Women
1. Run Ablaze (2:34:07)
2. Ndorfnz (2:47:01)
2014  40 and cloudy
Top 3 Male  Mason Frank-39:27, Scott Gall (40)-39:58, Matt Braithwaite-40:57
Open Men
1. Run Ablaze (2:02:09)
2. LRC Racing (2:07:51) Zakaras-42:11, Wandzilak-42:24, Jacob-43:16
Open Women
1. Fat Stanleys (2:36:48) St. Paul, MN  Angie Voight (37)- 49:15, Erin Block (40)-49:46, Nordica Stocker (29)-57:47
And finally some take aways.   Matt Pohren, as a back to back winner and course record holder, has forever etched his name deep in the LHF book.   Shannon Stenger is Nebraska's Iron Man.  Is Wandzilak far behind?   And as a fond reminisce to all the athletes that ran LHF for me through 2012, thanks.  You took up the challenge, heeded the carillion's peal to competition.  And those before my tenure,  thanks to you for having the fire, and those who have picked up the call since,  keep it up!  The Good Fight!  Nebraska Run Guru Elite will be doing its best to join you in making Nebraska proud at Saturday's gun.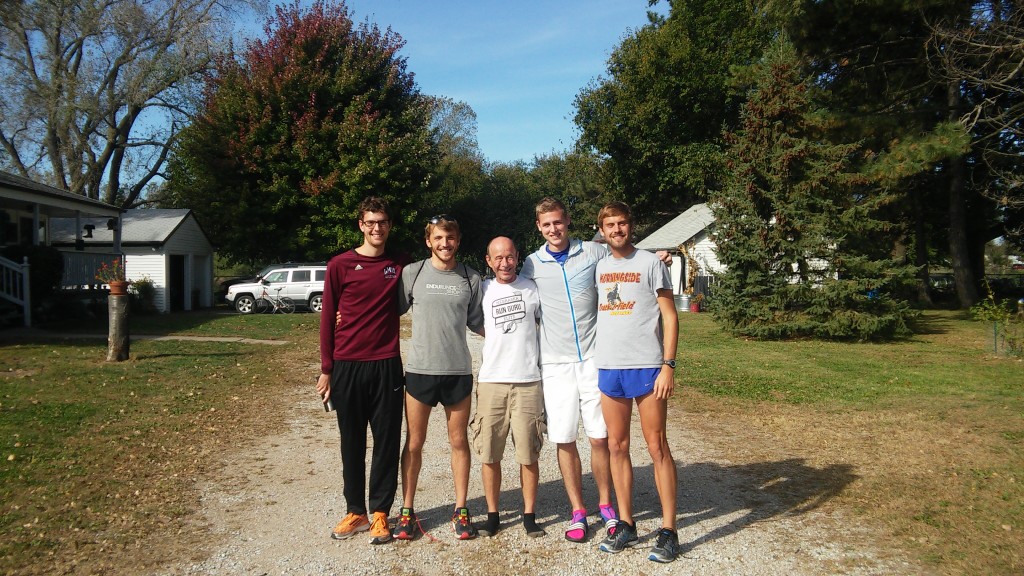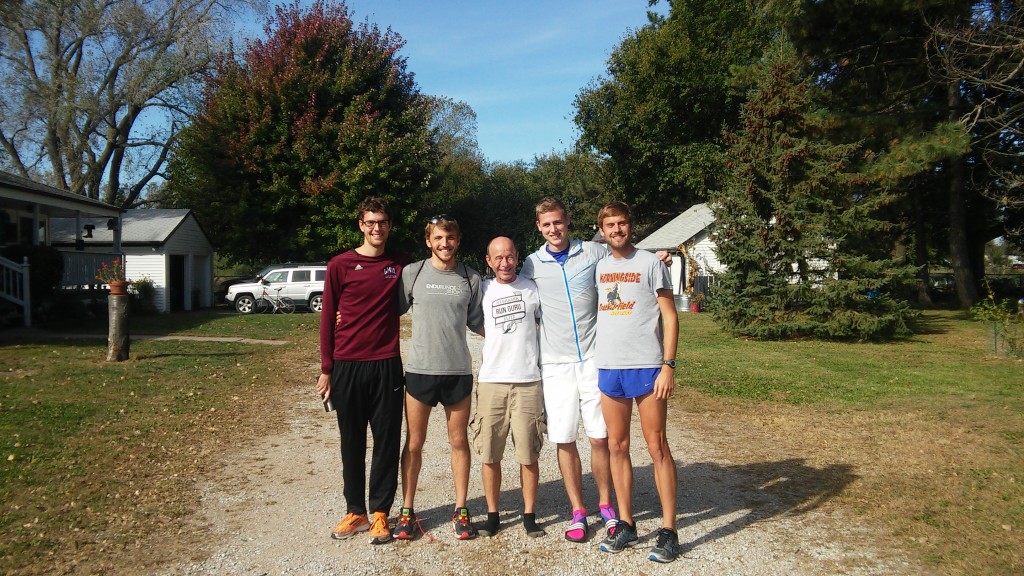 Kevin Joerger, Grant Wintheiser, Drew Prescott, Jay Welp.  NRGE's contribution to Saturday's competition.  Giddyup!