Getting the beak  wet.  Dipping into  the trough.
Respect.  You've got to make a significant contribution, or display a minimum of maturity,  in order to have a place at the adult table.  The good news is that there is always next year.  Ah but that taste, once you get it, exciting buds and salivary glands, fairly drooling as it were.  It should be incentive enough to sit up a little straighter, do all the little things that are commensurate with favorable graces.
And of course I'm typing out of both sides of my brain this morning.  I could easily be talking about Really Earning your stripes as a racer.  About how you don't just show up with an attitude or presume to usurp authority simply because of artificially elevated self worth.  You know who you are, bad boys and girls, spoiled brats, to the children's table with you!
No, today I'm talking about my beloved Chicago Cubs.  Jake Arrieta wins the NL Cy Young.  Kris Bryant Rookie of the Year.  Joe Madden Manager of the year.  The beaks are wet!  Bring on 2016!
Thanks to my old buddy Craig Christians for pointing out he has run the last 18 LHF and has scored hardware every single year.  What a crock!    And to Gary Dougherty for reminding how NDORFNZ Masters Men spanked Team Nebraska in 2008.  And to Jordan Tucker for making my day with his own LHF memories.
2008 LHF Masters Male Team
1. NDORFNZ (2:16:05) Scott Parker-43:51, Gary  Dougherty-44:55, Dave Sutej-47:20, Tom Lewis-52:06, Fred Brown-1:12:56
2. Team Nebraska  Brooks (2:18:02) Craig Christians-44:04, Todd Nott-46:44, Dave Johnson-47:15, Brian Bergt-48:05, Will Lindgren-54:44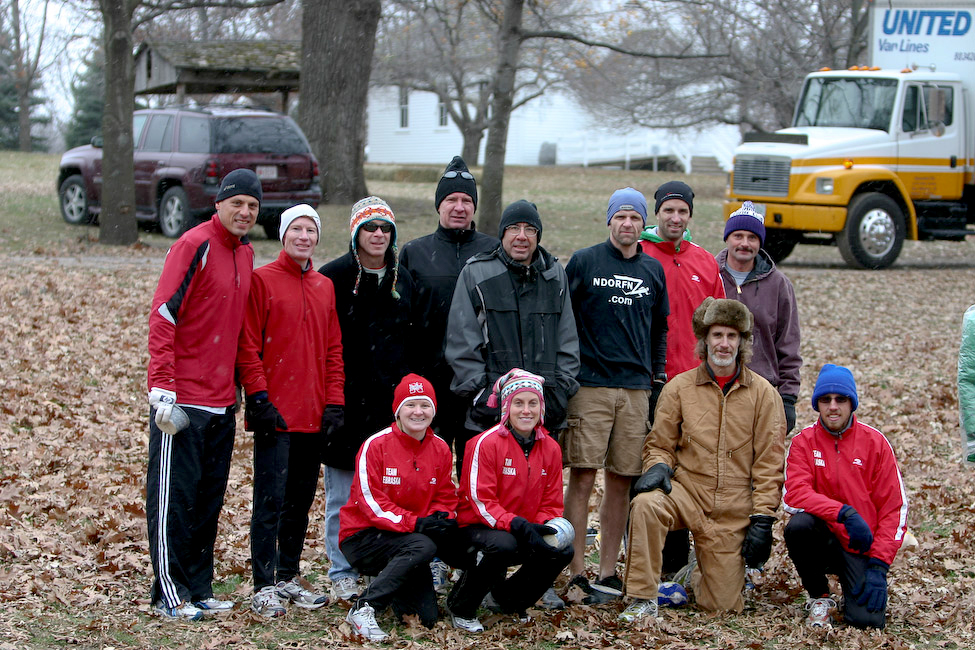 2008 LHF.  Dr. Tom Lewis on the left, Scott Parker, moi, Fred Brown, Bob Garcia, Gary Dougherty, Dave Sutej, Brian Bergt.  Kneeling is Courtney Mann, Stephanie Randall, Craig Carhart Christians, and Chris Kopp.  My dear lord, the stories we share.  The Obstacle we've all overcome.  photo courtesy of Gary Dougherty