My old buddy and Houston Marathon Director Brant Kotch added me recently to an Event Management group on facebook.    Another old buddy and one of the most respected men in the industry, Jim Gerweck,  immediately liked it and chimed in with Groucho's classic quote "I wouldn't want to belong to any club that would have me as a member".
I'm not the only Nebraska event director in the group.  Just the oldest, with a long history  of connections.
Here's a litmus test.  Are you in event management to line your pockets, bigger house, a boat, acreage, et blah?  That is a distinction I draw between those I respect most and many recent to the game.
I'm cool with old school.  Do it for the love of the sport.  Do it for you.  I call bullocks on artificial entry caps,  escalating entry fees, b.s. qualifying times, and every other effective ruse to drive  entries.  Yes,  none of my business, except its been my business for almost 35 years whippersnappers.
Linda and I have hand written our Valentine's Day entry list, twice.  Transposed that list onto the race numbers.  Linda takes the time to decorate each bib.  What happens is a connection with our participants.  We know a lot of them before they ever toe the line, even if we've never met.  No computer generated labels to affix.  You are more than a line  of data in a spreadsheet to us.  More than simply another dollar.
1983 Channel Industry Sports Association 5K was my first.  Saturday will be my latest.  I've made every single mistake possible in race directing over that span.  Learned from those mistakes.  And those that Came Before Me.  Acknowledging their contributions to our sport.  Even if I didn't see eye to eye with them.   That's called Respect, whippersnappers.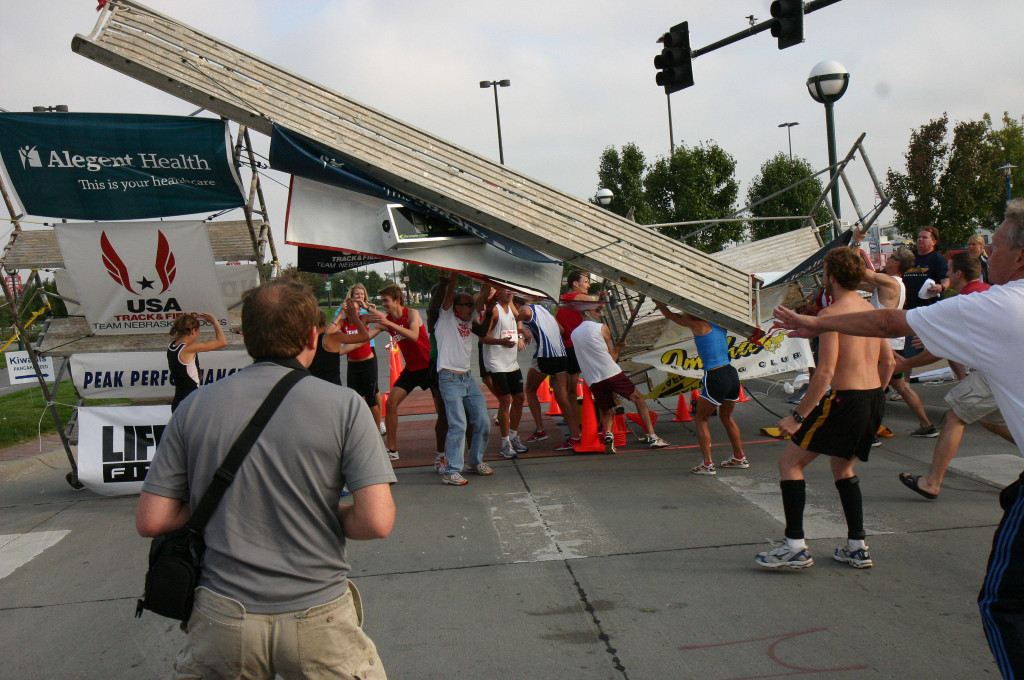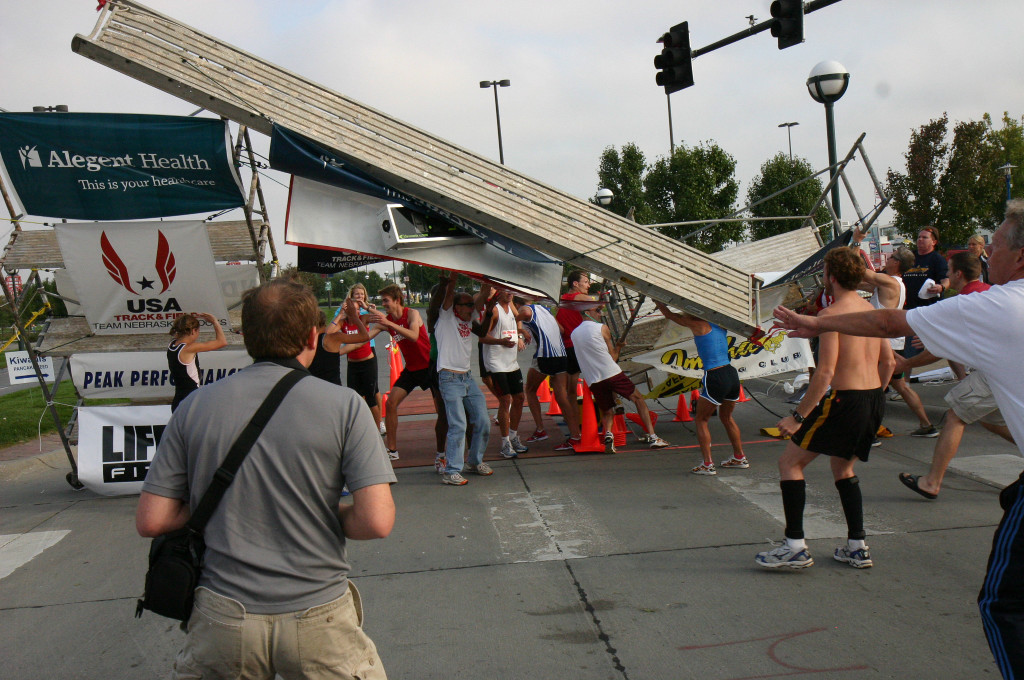 photo courtesy of Gary Dougherty
My Greatest Gaffe occurred at the 2008 Omaha Mile.  Used scaffolding for the finish line build out.  A significant wind change caught the non-vented banners leading to this collapse.  Athletes scramble while I hold up the clock and the 300 pound walkway, others rushing in to help.   Thank the Buddha the only injury was my bruised ego.
I promise no overhead scaffolding tomorrow morning!