If you peaked under the corner of the tent this weekend you may have seen some of the following:
At the Frank Sevigne Husker Invitational
Men's 800 Meters,  22.  Max Lindgren   1:58.62
Men's 1 Mile,  11.  Jay Welp    4:18.45
Men's 3000,  3. Austin Post (NU) 8:26.21,   12. Colin Morrissey (Team Nebraska) 8:37.60
Women's 5000  1. Katie Wetzstein (LRC Racing) 16:44.34,   4. Sara Fowler (LRC  Racing) 17:52.59
Men's 5000   2. Nolan Zimmer  14:43.26,  5. Nolan Border (LRC Racing) 15:02.96,  6. Peter Falcon (Team Nebraska) 15:03.52
At the USA Cross Country National Champs in Tallahassee Leonard Korir (29:16.6) just edged Galen Rupp (29:17.8) to claim the title.  Emily Infeld (33:18) claimed the women's laurels over Molly Seidel (33:22).
No Nebraska athletes at this year's USATF 100 Mile Trail Championships, first time in a few years.
Elizabeth Starbuck working hard this winter.  Included the Lake Manawa 10K as part of her run Saturday, was in 2nd overall for most of the race until getting lost on the course, drats.
Millrose Games on NBC last Saturday.  My annual reverie of having Peter van der Westhuizen in Team Nebraska singlet on the start line of the Wanamaker Mile will never get old.  The ruckus it caused nationally one of my favorite tales over an Oban.
Sonia Friend-Uhl became the oldest American woman to break 5:00 in the mile at the recent KMS Invitational.  Sonia will turn 47 in March and ran 4:59.99 to set the mark.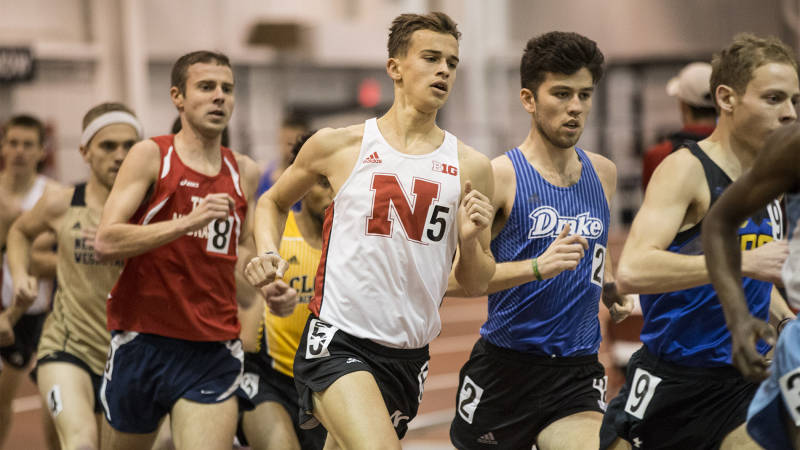 Austin Post (5) on his way to 3rd.  Got to hand it to Colin Morrissey (8) for fearlessly mixing it up with these young cats.