Where to start!?  California International Marathon and Johnny Rutford of Omaha.  Johnny became the first male Nebraska resident since 2008 to hit the Olympic Trials Qualifying mark.  His 2:17:58 at California International well under the 2:19:00 standard.  Nice work lad.  Peter Falcon, also of Omaha, made his long awaited 26.2 debut a good one cracking the 2:30 barrier.  Peter finished 161st in 2:29:40.  Other Nebraska finishers include Liz Woodruff of Omaha (2:53:53),  Tim McGargill of Omaha (2:51:14) , and David Neff Jr. of  Lincoln (2:56:47).
Brogan Austin (2:12:38) of Iowa Runablaze came away the biggest star of the morning.  Brogan used a 15:08 5k split between 35 and 40 kilometers to pass Matt Llano in the final half mile to claim  the USA Marathon Champion title.  Brogan's  previous marathon pr was 2:24:change.  Pasca Myers of Ft. Dodge, IA finished 12th female in 2:34:21.  The women's race was won by Emma Bates in a sterling 2:28:18.
Special notes from California International.  The Kansas City Smoke's Chris Burnett (2:18:19) also hit the B.  Sixty year old Jeff Young ran 2:41:35 to win my age group.  Would have been a national record but not record eligible due to start/finish separation and net downhill.  Also in the  race was CIM course record holder (set in 1993) and my good buddy Jerry Lawson.  Now 52 years old Jerry ran 2:53:56.  He is the former American Record Holder in the Marathon, running 2:09:31 at Chicago way back in the day.
Twenty two women ran under the 2:37:00 A Standard.  98 Women hit the 2:45:00 B Standard.  Twenty two year old Tiffany Costello was the 98th finisher with a chip time of 2:45:00.  Twenty nine year old Hayley Sutter (Waterford, MA representing Lincoln Running Co) was also credited with a chip time of 2:45:00, good for 99th, gun time of 2:45:07.  I'll give more insight into the differences between gun and chip and the appeal process in tomorrow's column.
Fourteen men ran under the 2:15:00 A Standard.  Fifty three men hit the 2:19:00 B Standard.  There were 3 men within :10 of the B, expect appeals on those results.  Gun times always used in Championships and Olympic Trials qualifying.
Athletes from across the U.S. lining up on perhaps the most favorable course for qualifying in the United States.  One hundred fifty one  qualifiers yesterday.    More again on that tomorrow.
On a more personal note I'd like to congratulate my OG, my coaching mentor, Jim McLatchie.  You've heard me sing his praises for a lot of things over the years.  Add this past weekend's NXN girl's team title.  The Summit (Bend, OR) High School girls, top female cross country team in the United States.    I've always wanted to be just like Jim.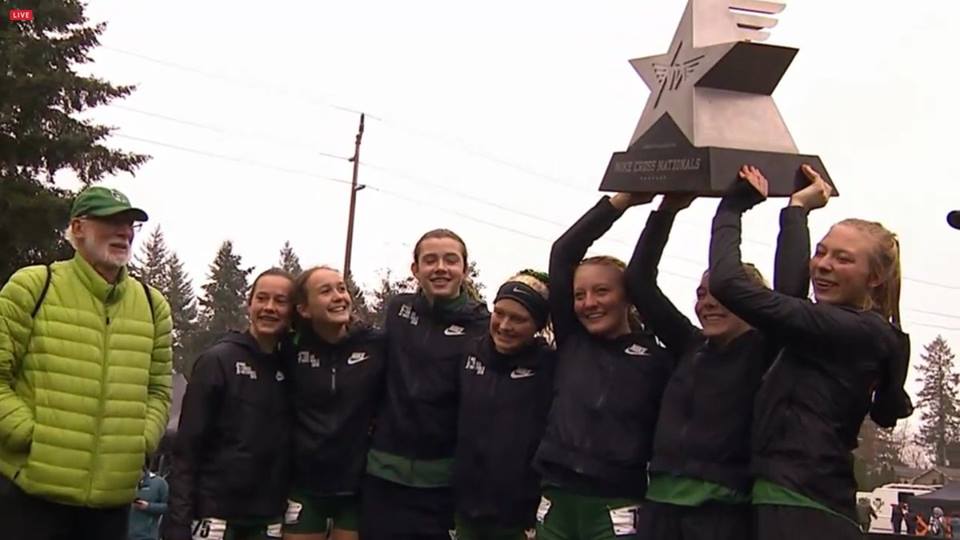 Jim McLatchie.  One  of the very best coaches in the United States.