A MOMENT WITH BRANT KOTCH
Brant Kotch is one of my oldest buddies in Texas.  He's also the Race Director for the Houston Marathon and Half Marathon.  The Half will serve as the Men and Women's USA Half Marathon National Championships.  Not a single Nebraskan entered.  Sad.  I sent dozens of my former club runners to Houston, all were treated to experiences of a lifetime.  But hey, that was then.  Just a heads up for next year, if you have talent and ambition, get ahold of me this December and I'll make sure you have a spot on the 2016 start line.  Regardless of kit.
Brant's Fab Five Faves:
Will:  Who are your men and women's favorite on Sunday?
Brant:  "Men's Marathon: The clear fave, Bazu Worku, may not make it (news flash!), and in his absence, I'd go with Debebe Tolossa, who finished second here in 2012. He's knows the course (well, most of it) and he's due for a good result.  Women's Marathon: Gotta got with Fatuma Sado, but this is a tough race to call. Lots of the women have similar bests and are all looking to break through.  Men's Half: I have to go with my man Meb. He is an inspiration to all of us old farts!  This would be the third time he's won here (2012 Trials and Halves in 2008 and 2014).  Women's Half: Janet Cherobon-Bawcom. She's been on a roll and I just saw her in the hotel lobby and she looks super-fit."
Will:   What is your favorite Houston Marathon memory?
Brant:  "One, the 1984 finish, where Charlie Spedding outleaned Massimo Magnani at the tape. Spedding went on to get the bronze medal in the LA Olympics marathon that summer. Two, our hosting of the Oly Trials in 2012. Just sorry we weren't allowed to follow up with an even better show in 2016."
Will:   What is your favorite beer?
Brant:  "No single favorite beer, but I love sours and IPAs. Favorite sour that I've actually tasted: Russian River Supplication. IPA: The Alchemist Heady Topper (with Russian River Pliny the Elder right behind)."
Will:  Who is your favorite Nebraskan?
Brant:   "You!  But Virginia Brophy Achman* roots for Nebraska and if that puts her in the running, I'd have to name her."
Will:  What is your second favorite beer?
Brant:   "I've already named three beers, but if I could only have one more, I'll go with Bourbon County Brand Stout.  There!   And I'm outta here!   Take care and keep in touch!  Best, Brant."
*Virginia graduated from Burke High School back in the day.  She is the Race Director for the Twin Cities Marathon.  Virginia served as the WLDR Chair for the last two years of my stint as Women's National Champs Chair.  She and I have our own stories to be sure.
I've got a ton of favorite memories from Houston including my personal best in 1996.  Sharing a hot tub with Meb after the 2012 Trials,  being on the press truck when Ryan Hall set the American Record of 59:43 in 2007.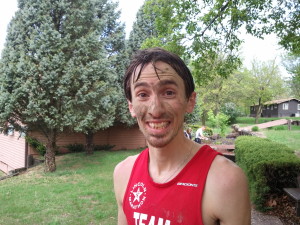 Matt Schneider used to run for me.  I sent him to Houston in 2010 and he made a memory of a lifetime by running early on nearly stride for stride with the Women's overall winner, Shalane Flanagan (1:09:41).  Tons of tv face time and great exposure for the Red & White.  Matt would finish in 1:11:13.  He was one of the fiercest mates I ever had on the old club.  Broke my heart how things got corrupted between the two of us.  Matt, I still miss your fire.