A MOMENT WITH TESSA STOLTENBURG
Pleased to feature Tessa Stoltenburg this morning.  Tessa is the fastest Nebraska female marathoner in the last several decades.  She was kind enough to answer 10 questions, provides some great insight into what makes this young lady a rare and special talent.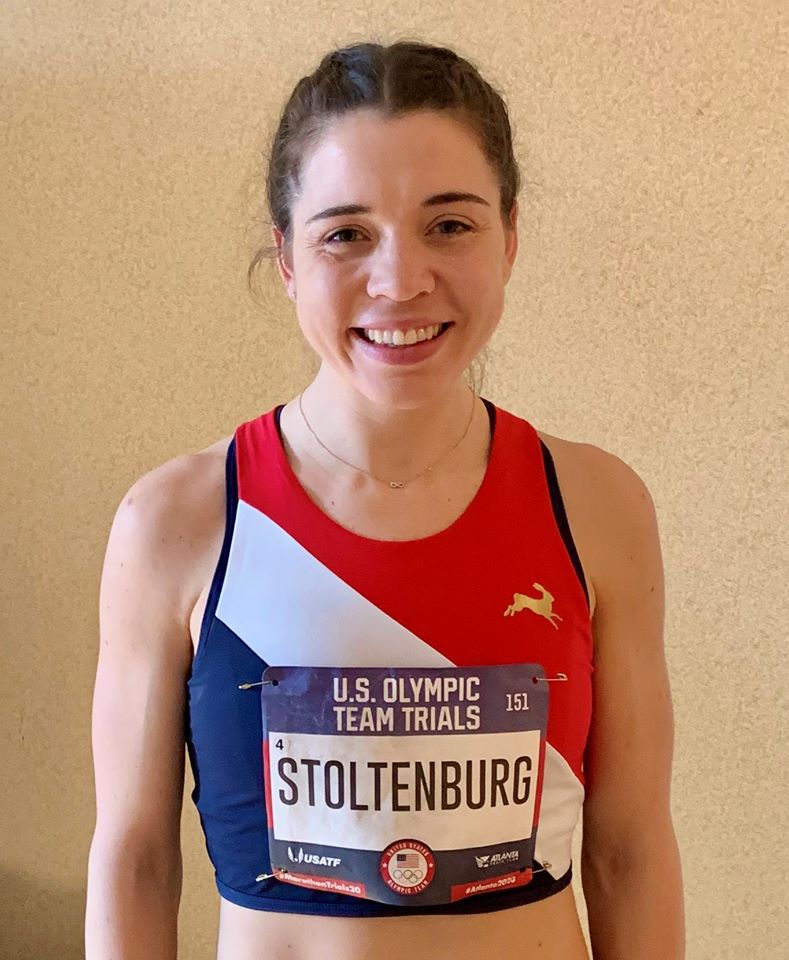 Will:  When did you first realize your love of running?
Tessa:  I somehow found my love for running at a very young age. Some of my earliest memories were running the two miles down the country road to my grandparents' house with my sister biking by my side, running the mile in gym class and continuing until everyone in the class was finished, and completing my first half marathon when I was just 14 years old.
Will:  Who was your first inspiration?
Tessa: My very first inspiration would have to be my Aunt Jennie. She was visiting for Easter one year, and she was training for a half marathon. She said in the early morning that she was going to go for a 6-mile run, and so I decided that I wanted to bike with her. I remember her mentioning it was going to be very hilly, and I believe I was around 10 years old. I didn't even make it a mile on the bike before I had to turn around to go back home! I was so impressed by her when she ran into the driveway. From that day on, she has always been one of my biggest inspirations and supporters.
Will:  Who is your current inspiration?
Tessa:  My current inspiration is truly the entire running community. Connecting with and being around other runners is invigorating and offers a unique thrill. We can learn a lot about our talents and limits through training and racing, but I firmly believe that other runners are who help us find our passion. I'm also daily inspired by my future self and who I want to become as a person and athlete. I get really excited, and inpatient at times, by setting new goals and visualizing the details for how I am going to reach them. Deep down, that drive is what motivates me to keep pushing my mind and body through running.
Will:  What advice do you have for up and coming youth runners?
Tessa:  My biggest advice for up and coming youth runners is to always find joy in running! You do not have to be fast to be a runner. Find a friend, team, or family member to form and share the passion with. It makes some of the best memories. I would also provide them with encouragement and education to take care of their bodies with healthy eating and hydration. It makes a monumental difference in how runners feel and perform. Running is a great form of exercise, but learning how to do the fundamentals of stretching, strength training, and proper fueling will help them to have longevity with minimal injury. And I cannot forget one of my own personal biggest reminders, your purpose should always come from within yourself.
Will: How did you hook up with the Dakota Distance Project?
Tessa:  I came to know Dakota Distance Project through living in Sioux Falls and finding a connection. I saw that one of the current athletes had qualified for the Olympic Trials, and that had become a big goal of mine. I reached out to Eric Pooley, and I had instant trust that he could provide me with training to help me excel to the next level. It is one of the best experiences of my life thus far, and I'm excited to keep working hard and representing my home state.
Will: Your 2:41 at Chicago is the fastest by a Nebraska female in decades. Was it the course, the competition, or a combination of both?
Tessa:  My 2:41 marathon in Chicago was definitely a combination of the course and the competition. Chicago offers a flat, fast marathon course and the weather on race day was fairly perfect for a Midwestern. The course offered one of my favorite experiences, as the crowds were lining the streets with noise and the buildings made the marathon energy feel even more intense. The competition was really what pushed me in the second half to a personal record and Olympic trials qualifying time. I found a solid pack of men and women with 10 miles to go, and I hung on from there on. It was one of the coolest experiences I'll probably ever half on a racecourse. The men were encouraging us and helping us to keep pushing to stay on pace (even pick up the pace). The other women were constantly offering words of encouragement all around the pack, and without them those last miles could have been much different. I still can't believe we were running sub-6:00 miles towards the end of the marathon, the friendly competition towards the end made for a really strong finish.
Will: Please share your top 3 take aways from the 2020 USA Olympic Trials Marathon.
Tesssa:   Narrowing down to my top three take-aways from the 2020 USA Olympic Trials is hard, as it was an incredible experience. One would be that running will always bring people together, and whether you are first or last – everyone is deserving of the finish line. Two, the race result may not always be what you had hoped for, but the most important thing is to be proud of all of the effort that was put in through training. Three, hills and wind during a marathon event make for an extremely difficult race, and the best thing to do is smile and rely on your fans. When you can't rely on them any longer – still keep going and make it to the finish because you've earned it.
Will: At 25 your future appears bright! Looking forward what are your goals?
Tessa:  Thank you. Looking forward, my future goals are to continue to love the journey and to gain more racing experience. There are quite a few distances on the road that I have not competed in yet, such as the 10K or 15K. I also have not raced in a bigger, competitive half marathon so it is next on my list to set a faster mark in the ½ marathon. I really am enjoying the marathon distance, so I am eager to continue to train with a goal to race in the 2:30's. I am currently in Physician Assistant school, so my time to train and race are quite limited. I am staying patient while I attain my degree and focusing on putting miles on my legs to prepare for a bigger build up in my future!
Will: Any chance we can get you on the start line for our Valley 7 Lakes Marathon or Half Marathon on April 25th?
Tessa: I've heard that is the "World's Flattest Marathon", and flat marathon courses seem to be my thing! It would be a great opportunity to participate as either a runner or a spectator, as I always look forward to race day!
Will:  Olympic Gold or World Record?
Tessa:  The Olympic gold, no doubt. I feel this is one of the biggest honors and accomplishments you can attain as an athlete. The Olympics have this really unique way of creating unity and showing pride. As an athlete, you see other athletes winning gold and having their biggest dreams come true. Not only that, but you also understand that there are many, many years of dreaming, working hard, and experiencing setbacks before the big triumph. That medal represents a lot more than just a trophy around your neck, it represents the entire journey that was experienced to get there. It is not only celebratory towards all of the personal effort, but also all of the support provided around you and that is special.