Fourth of July Classic.   Wismer Budweiser Distributing Co.  Baytown, TX.
circa 1996
USA Olympic Marathon Trials qualifier Alfredo Vigueras took the race out in a very fast 4:30 first mile to capture the first $250 premium.  Olympic Trials Steeplechaser Jon Warren, New Zealand Olympic  Marathoner Sean Wade, Horacio Salgado (Mexico) and Jose Iniquez of San Antonio fast upon Alfredo's heels.
Mile two passed in 9:12 and this time it was Warren to claim the $250 premium.  Mile 3 blew by in 13:57 with a strong surge by Wade collecting the first of his cash incentives.  Still a tight pack of 4 chasing runners through in 14:00.  Wade putting the hammer down with a 4:30 4th mile (18:27) to claim the final bonus.
The top 5 fellas battling it out for some Real Prize money.  $3000 overall prize purse  ($1200-800-500-300-200) to be split between the top 5 runners.  $1000 in mile premiums.  $1000  to the first runner under the course record of 23:16.  Same money for the ladies.
Wade coming up the final stretch.  I'm at the finish line exhorting a remarkable run, sub 23:00 a real possibility.  He slows, to a jog, and then a mere trot.  The ticks go by, he steps across the line in 23:15.  New course record by a mere one second.  "What the hell Sean?"  And he tells me that he'll be back next year to run 23:14.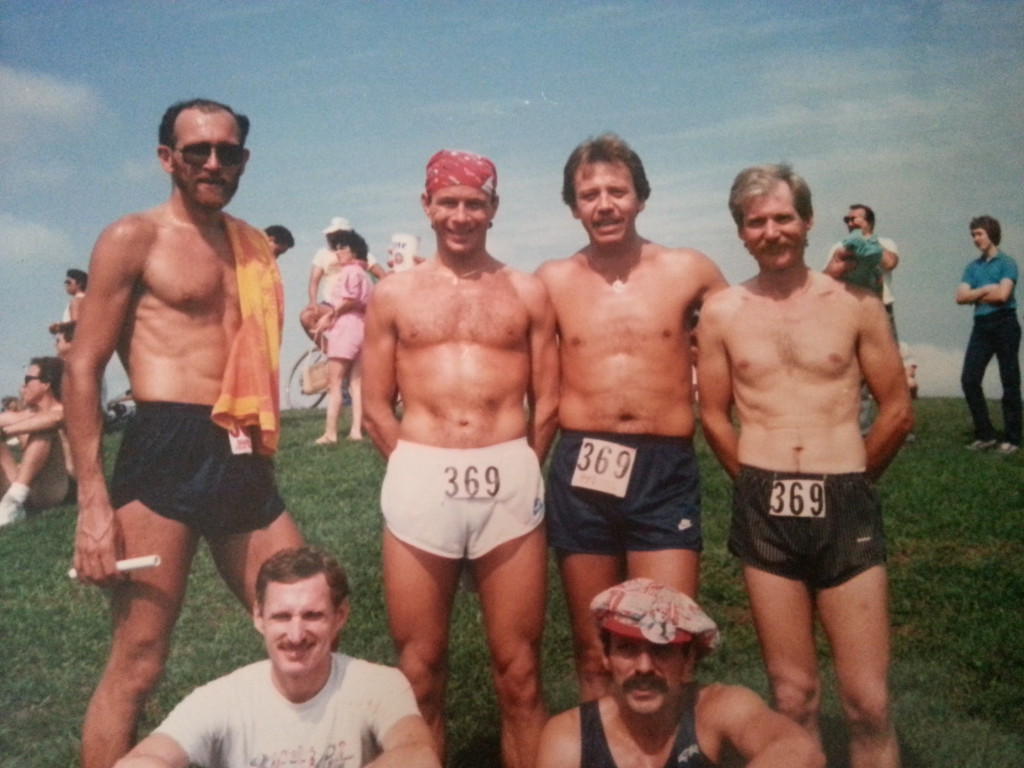 The mid 1990s.  When Racing was Real, and shorts were short.  L to R standing, Willie Martin, your scribe and elite athlete coordinator, Bobby Nygard,  Joel "Pepe" Moyer.  Seated, Pete Cote and Ralph.  This small road race management committee put on The Heatwave 5 Mile for a quarter century.