Where to start?  With the Boys.   Last weekend's Nebraska State HS Champs at Burke.  Race of the year- Men's 1600 with Ty Hansen (4:13.71) of Fremont using an inspired run to catch heavily favored John Nownes  (4:13.90) of Creighton Prep.  Hansen captured my men's MVP of the meet by also winning the 800 meters (1:52.63) over Millard South's stud Reno Law (1:53.73).
For the young ladies my MVP goes to Millard South's Katie Spencer.  Her 10:31.58 in the 3200 besting silver by almost 25 seconds.  She also took the gold in the 1600 with a fine 4:55.18.
Big tips also to Mason Grinvalds of DC West.  Class B 800 meter champ in 1:58.96.  His mom teaches with Linda, and is a single mother.
Now the Men.  Man is more like it because Colin Morrissey alone had the juevos to step up to the line at Omaha's Biggest Road Race of the Summer (Bar None).  Only he shares my conviction that a Man should be winning Boystown 5 Mile, not the boys.  -My how far we have dropped from the days of yore when this showcase opportunity was not dismissed.-  I would pleasantly and sincerely invite our talented neighbors in the Blue and Yellow from across the Platte River to come  over next summer and give a hand.  But back to Colin (2nd 26:07).  I approached and thanked him prior to the start for being the Only Man in Omaha.  Rode alongside him for the first 4.75 miles, watching eventual winner Austin Post (25:59) and wunderkind turned human-after-all SethHirsh (3rd 26:09) give chase.  Colin had 7 seconds on Post at 2 miles, Hirsch another 4-5 ticks back.  Seth caught Austin around mile 3 and the pair whittled the lead to just 3 seconds by 4 miles.  A Horse Race!  Around the keyhole and only a quarter left when Post pounced with his decisive move.  As a student of the sport it was a thing of beauty watching his powerful stride pull away. More of rare Omaha mano a mano was to come in an instant.  Seth rode Austin's vapor trail past Colin but, my voice echoing in his head "Be A Man" spurning him to find another gear and retake the lost strides and take 2nd overall by a slim :02.  Great racing by the top 3!  Fourth was John Nownes and fifth was Reno Law.  Four of the top 5 finishers under the legal drinking age.
On the women's side our Amber Sargent (2nd 32:29) made the drive up from Beatrice to have her ass handed to her by winner Lennie Waite (29:02) of Austin TX.  My call for competition last week had to reach pretty far eh?  Lennie finished 10th overall.   (I see a whole list of local "studs" well behind her in the results.  Another prompt for the fellas in blue and yella to get over here in '16.)  Team Nebraska did have two women in the race, masters studette Theresa Gosnell (5th/1st 32:59) and Jen Freeman (4th 32:44).  While winner Waite was enjoying a drink and a bagel, Abby Knight Einspahr (3rd 32:25) was leading Sargent and Freeman around the keyhole that signals about 2:00 of running remaining.  Abby, Amber 4 seconds back, Jen 2 seconds behind her.  Another horse race!  I urged Amber to catch Abby.  Urged Abby to continue to do Good Work.  Urged Amber to not let Jen catch her.  Urged Jen to keep it up and make it a race.  Thank you Abby and Jen for being competitors and appreciating the Heat during the race, and for being my friends afterward.   Class.
Jessica Pape (6th 33:18) and 49 year old phenom Stacy Mangers Shaw (7th, 2nd 33:22) placed 3 NRGE women in the top 7.  Giddyup!  Just a heads up that Stacy turns 50 early next year, look out!  Clean.  Fearless.
Pete Kostelnick completed a 160 mile week recently getting ready for Badwater.  Aye Caramba!
Speaking of the Lincoln Running Co. Racing team.  Occassional member (r-i-n-g-e-r) Tanner Fruit of Colorado Springs finished 9th overall at the prestigious Bolder Boulder 10K yesterday in a fine 31:30, 5:05 pace at 5430 feet.  Look for him to help LRC challenge for the Mkt2Mkt title again this year!  Just sayin.
Austin Post.  Currently runs for UNL, MW grad.  photo courtesy of GD Photography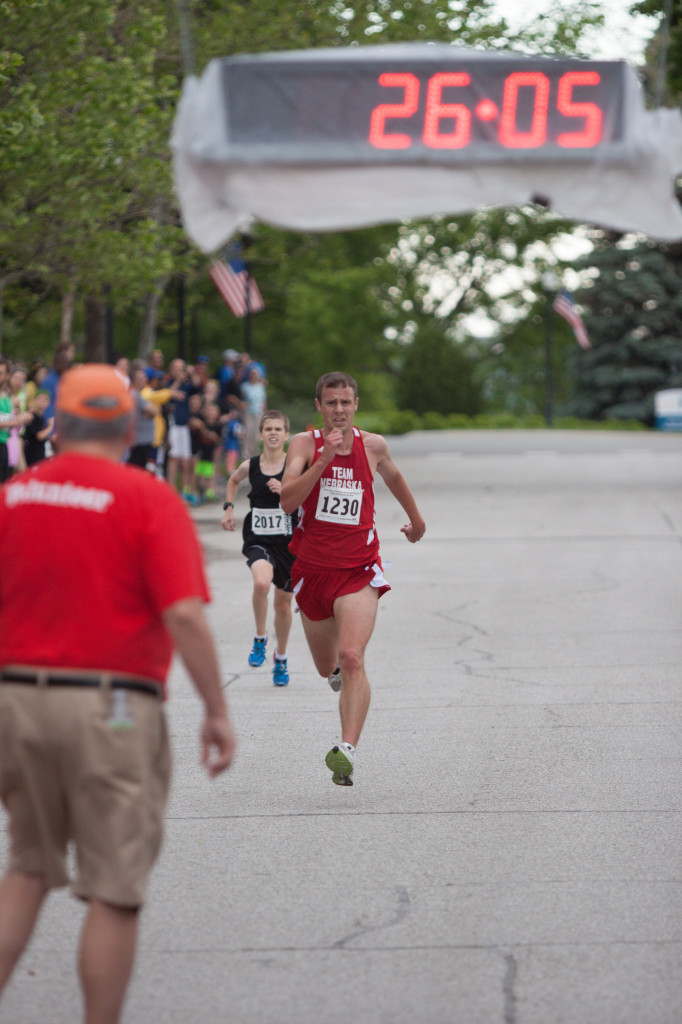 This is why I appreciate and covet Colin.   photo courtesy of GTD Photography
It was our ladie's first effort since their spring marathon.  These three, and others (Michel!  Bree! Ashley!) are champing at the bit.  We'll be setting up their summer/fall competition schedule soon, could not be prouder of these athletes.  photo courtesy of Mandy Sue & Lucky