Front and back.  No mistaking.  Lesson learned.  Keep it tight.  Keep it right.
Linda and I met a group of our mates at the Omaha Central track last evening, drizzly cold be damned.
But first, I've seen the best fellas of the past 20 years.  Names that are the stuff Nebraska running history is made of.  Morgan.  Adams.  Westhuizen.  McGown.  Pohren.  Stenger.  Rasmussen.  Schneider.   Carrizales.   Thor.  Wilson.  Llewellyn.  Nichols.  Ashley.  They all ran for me.  What I stood, still stand for.
OK, Guillermo, so what?
So this.  Welp.  Wintheiser.  Joerger.  Prescott.  Sanabria.  Kostelnick.  No less, Clouston,  Morris and Cummings.
These cats are the throwback to the Original Vision of athletics in Nebraska, Willie Style.
Original Vision.  So very important to the future of our sport.
Same direction, different cast of characters.  Biggest difference?  Keep it Tight.  Keep it Right.
The way the lads have come together lets me know the recipe still works.  And all the better with the lessons I've learned.
Watching them tour the 350 meter oval, shrouded in fog, was apropos.  The unknown.  To be respected if not feared.  Respected because of their prowess but more so for the content of their character.  Characters that passed the rigorous interview that will ensure this time things are done best.
You won't see us racing at this weekend's Good Life Halfsy.  I mentioned to them last night  that as much as I'd love to see  the  group cleaning it up, no, no, we'll continue our snail's pace progress to excellence.  Snail's pace, ha!
The GLH should still be interesting though.  Thirty some each male and female runners that have the race's Elite Standards of 1:15:00 for men and 1:29:00 for women.  I'm digging that the men's elite std is the same as the USA Women's Olympic Trials Half Marathon qualifier.  Good on Ben Cohoon for embracing the front of  the pack.
Back to the track.  The workout was modified to accommodate the fitness level of the foursome.  Grant and Jay leading the way.  Drew and Kevin, smart young men just released to full training, jumping in sensibly.  I had to call Shannon Stenger to get the actual  distance of the track, 350 meters, yes.  So 10 X 1050 meters (3 laps).  Grant cranking out the last two solo.
Like this:
3:15.
3:23 (oops)
3:18
3:20 (oops)
3:15
3:11
3:06
2:58
2:59
2:54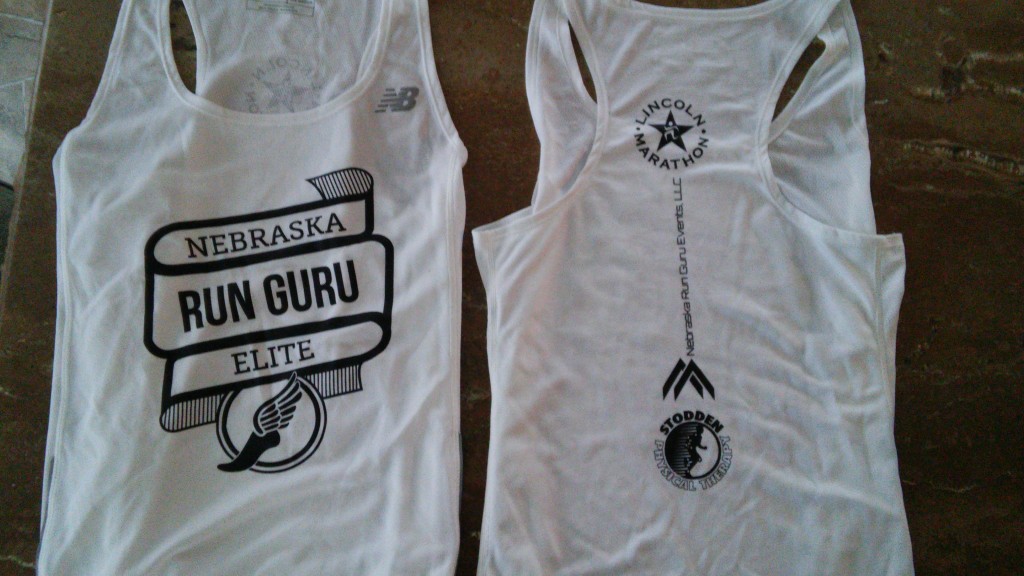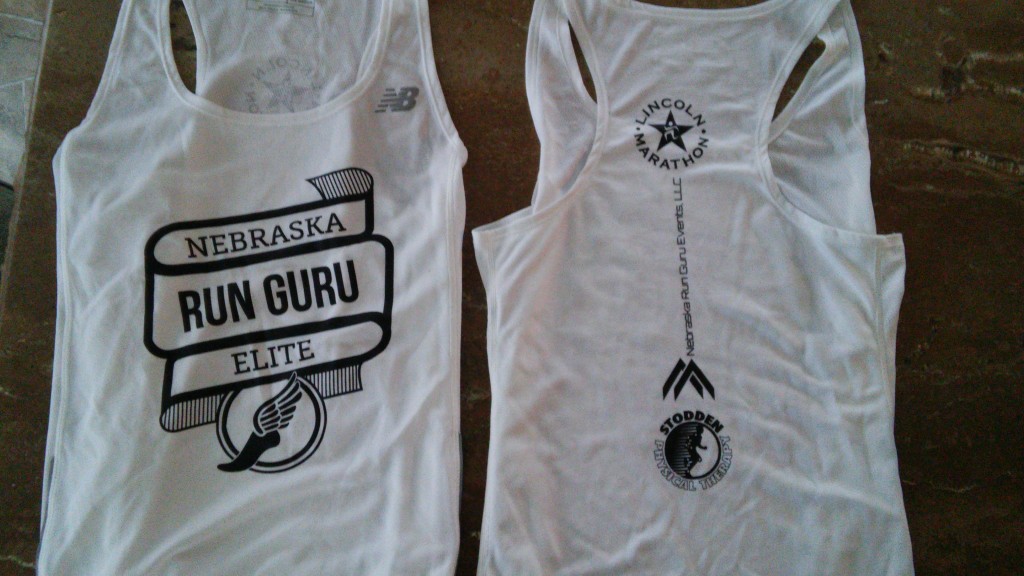 Nebraska Run Guru Elite.  Your view coming.  Lincoln Marathon, Nebraska Run Guru Events, LLC, and Stodden Physical Therapy your view going.
They said it couldn't be done.  I said it could.