And what a decade it was for Nebraskans!  This morning I cover the last 3650 days of excellence and achievement in the Good Life.  And a few poignant observations as jelly for your toast.
2010 was a remarkable year.  Team Nebraska Brooks was one of the top USA Competitive Clubs in the United States.  As a fully fledged Track & Field and Long Distance Running program.  TNB had National Champions in the jumps (Randal Carter), throws (Aubrey Baxter), sprints (Angee Henry) and middle distances (Distance Medley Relay National Club Championships Record).  I'm still waiting for a reasonable explanation as to why the sprints and throws and jumps were scrapped after the coup of 2012.  Why were these athletes and their dreams abandoned?  Announcing here and now the planned return of Nebraska Athletics under the auspices of Nebraska Run Guru Elite and the Valley 7 Lakes Marathon.
Male Athlete of the Decade.  2011 was a remarkable year for Team Nebraska Brooks'  David Adams.  Proud native son of York, Nebraska.  Sub 4 minute miler.  USA Olympic Trials Steeplechaser.  10th o/a at USA Club Cross (30:02).  2nd o/a at Chicago's Shamrock Shuffle 8K in a blistering 23:21.
Honorable mentions:
Peter vd Westhuizen (Team Nebraska Brooks)  3:54.9 Mile (Oslo 2010) and 8:00.05 3000 meters (Luzern 2010).  Competed in the Millrose Games Wannamaker Mile at Madison Square Garden in Team Nebraska kit.
Grant Wintheiser (Nebraska Run Guru Elite) had one hell of a 2017.  Grant would finish 4th overall at the Shamrock Shuffle 8K (Chicago)  in 23:55.  He would also run the 2nd fastest ever State Farm 10 Mile (50:51) and half marathon best of 1:05:30 in Duluth.  Grant's 14:37 (2017 Race For The Cure, Omaha) and Halley's Comet 8K (24:12) in Waterloo still USATF Certified Nebraska State Records.
Johnny Rutford (LRC Racing) is the heir apparent to David and Grant.  Johnny ran an Olympic Trials qualifying 2:17:58 at 2018 California International Marathon.  He also ran a Nebraska state record 49:07 at the 2019 USA 10 Mile National Champs in Minneapolis.
Pete Kostelnick (Nebraska Run Guru Elite) Two time Badwater 135 Champion.  World Record (42 days, 8 hours, 34 minutes) for the transcontinental run.  Member USA World Championships 24 Hour Team.  USATF Athlete of the Week in October 2016.
Female Athlete of the Decade.
Kaci Lickteig (Hoka, Squirrel Nut Butter) has demonstrated a rare combination of speed and endurance.  2012 USA Olympic Trials Marathoner.  3 wins, and 3 second place finishes at Lincoln Marathon.  2016 Western States Champion, 2nd o/a 2015 Western States.  The Dannebrog native's bio and performance list a veritable tome
Honorable Mentions:
Angee Henry (Team Nebraska, Nebraska Run Guru Elite).  Few athletes have demonstrated such speed and durability.  A multiple time USA Club Track & Field National Champion from 200 through 800 (2:01 personal best).  At  the 2010 Drake Relays 400 meters  Angee nearly beat Jamaican Shareefa Lloyd (2 time World Championships), losing by the slimmest of margins 51.84 to 51.89.
Bridget Easley (Team Nebraska Brooks) qualified for the 2012 USA Olympic Trials Marathon.
Tessa Stoltenberg (LRC Racing) ran the 2019 Chicago Marathon in 2:41:15, the fastest by a Nebraska female in 30 years, qualifying for next February's Trials in Atlanta.
Hayley Sutter (LRC Racing) gets a nod by virtue of having successfully appealed her near miss (2:45:07) at the 2018 California International.  All USA Olympic Trials qualifiers made this list.
RACE/EVENT OF THE DECADE
The 2012 USA Club Track & Field National Championships at Burke Stadium, Omaha.  Lalonde Gordon setting a Nebraska soil record 45:02 for 400 meters and using that performance to springboard to the 400 meter Bronze Medal at the 2012 London Olympics in 44:52.  The Big Time.  There were 5 Club National T&F Records set in Omaha.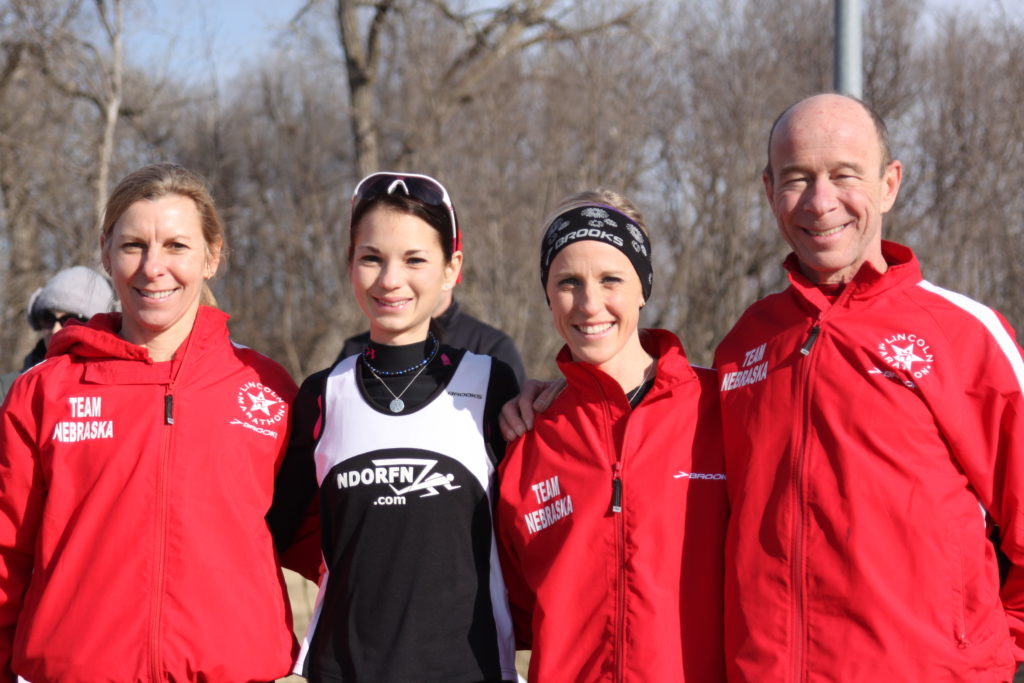 Linda and I with Kaci and Bridget at our fundraiser to send them to the 2012 Olympic Trials Marathon in Houston.  The after party dance one for the ages!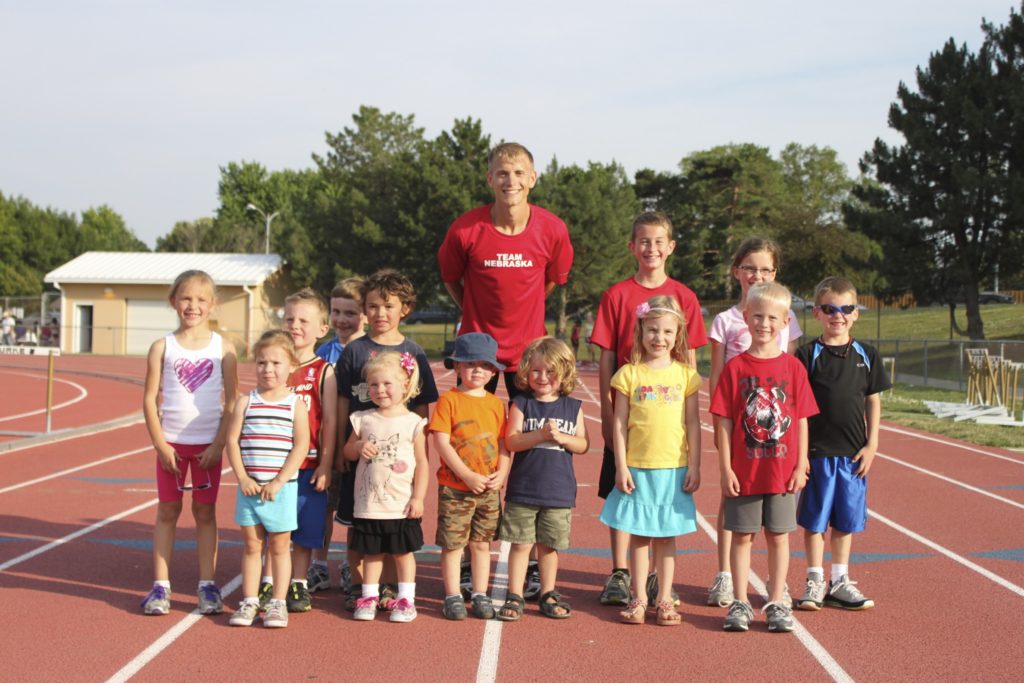 David Adams at our fundraiser to send him to the USA Olympic Trials Steeplechase.  Inspiring the next generation.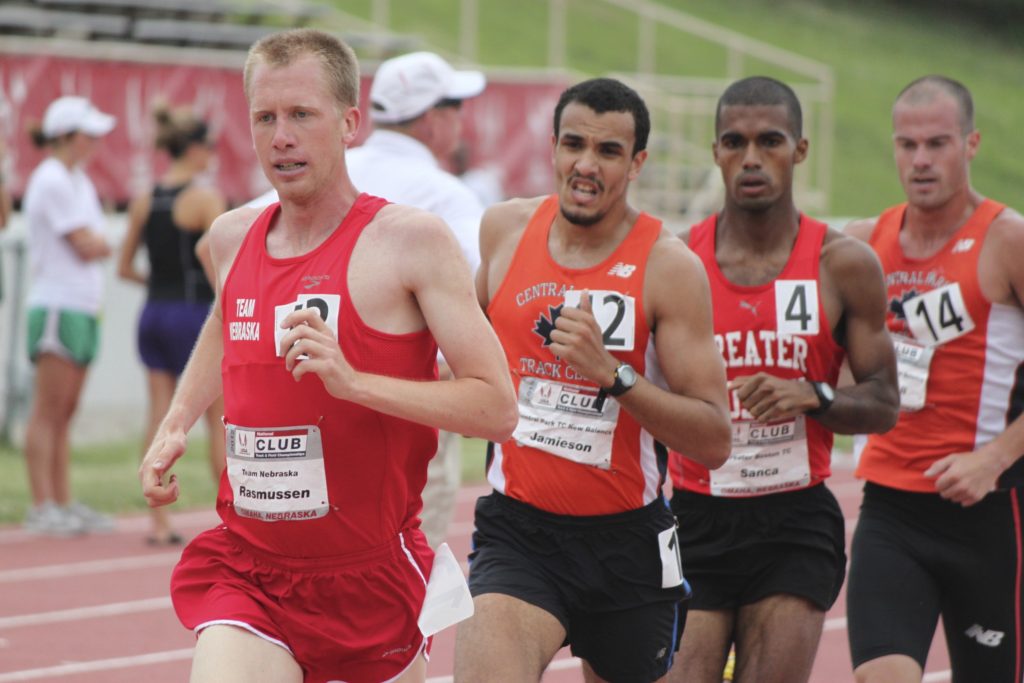 Eric Rasmussen leading the 10000 meters at the 2012 Club T&F National Championships, Burke Stadium.  A Greater Boston Track Club athlete sandwiched between two Central Park Athletic Club runners.  We had 23 of the best clubs in the United States come to Omaha.