If I were wearing buttons they'd be bursting with pride.  Our Nebraska Run Guru Elite ladies showed very well in Iowa yesterday morning.  Like this:
Lindsey Brezenski– 1:28:32 for the half.  A fifteen second personal best less than five months after having her precious little daughter.  An inspiration to our entire team!
Amber Sargent– 3:07:26.  7th Overall.  Not the day she wanted, learned a ton, most anyone else would have been thrilled with the time.  She burns so hot I handled her with asbestos gloves this training cycle.  I'm tempered, the gloves are off, and she has a great shot at being Nebraska's top female marathoner as a result.
Jessica Pape– 3:14:39.  12th Overall.  Although Jess has run a marathon before this was her first under my direction.  A big personal best should help ease the blow up at 20 miles.  She had run +/- just a few seconds from Amber through that point.  Also learned a lot and now has a Real Fire stoked.
Stacy Shaw– 3:08:27.  9th Overall.  First master.  Clean as a whistle.  Stacy's time age graded National Class, the only female to attain that level of excellence.  Setting the bar high for all current and future masters females.
Congrats in order for a few non Run Guru Elites:  My boys from the KC Smoke kicked it in the Half with Justin Garrard taking the Overall Win in 1:07:41.   Jason Zakaras of Lincoln Running Co. Racing continues his torrid year taking 4th Overall in a fine 1:12:06.  His LRC Racing mate Andrew Jacob was next in 1:12:17.  Justin's Smoke mate Randy Wasinger had a huge 6:00 personal best in 1:13:00, 5 ticks behind LRC's Logan Watley (10th, 1:12:55.)
Susie Duke won the women's half in 1:18:20, top Nebraska finisher was Shannon Mauser Suing (4th, 1:21:47) of Team Nebraska.
In the full, both men and women's course records fell.  Philip Lagat (2:12:19) and Abnet Simegn (2:32:28) took top spots and their spot in the history books.  Luka Thor of Team Nebraska ran a 4 minute 10 second personal best of 2:22:28 for 7th overall.  Chad Sellers ran a nice 2:38:13 for 10th overall.  Mason Frank was 9th in 2:26:19, he Chad and Luka the only Americans in the top 10.  David Bohlken made his 26.2 debut in 2:45:20, fine job David!
More on that on another day.
In the accompanying 5K the Old Stud Ivan Ivanov was 2nd Overall in a fast 15:53.
The Governor's Cup was pedestrian with the high winds undoubtedly playing a part.  Our mate Craig Donnelly did his best by taking the first mile out at 4:57.  Bedeviled by a recurring medical problem he was forced to drop out shortly after and head straight back home.  Once he gets it right, look out.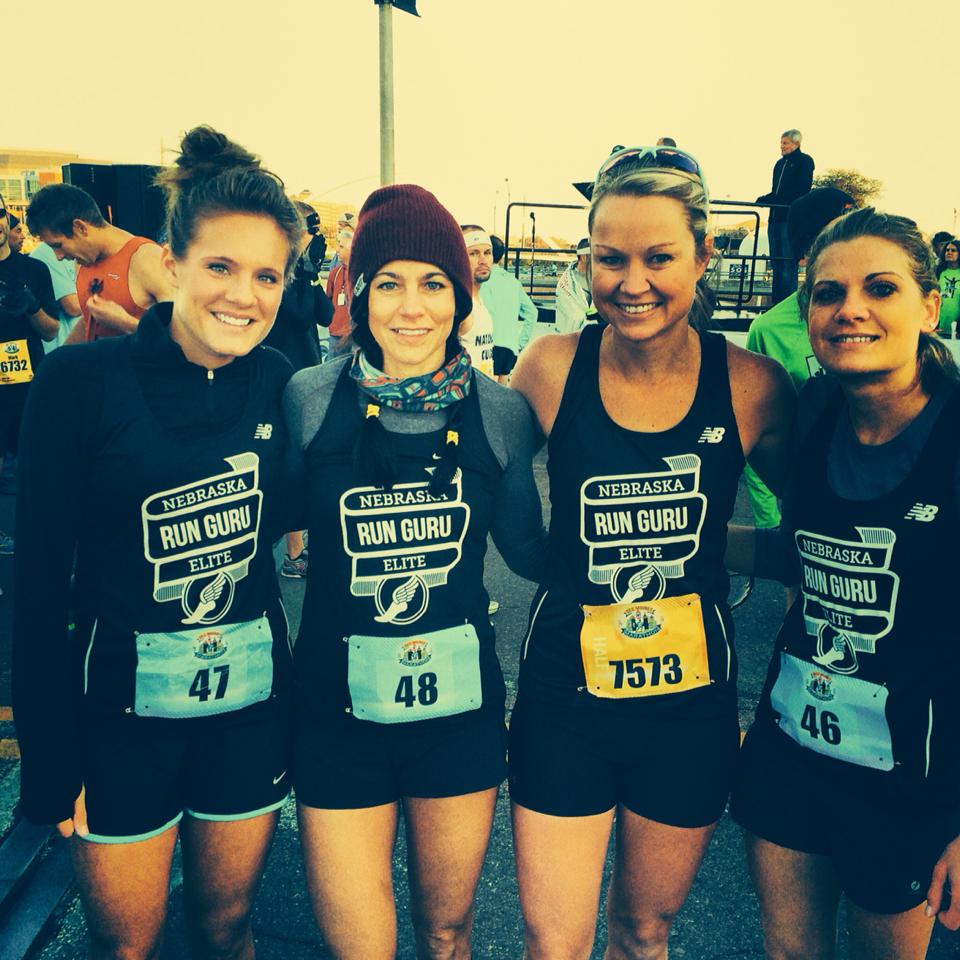 Who doesn't love competition?  These ladies (and you too Michel) do!  The fact that they run for El Jefe (Kyle Clouston) and choose to have Run Guru on their kits makes this a most special group to me.  They came up with the logo and are proud to wear it.  I'm so relaxed with these athletes, my reward for all I endured in my last venture.
If you look between Lindsey and Amber the fellow announcing on the dais is Creigh Kelley, one of my oldest and dearest friends.  Golden pipes and incredible vocabulary, something I admire.
It was Creigh that nominated me for the 2004 Scott Hamilton Award.  USATF Men's Long Distance Running leadership award at the Association level.  For a little bit of work I did setting up Nebraska's LDR program and a club I used to ride herd over.  He's still around and so am I.