Well first of all I've got to give it to Scott Giddings.  I'm sure he had an army of volunteers as well but Ameliorated Will kept well away from the hubub, bub.  Pitched our NRGE tent in lawn chair camp, got things set up, and then thoroughly enjoyed the next 7 hours.  Passed out encouragement, good cheer and frozen popsicles to all that would accept.  Got to catch up with some old friends too.  And learned quite a bit about the ultra trail culture.  I've attended a few Mountain Ultra Trail (MUT) committee meetings at the USATF Annual gathering.  Saw fist fights nearly break out in the formative years, this was Nothing like that.  You could have called the Dizzy Goat LoveStock.
And I came away with a new appreciation of the merely mortal in our sport.  After watching their determination that has nothing to do with speed and finishing first.  Seeing the elation of completion, regardless of pace.  The mutual support the athletes shared.  Their goal?  One 3.25 mile lap each hour was the minimum necessary to earn a coveted medal.  Twelve hours, 6 hours, or 3 hours.  I saw pain, and the conquering thereof, that I've never seen in a road or cross country race.  Those are over too quickly to see the suffering I witnessed in Saturday's stifling heat and humidity.  And the Hill.  I ran Kyle's penultimate lap (completely barefoot and just a little drunk) and got to experience just a taste of what these cats were chasing.
The exhilaration of communion with nature and fellow man.
Now the Good Stuff.
Nebraska Run Guru Elite showed why they are the best trail and ultra running club in Nebraska and beyond.  Jeremy Morris, on paper at least, was the odds on favorite to quietly destroy the field in the 12 Hour, and he did.  Only Joe Barnard (2nd, Olathe, KS) and Shawn Palandri (3rd, Omaha) were able to complete 18 laps, Jeremy would complete 20 to win by  6.5 miles.  I never saw Jeremy take a walk break, how bout them apples.   Pure Talent and Guts, the Right Stuff.
The 6 Hour provided the most drama and there wasn't a whole lot.  NRGE President Kyle Clouston, along with Tim Langdon, were the class of the field and while I had hoped for a duel to the wire it never materialized.  After a sub 8 minute pace on the first lap Tim continued to pull away, his last two years in Colorado paying off,  and was credited with 11 laps, our fearless leader 10.  Somewhere along the way, an old grudge with the former Team Nebraska attorney was buried with a handshake and a beer.  One of the highlights of my day.  Surpassed only by a reconnect with my Old Buddy Dave Sutej.  Dave, your shoes fell off your car while driving away, I've got them for you, let me know how to get them back.
We had all been through the wars together, a running family split by the past, now matured into an appreciation of the battles we fought, time tempering the vinegar and casting a different light on the motivations of all involved.  Especially the one that must not be named.  It was good too to see Peg Pearson smile at me again.  Its been way too long.  And to see Krista Palm as the athlete I always knew was hidden inside.  And Keeley Nyman, and many more former Wednesday Night Track Work runners and other denizens of my former dojo.  And Dave Tuma coming up to shake my hand and congratulate our mates.
All showing me that grace and competition can co-exist.
As Linda, Mike Wasson, Pete Kostelnick and I sat under our tent I marveled that not a single person knew who Pete was.  The Badwater Badass, the RAGBRAI Runner, The Cat whose previous week was 158 miles, including an 80 miler in 13 hours.  Sitting there anonymously, casting an aura of legend that only his mates could appreciate.  And getting along with everyone.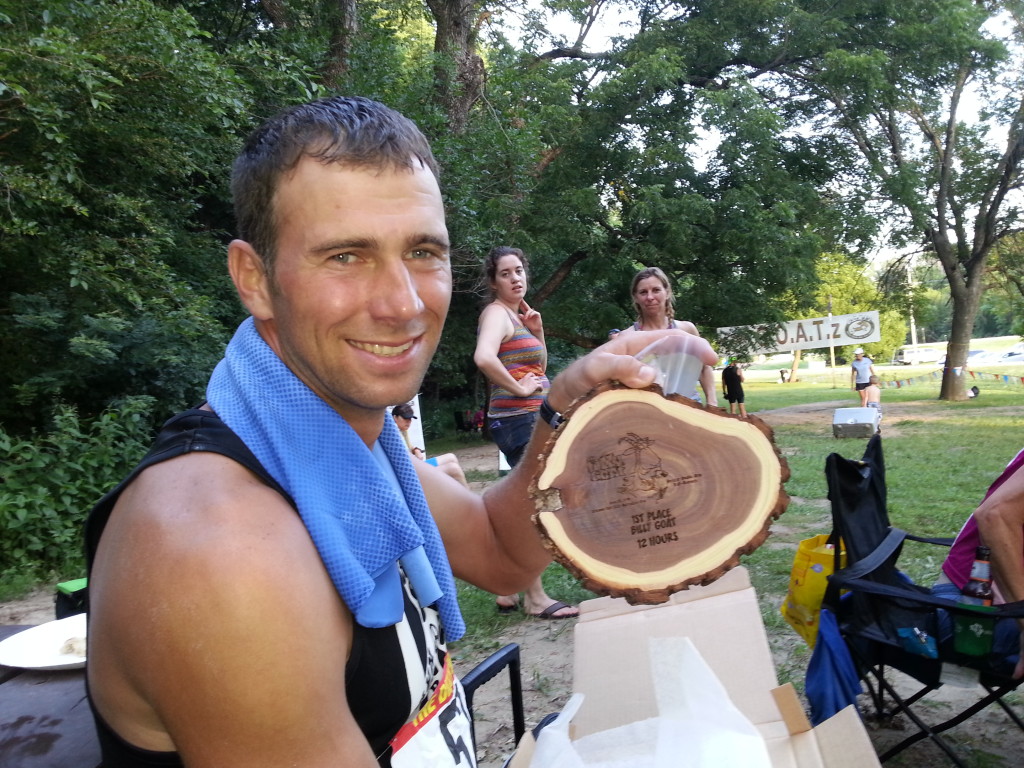 NRGE's Jeremy Morris showing his Overall award.  Man among men.  Nice piece to commemorate his victory.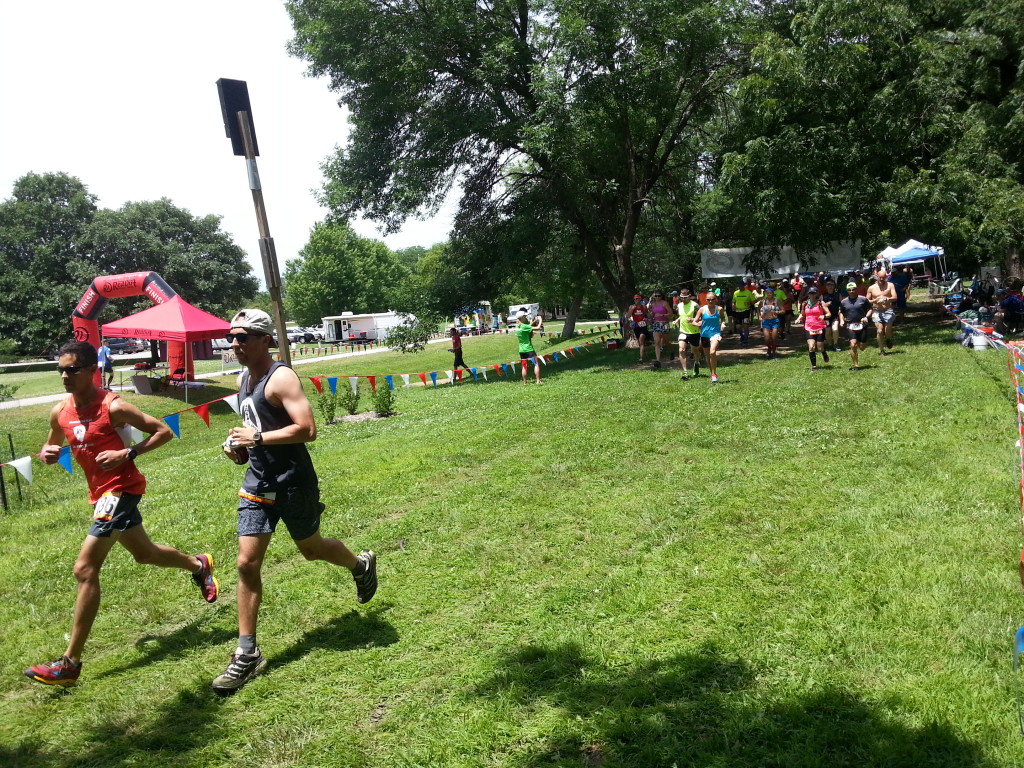 Tim & Kyle were far and away the class of the field in the 6 Hour.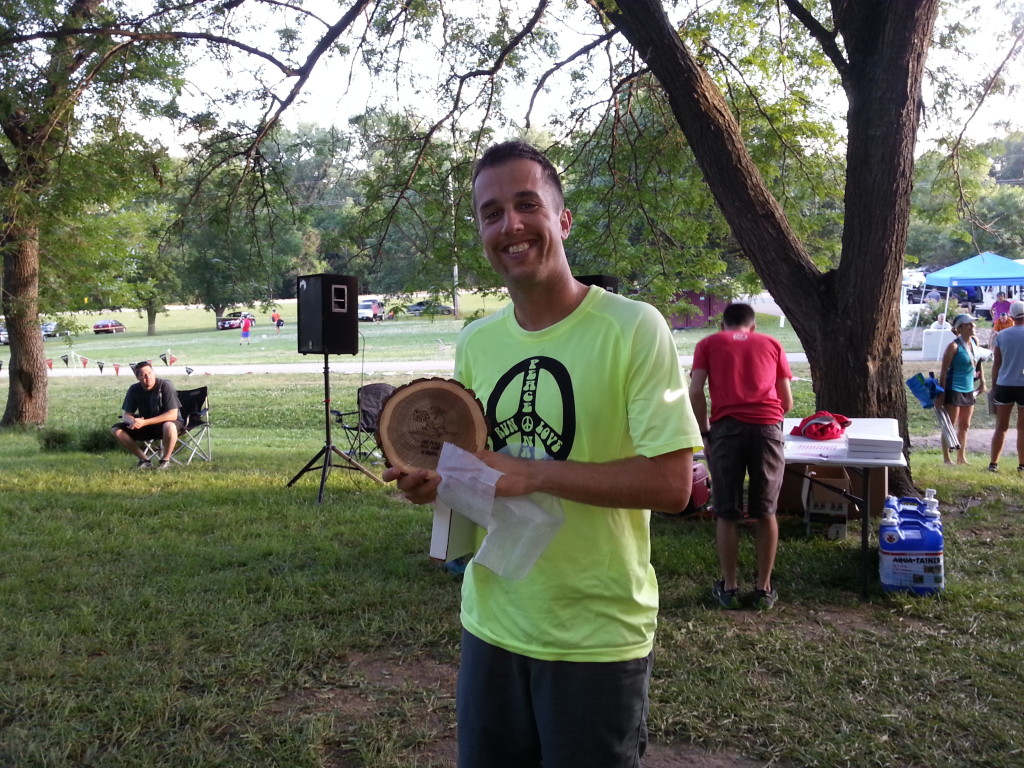 Well earned hardwood hardware.  The only time of the morning that I got my bile up was when the rude dude serving a personal agenda grabbed the mike from the presenter as Kyle was being recognized.  I even let that slide.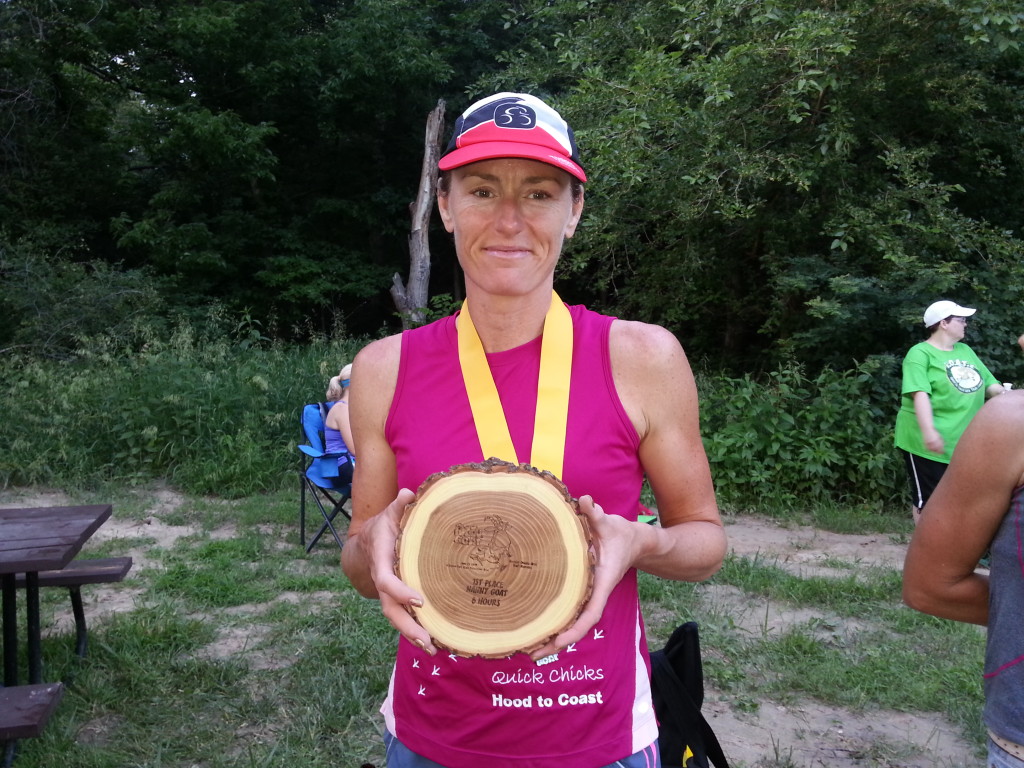 We did what we could to help an old TN mate of mine, Shawna Young, push to the Overall Female in the 6 Hour.