Big Congratulations to Lindsey Brezenski at yesterday's Des Moines Marathon!  She ran a 10 minute personal best, (3:18:26) finished 17th overall woman and 2nd 30-35 age group.  Her future's so bright she has to wear NRGE Shades!
My boy Luka Thor made his long anticipated marathon debut in Des Moines finishing 7th overall in 2:26:38.  You just wait until he isn't working midnights and taking a full load in nursing school.  Damn proud of you son!  My old mate Jeff Nielsen ran 2:42:47 for 18th overall.   Both still represent Team Nebraska, I'm proud to have brought them along.
Eighty-two year old Ed Whitlock of Canada set a WR last month running a 1:38:11 Half Marathon.  At yesterday's Scotia Bank Marathon in Toronto he set another by cranking out a 3:41:58.  My Canadian correspondent reports that he isn't a rockstar, wear a cape, flex his biceps at finish lines, nor chirp in woots.  I'd like to say he's my old buddy but we've never met.
A few weeks ago I detailed Sylvia Ruegger's Canadian National Marathon Record of 2:28:36 set at the 1985 Houston Marathon.  At yesterday's same Scotia Bank Marathon, Lanni Marchant finally bested the mark by turning in  a sterling 2:28:00.
At 61 years of age my old buddy Doug Kurtis, he's another notion knocker.  At yesterday's Detroit Free Press he ran his 200th sub 3 hour marathon in 2:59:03.  Let that sink in a minute old buddy Dave.
Our mate Jerrod Anzalone had a good race yesterday at the Governor's Cup 15K.   4th Overall behind LRC's Eric Noel, masters stud Ivan Ivanov, and York Thomas.   Right in the mix with much more work to go.  In the accompanying 5K it was like a throwback to the Real Team Nebraska days with three of the Original Barefoot Striders showing well.  35 year old Dustin Llewellyn 2nd (16:29), 34 year old Shannon Stenger 3rd (17:01), 32 year old Paul Wilson 4th (17:31), and Craig Christians 5th (17:49).  Talented 10 years ago, talented today.
 A big tip of the sombrero to Kelly Hennen too!  A two minute personal best in the 5K, that is 4 minutes she has knocked off her pr just this year.  Helping others achieve their potential has no equal in satisfaction.  More than makes up for dealing with the knuckleheads.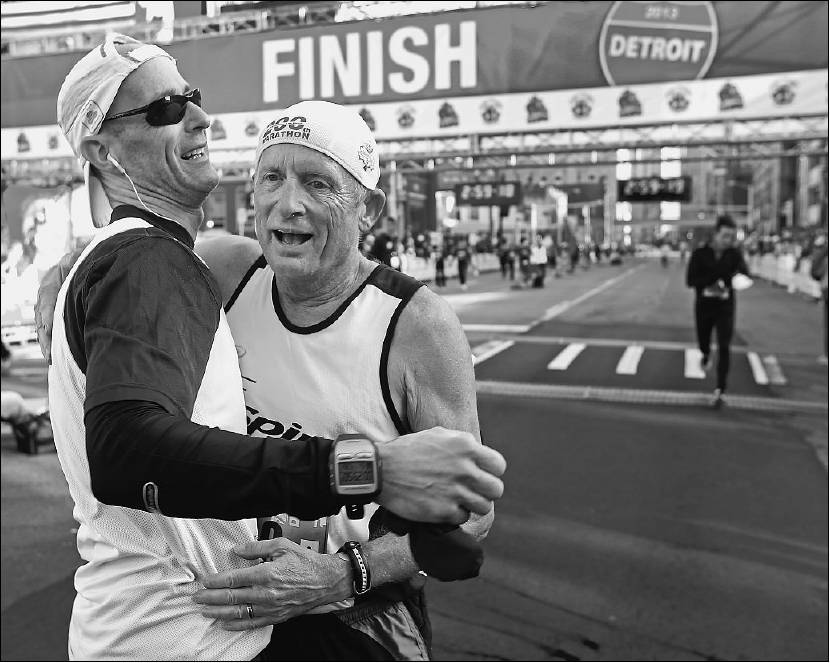 Doug Kurtis, is there really anything else to say?