The running world shook off some winter blues this weekend, like this:
Beranard Lagat set a masters WR at the Wannamaker Mile.  3:54.91.
Florence Kiplagat set a new women's world record for the half marathon blazing a 4:58 pace to 1:05:09.  That time bests the fastest male half marathoner from Nebraska since Mike Morgan's 1:04:change many, many years ago.  By a couple minutes.  Fellas?
Heard from my old buddy Camille Herron this weekend.  She raised my curiosity by telling  me a girl that I coach (Ashley Miller) beat her in a local Oklahoma road race.  Of course I cleared things up with her but am still flattered that people remember and associate red and white excellence with my efforts.
Pete Kostelnick "Re-Peted" at the Psycho Wyco 20 Mile.  I, and my crack staff, searched high and low for deeper results, I know local Jason Zakaras was contesting the 50K with a good shot at that title.   Bad Ben, post 'em up!
Cory Logsdon continues to inch towards the sub 15 barrier turning in a fine 15:04 up at the SDSU Indoor Invitational.  I wonder if they allow him to ride in the same car these days?
Stacy Mangers Shaw was hoping for competition and she got some at yesterday's Kicks & Kisses 5K in Lincoln.  From the youngsters of course.  Stacy finished 4th o/a in 20:46.
Kyle Clouston, Kathryn Carlson Merrill and Jessica Pape got their work done Saturday at our own Two Rivers 10K Valentine's Day Run.
Alli Moy-Borgen continued her grapefruit league tutelage down in La Platte.
The Chiller Challenge was also this past weekend.  No significant times to report.  Well, maybe 63 year old Paul Braunschweiler running 33:56- age grades to 26:34- to finish 4th o/a.
Bowerman Track Club's Lopez Lomong won the Millrose 5K in 13:27.60.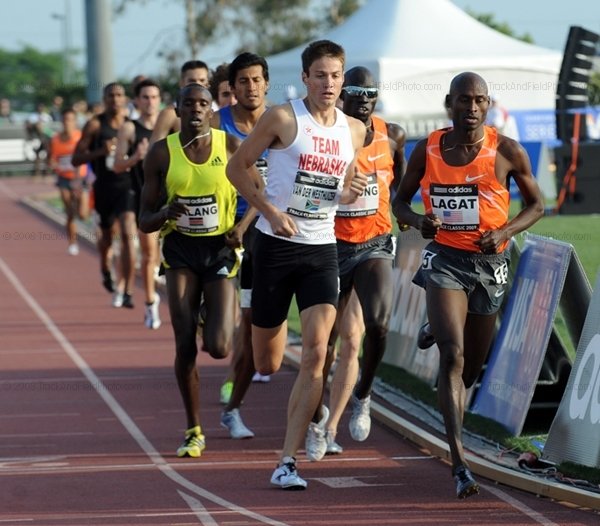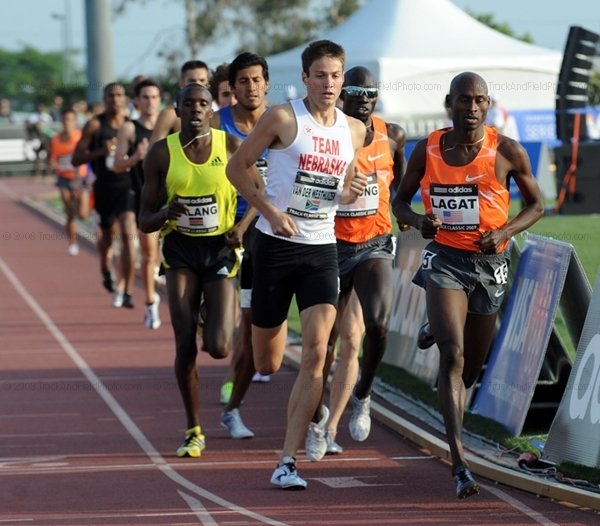 Just because I can.  Long ago and far away.  Peter vd Westhuizen stride for stride with Bernard Lagat and Lopez Lomong.    Peter also sported the kit (representing the original and true spirit of excellence) in the Wannamaker Mile in 2011.  Yep, it used to roll that way.