Hospital Hill in KC.  Dam to Dam in Des Moines.  Havelock in Lincoln.   But today's  regularly scheduled column is being bumped in favor of what I personally consider to be the best news for Real Running in a quarter century!
With due respect to all the good work done on behalf of medical research everywhere.  The 25 year exercise in combining apples and oranges finally comes failed.
Regular readers know how I feel about the charity bastardization of our sport.  Utterly corrupting the word "Race" into an unrecognizable molasses mass of humanity.
Using my sport, your sport, and giving nothing at all back.  It started with the "option" to pay extra for chip timing.  In a race for goodness sakes, an entry fee and then another fee to be timed.  And even with that "extra" perk you were not running in a Real Race.  Your official time didn't allow for recognition of excellence in running.  Overall Male or Female?  Nada.  Age group awards?  Not a chance.  No one cared enough about our sport.
So what's up this Monday that has me so Giddy?  I'm celebrating Truth in Advertising.  The mustard duck that has been foisted on the national  (and right here in Omaha) running scene as a race has finally been revealed for what it has always been.  The "Race For The Cure" has officially changed to the "More Than Pink Walk."  Truth.
Two of the biggest "races"  in the Omaha Metro have followed their true nature and landed as glorified fundraising walks.  The Omaha Corporate Cup failed as a race a few years ago, again too much pork up top, bloated admins with no experience or interest in Real Running.
Look, I loaded up Nebraska's very best runners in both of those events for many years.  Fought the American Lung Association for opportunity and prize money, made it the most competitive 10K road race in Nebraska.
I believe that Nationally Competitive Athletics will make another appearance in the Omaha Metro.  I'm doing everything I can.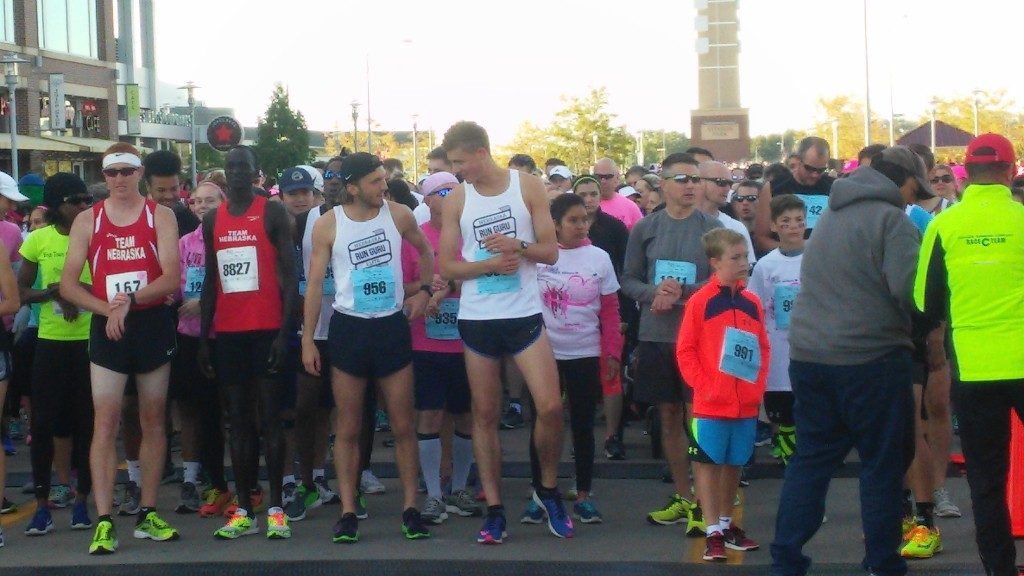 The 2016 Race for the Cure.  Grant Wintheiser, #956, ran 14:38 for the fastest USATF Certified 5K in Nebraska's modern era.  The race failed to get USATF Sanctioning thus the mark is ineligible for the record books.