A lot to cover this morning!
Berlin Marathon!  Kenenisa Bekele runs the second fastest marathon in history, 2:01:41.  Missed the WR by a slim two seconds.  In the same race 62 year old Joan Benoit Samuelson ran a stunning 3:02.  Lending plenty of credence to the notion that a pancake flat course, designed for lightning fast times, can indeed deliver same.
World Championships Marathon!  The women set off at midnight Doha time with temps hovering around 98 degrees, 109 heat index.  Kenya's Ruth Chepengetich took the laurels in sweltering conditions in 2:32:43.  Following up her amazing 2:17:08 at the Dubai Standard Charter Marathon in January.  Both the World Champs and Dubai courses renowned as among the flattest courses in the world, designed to attract the world's best runners.  First American in Doha was 41 year old mother of 3, Roberta Groner, taking an impressive 6th in 2:38:44.  I was contacted by the IAAF to travel to Quatar for a specific assignment but had to decline.  About half of the women on the start line agreed to ingest a pill that will provide important biometric feedback once retrieved.  My long history of dealing with shit making me the perfect candidate to dig through the piles.
More World Championships!  How about the new event, the mixed 4X400 meter relay!  The bros and babes competing together.  Lifeline for our sport that ranks near the bottom of spectator interest.  Look for more mixed events moving forward.
The Nebraska Marathon was held yesterday, kind of.  The marathon was cancelled due to flooding on the course, joining a growing list of 2019 events that had to be scrubbed.  Leaving the Good Life without a decent marathon for the year.     Yesterday's event shortened and sent off amidst heavy rain, lightning and thunder.  Look, I'm old and set in my ways, but how in the hell do you start a race under such dangerous conditions?  Never run in lightning.
Flat Rock 50K in Independence, KS.  Tragically a runner was struck and killed by lightning as he was about to finish the race.
Local HS thinclads will travel to Kearney today to test themselves on the State XC course.  Linda and I making the trip to see a single runner.   Sam Runde (Jr. Burke) will be making his season debut, his first xc race since setting the freshman school record of 17:01- in the only xc race of his career there.    Here's hoping the chronic injuries are now in his rear view.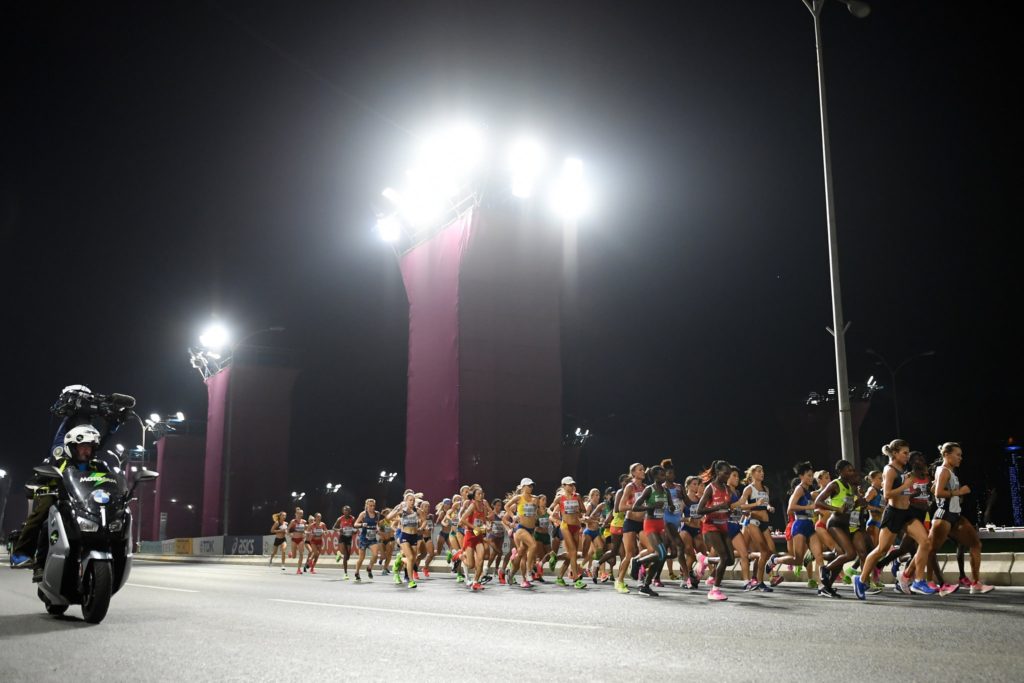 The start under lights in Doha, Quatar.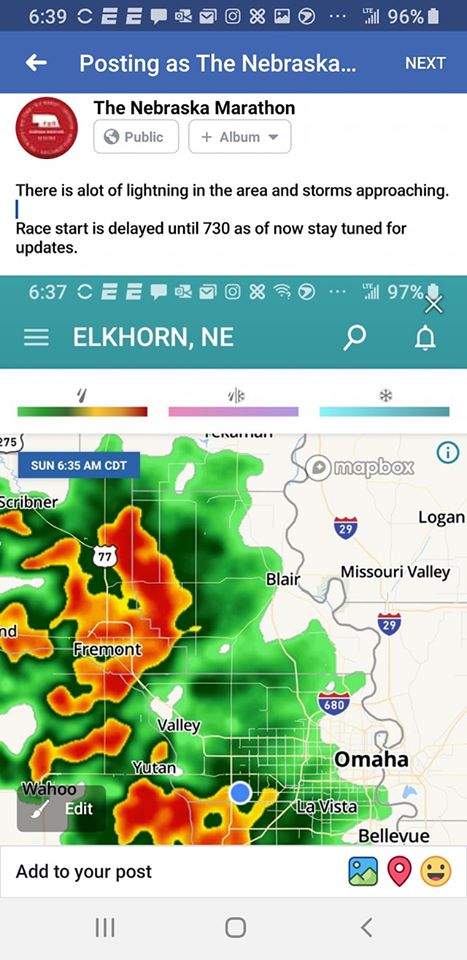 Yesterday's storm system, would you have rolled the dice and answered the starter's pistol?  Or would you have sought shelter?  Safety first, last, and always!