A lot of great racing in the Lone Star State yesterday morning.  I'm most impressed with 23 year old Lindsey Flanagan of Maryland.  Her 2:33:12 (3rd American) made me smile all day.  Top American was Kellyn Taylor (age 28) in 2:28:40, 2nd American was Serena Burla in 2:31:46.
Heads up ladies!  This is the way women's running in the United States has been headed for the last several years.  You better start dreaming BIG if you want to reach the STARS.
There were several Olympic Trials qualifiers on the men's side too.  Headed by Linda's old buddy, 27 year old Aaron Braun (she took him to the Chiba Ekiden in Japan in 2010), he turned in a nice 2:12:54.
Heads up fellas!  Same deal.
The inaugural Valley Forge Winter Series was a blustery debut.  Twenty eight runners participating with many, many first timers.  Kiddos too, bodes well for the DC West running programs moving forward.  I could not have been happier.  Our rag tag band of NRGE mates, looking like we are sponsored by New Life Thrift, showed the way.  We're pretty and pampered, not!  Check out our facebook page for series information.  And thanks to Bucks Bar & Grill for becoming the program's first contributor.
Pete followed up his 10K win on Saturday with a brisk 40 miler yesterday.
Congratulations to Cory Logsdon on his 15:17 at the Holiday Invite.  A seventeen second personal best on the boards.  Nice work young man.  I saw it in you when others poo pooed, glad you're a best fit now.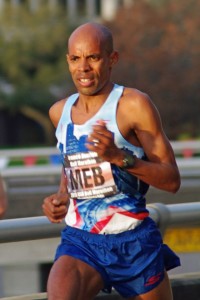 My old buddy Meb would finish third in the USA Champs Half.  Thanks to Doug "Oban Wan" Storey for the photo.