VALLEY 7 LAKES MARATHON UPDATE
Official word from the Douglas County Engineers on Monday.  The Valley 7 Lakes Marathon has been cancelled due to extensive damage to our course, in particular the 264th & Dodge intersection and the entirety of 252nd St. between Dodge and Blondo.
As Executive Director the buck stops with me.  It weighs heartbreakingly heavy.  Sixteen months of hard work by our race committee.  Race Director Tristan Nelson attending the USATF annual meetings.  Monday night meetings for the last 3 months.  Countless engagements with the principles.  Scouring for sponsorships.  Inspiring a new generation of race administrators.  Selling the vision of a World Class race with Small Town Charm.  Spreading the word to our American athletes that we have designed the fastest, flattest, IAAF record eligible marathon course in the United States.  Maybe the world.  All the hope and energy and promise now put on hold for a year.
This will give Valley and Waterloo a year to heal.   We were hit just too hard to recover in 5 weeks.  So many displaced families, washed out infrastructure, stressed services.  Most of our race committee living right here in Western Douglas County, a blow to us all.  Linda and I still without running water or heat, counting ourselves fortunate in comparison to those less so.
If we are to find a silver lining it is the race has now become a rallying point.  I had hoped the race would go on as demonstration of the strength of our communities.  But now the event's mission of highlighting our area becoming even more important moving forward.  Showing that we can and will overcome.
Saturday April 25th, 2020.  Thank you for marking your calendar.  We invite you to come run with us.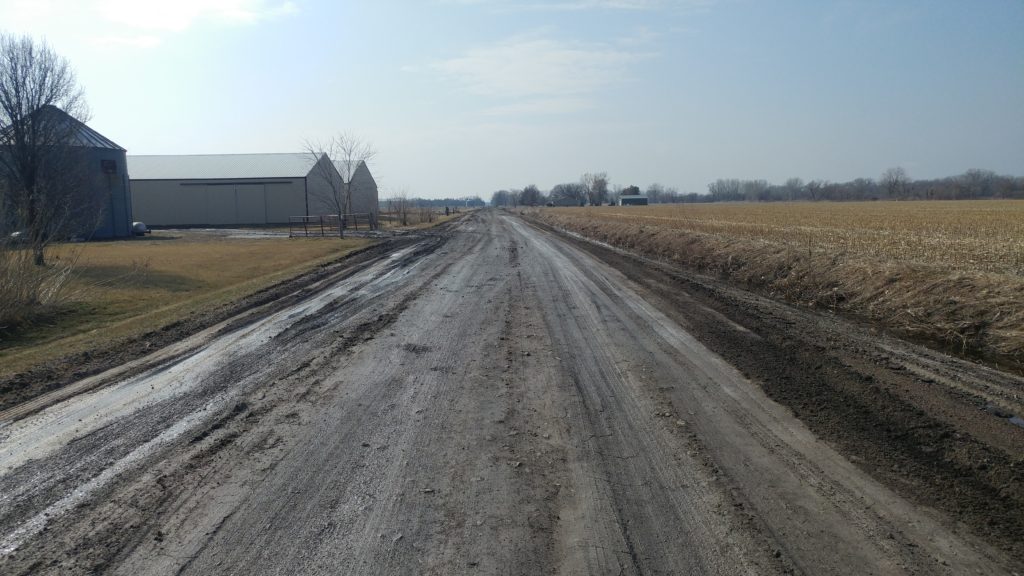 This one mile stretch of 252nd was paved two weeks ago.  It will be a construction zone in 5 weeks.