VALLEY 7 LAKES MARATHON UPDATE
Celebrating our 1 year anniversary this week.  Marking our visit to the City of Valley and Douglas County.  A grand vision to provide athletes from across the United States the opportunity to Run to Their Potential.
You've seen a lot of it unfold here.  Been a while since last report.
We have 250 registered representing 22 states.  201 runners from Nebraska.  Chasing personal bests and Boston qualifiers.  We have 6 runners from the Boulder Athletic Club and 2 from the Kansas City Smoke.  Going for their Olympic Trials qualifiers.
Our participation awards highlight the iconic art deco Valley sign and a bubble level to reflect the Flattest Closed Road Marathon in the World.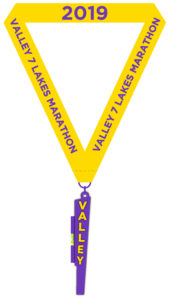 Our age group awards are being made from the original DC West High School bleachers, my best guess from the late 50s or early 60s.  Representative of the community  support both for and by the race.  Proceeds will help fund the growing DC West Cross Country program.
Our Gold Level Sponsors include Omaha Steaks, Bayer CropScience, H&H Roofing, Thrive Space, Archistructure, and Gretna Family Health.
The course has been ridden by Gary Meyer and Tristan Nelson, laying down preliminary marks.  First best day above 40 degrees and the final measurement will be conducted for official USATF Certification.  Both the Half and Full now USATF Sanctioned.  State, National record eligible, IAAF record eligible.
Our website is still a work in progress.  All of our committee positions are volunteer and we appreciate the time and work done thus far.  Please join me in welcoming our two newest committee members, Cindy Grove from the Valley City Council and Lindsay Toussant from the Omaha Sports Commission.
Thanks for checking in and not for the last time,
Giddyup!