Interesting weekend launching me right back up onto the tightrope (one side's hate and one is hope).
Saturday's Omaha 5K went just about as well for Nebraska Run Guru Elite as I could have hoped.  Four of our athletes debuting and finishing in the top 7.  I loved that.
Stacy Mangers and her daughter Scottie (20:07, 20:13) finished First and Second Overall.  Me 6th and Linda 7th.  Out of 69 finishers.  Sixty one year old Lou Soukup was the first male across the line in 20:32.
Yesterday's Omaha 10K found another eyebrow raiser.  Bridget Easley (36:59) was the overall winner, besting the first male by two minutes.  I rode the lead bike for the 10K and it was Bridget all alone for the entire race.  I couldn't even see the 2nd place finisher she was so far ahead.
What the hell?
Granted the half and full marathons were the feature events.  And noting too that there has never been a stronger advocate for women's runners in Nebraska than myself.   ARE YOU KIDDING ME?  How does a major city like Omaha, on its feature weekend, fail to come up with a couple of guys that might actually win a local race?
Congratulations to NRGE's Lindsey Brezenski on her 3rd place finish in the half marathon.  A huge pr in 1:28:42.  Her training is spot on going into the Des Moines Marathon next month.
I also rode in the lead woman for the full marathon.  Got to see the new course and it seemed fine.  Fast.
Got a very interesting phone call from John Wissler this morning.  The first USATF Nebraska Association meeting I've missed in 12 years.  It was hard, kind of like kicking the little birdie out of the nest, hoping it will fly.  Hoping a fair breeze blows under the wings of Michael Rathje of the Lincoln Running Co. Racing Team.  As the new LDR Chair  I wish him energy, vision, a tough hide, support from a Very Diverse running community, and all the best.   I created and nurtured it for over a decade, its time for new blood and Michael is a Good Man for stepping up.
All I want is to be left mostly alone.  I moved to the country to Get Away From It All, understand?  No drama, no cliques, and especially no crazies.  Let me be Free and Happy.
Peace, Love, Run.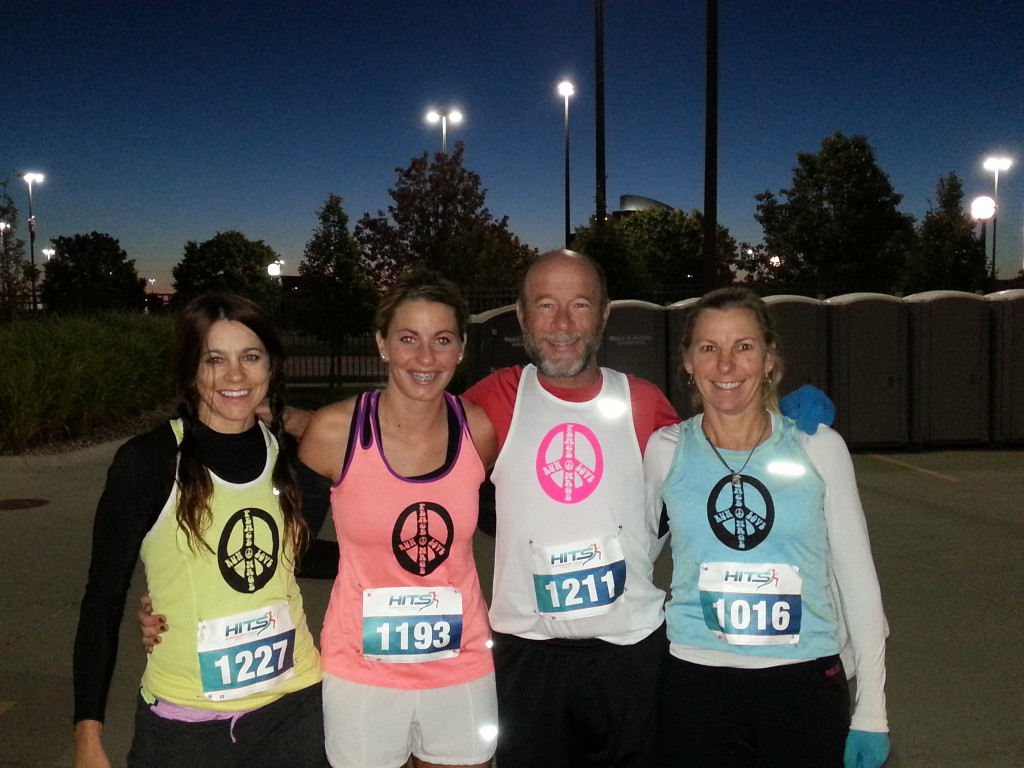 The mates!  Stacy is not only the fastest masters female in Nebraska, she now shares the distinction of being the elder half of the fastest mother/daughter combo in state history.  This was Scottie's first race since college several years ago.  She just started running again with me coaching her for the last 3 weeks.  She's coming to get you girls!  Our uniforms reflect the philosophy of Acceptance and Diversity of NRGE.