Runners!  We're a motivated group by almost any standard.  Each of us puts one foot in front of the other for our own deeply personal reasons.  Running for health.  Running for camaraderie.  Running from demons, legions of them.
I've spent the last forty years running.  When queried about my motivations, "Its the one thing no one can tell me when to do, where to do, how to do, whom to do it with."  Running for me is the ultimate expression of personal freedom.
And Racing!  Part of what moves my feet is the chance to test myself.  Against myself.  Against you.  Conquering demons of inadequacy.  Measuring my self worth by the amount of suffering I can endure.  Yeah, it runs that deep.  What about you?
Who is driving you is another question all together.  And the crux of today's column.  Linda and I took a ride with Dr. Weeks last week.  His invitation to "Let Elon drive us" a chance to take a stride into the 21st century.  We hopped in his shiny new Tesla.  Acceleration incredible.  But it was on Hwy 92 that my few remaining hairs turned a lighter shade.  The self-driving mode engaged,  white knuckles the rest of the trip for your scribe.  I resisted the urge to reach over and grab the wheel, trying to have faith in technology.  A complete loss of control the worst part of the experience.  I felt like an Amish in New York City.
That might be the future but I don't like it at all.  Driving is second to running as an expression of personal freedom.  At least it used to be.  Linda and I travel with a paper map, our comfort zone.  Not trusting or believing that a signal from the sky can deliver us.
I'll keep driving myself.  On foot and wheels.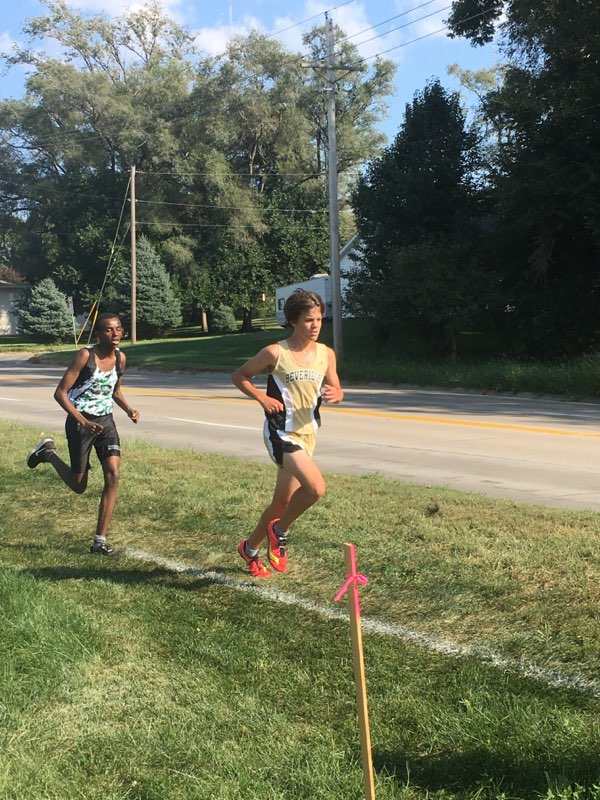 I know what drives Jack Runde.  Shown here at yesterday's xc meet at Northwest HS.  He would dispatch his challenger on the second loop on the way to yet another victory.  Perfect running form.  And In It To Win It!