No slight intended towards the Sandhills Marathon, the 8th annual being this past weekend.  I just can't find the results anywhere, Andy, you got a link?
I want to thank Ben for the following email, proving once and for all that the competitive culture resides in us all if we will only heed it.
"Hey Will,
I participated in the Ni-Bthaska-Ke 4 Mile event in April. I'm pretty sure I was the last person to finish out of everyone out there. A little background – I've been running on and off for years, I'm a very overweight guy and I've lost weight and put it back on, been sidelined by injuries, but keep trying anyway. This is my latest effort. I've done plenty of 5ks, a 10k, and I attempted a marathon twice but never finished. My best mile is an 8:42. I knew the Ni-Bthaska-Ke was going to be very difficult. I never could have imagined just how difficult it was, and I couldn't believe how long it took me. And it hurt. But it was still one of the most satisfying things I've done, and the course was impeccably marked. So kudos to you and everyone who put it together.
I was also really impressed with the other runners out there. The 12k runners doubled back on me, so I'd frequently step to the side so I wouldn't get in their way. And it's not an exaggeration to say that 3/4 of the 12k runners, from the leaders on back, offered words of encouragement. That's some really good people out there.
Anyway…I periodically read your blog, and I just wanted to let you know how impressed I was with the event and the people. As a side note, I'm glad you love the Fifth Third River Bank Run because I lived much of my life in Grand Rapids and I also love that race. Hope you have a good start to your week, and keep posting pics of that great garden!
– Ben"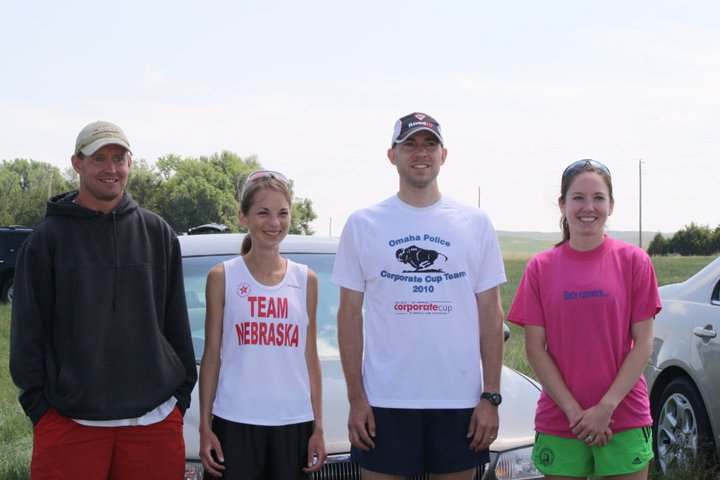 Kaci Lickteig was the Sandhills Marathon Overall, overall winner in 2010 (3:04:17),  2011 (3:05:15), and 2012 (3:02:01, Women's cr).  Shown here in the good old days of 2011.  Paul Wilson holds the men's course record of 2:52:18 set in 2007.