Throwing it back to Saturday, January 8, 2000.  The Brazosport Run For The Arts was changed, just that once, from a 10 Mile to a 10K.  In fact was heralded as the "Official 10K of the New Millenium."  What didn't change were the stellar performances.  Or my passion for hosting Fast Fields.
What prompts this throwback Thursday?  The following question arose during post track banter at the Upstream, "Why are they coming to Valley?"  My reply started as "I've heard this question before, back in Lake Jackson, Texas and the Run For The Arts."
Before I could finish, NRGE Mate and quite possibly Nebraska's top master (OK, Ivan Ivanov gets a nod too) Mike Wasson jumped in the conversation and said "I ran that race and won one of the prized framed Prefontaine prints!"  My attention deficit riddled brain spun wildly until the image of the results sheet popped in my brain.  This is what I saw:
1. Charles Mulinga,   32      28:57 (Zambia)
2. Joseph Kariuki,   29         29:44 (Kenya, former world record holder 25K)
3. Eric Polonski, 29              30:04
4. Eddy Hellebuyck, 38        30:28 (Convicted scoundrel and drug cheat)
5. Rene Sepulvada, 33        30:32
6. T.J. Lentz, 32                   30:35
7. John Spence, 30             30:39
8. Phil Castillo, 27              30:52
9. Bryan Dameworth, 29   31:27 (Kinney High School Cross Country National Champion)
10. Dave Wittman, 30        31:36
11. Carlos Paradelo, 26     31:42
12. Jon Warren, 34            32:00
13. Mike Wasson, 34         32:11
14. Luis Armenteros, 26    32:24
15. Tom Boone, 40             32:27
16. Keith Dowland, 44       32:35
17. David Washburn, 43   32:39
18. Vladimir Mikhailov, 19 33:10 (Russia)
19. Jeff Lewis, 26                33:22
20. Randy Reina, 40           33:27
22. Annette Peters, 34       33:35 (Olympian)
26. Kelly Cordell, 29           34:22
27. Carmen Troncoso, 41  34:44 (American record 5K masters)
28. Chris McNamara, 33    34:52
29. Kelly Vanasse, 34          35:02
30. Valerie Vaughn, 33       35:39
31. Kris Laubenstein, 24    35:42
33. Cassie Henkiel, 29        35:49
34. Nicole Wilkerson, 28    35:53
35. Patty Valadka, 41          35:54
Amazing depth of competition in the Overall Male and Overall Female races.  Ten women under 36:00, let that sink in a moment.  Take a look at the winning masters male race, the top 3 separated by a mere 12 seconds.  REAL RACING!
How much of a coincidence is that?  Wait, wait, it gets better.  Mike then relayed that he went to high school with one of the most iconic runners in the history of Team Nebraska.  (You whippersnappers pay attention, the history of the club should NEVER be forgotten, or worse, reconfigured.)  Tracy Lokken (at age 48, 2014 Boston Marathon 2:24:39, 1st 44-49 age group!) was one of the first athletes I recruited.  Still holds the Lake Zorinsky 10K record of 32:07 on a cold and blustery November day in 2003.  He and Mike went to the same small high school in Michigan.  Now that is a circle come complete.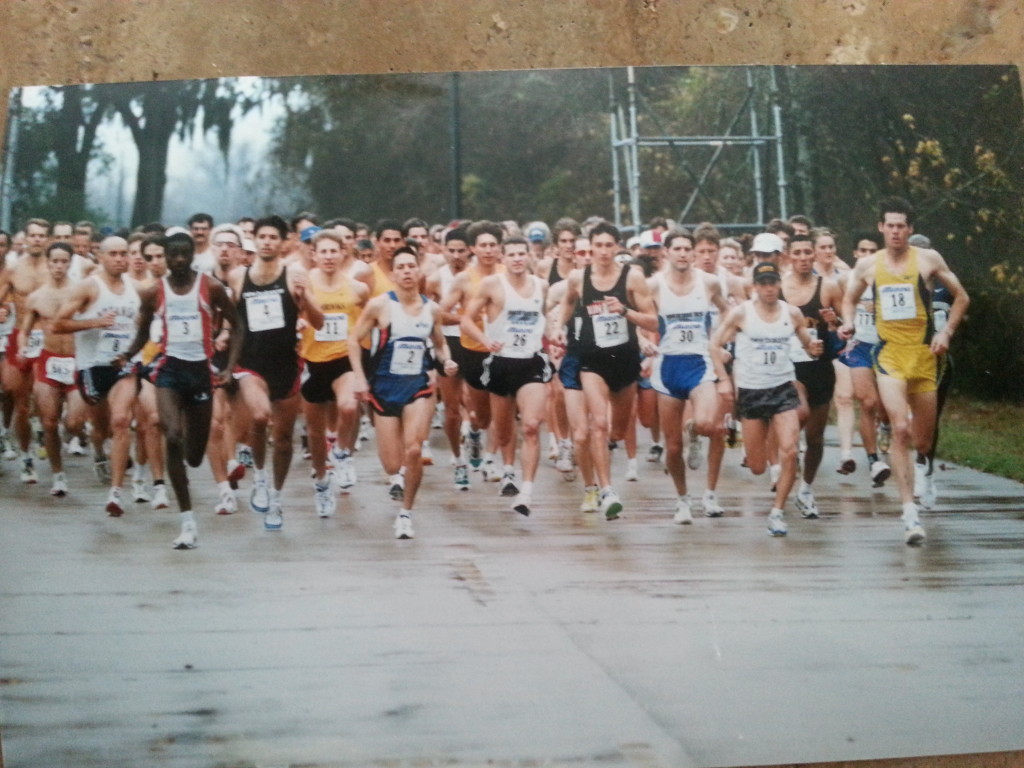 This is what a National/World Class 10K field looks like.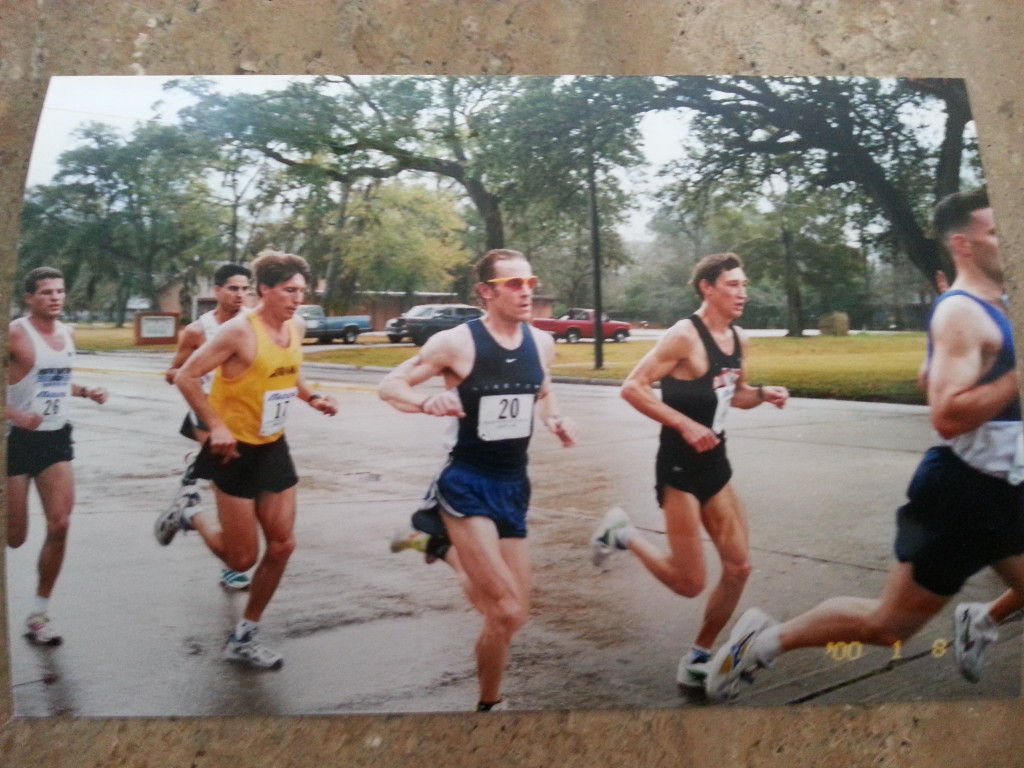 Mike Wasson, #20, fronts Jon Warren in yellow.  Jon qualified for the Olympic Trials in both the Steeplechase and Marathon, his coach was our favorite Jim McLatchie.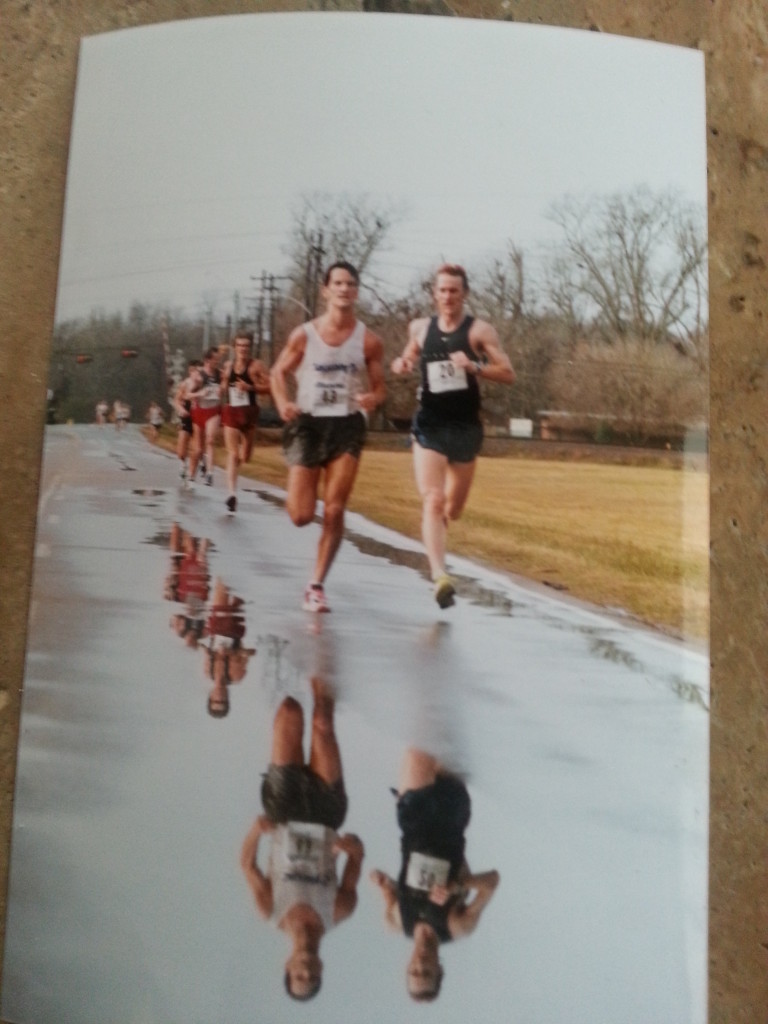 Reflections of excellence.  Here Mike battles overall masters winner Tom Boone.  Keith Dowland and David Washburn are the next two, and what a battle that race was!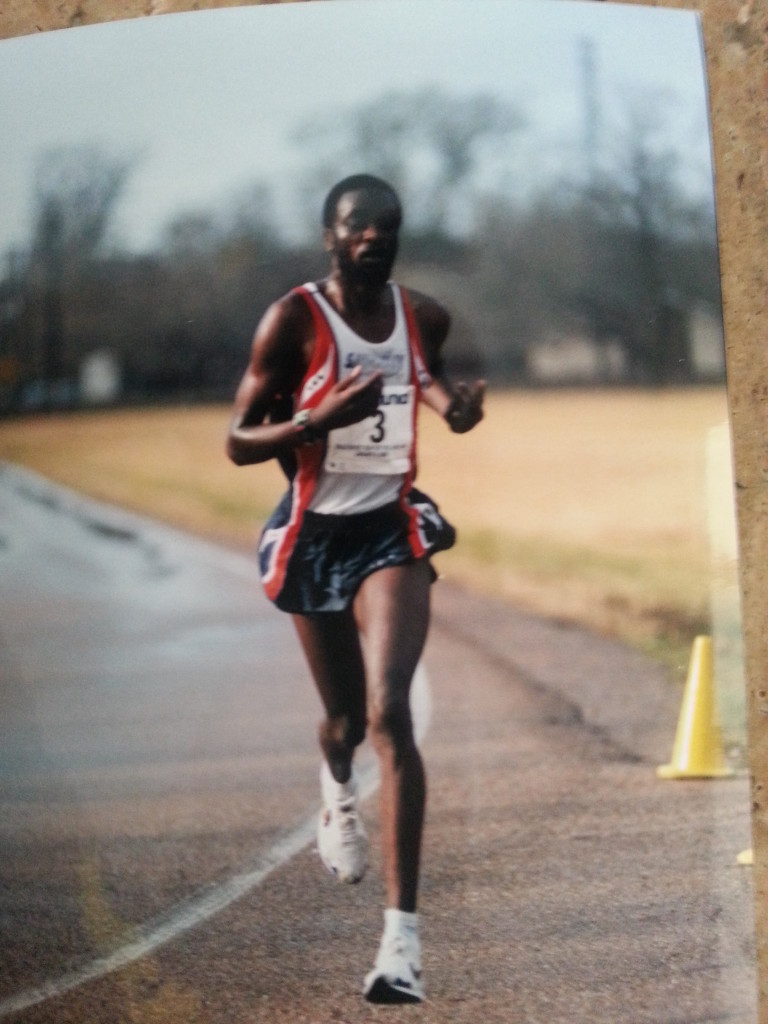 Joseph Kariuiki was the world record holder for 25K and one of the most sought after marathon pacers of his time.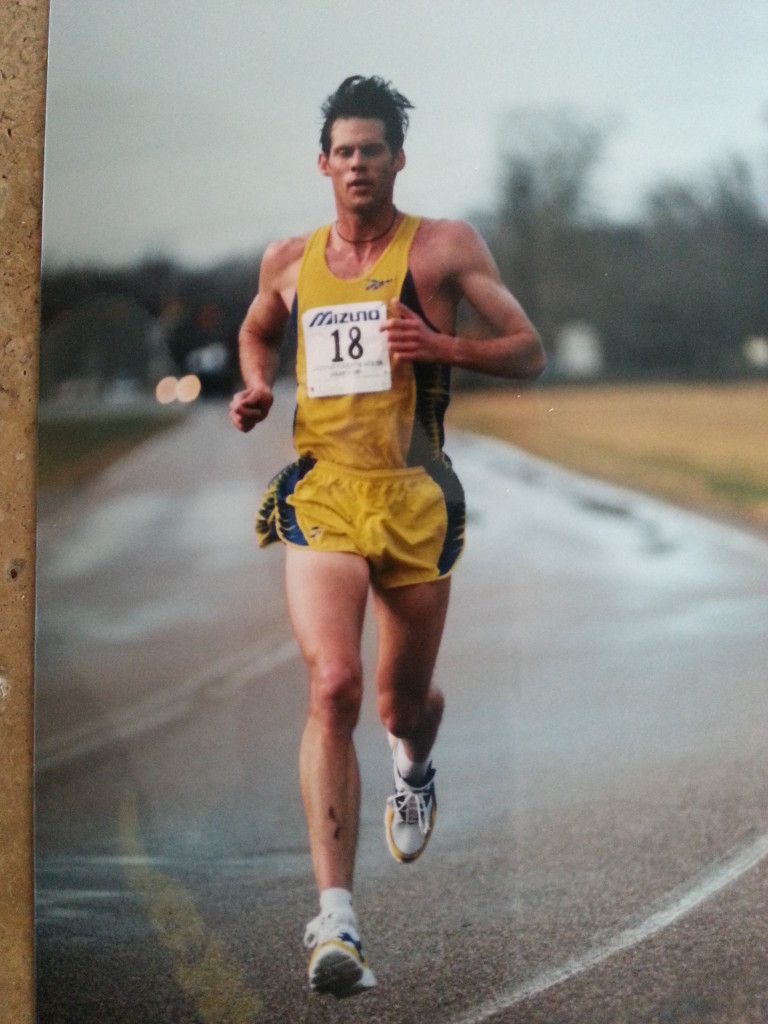 Bryan Dameworth was the national champion for high school cross country, back in the day.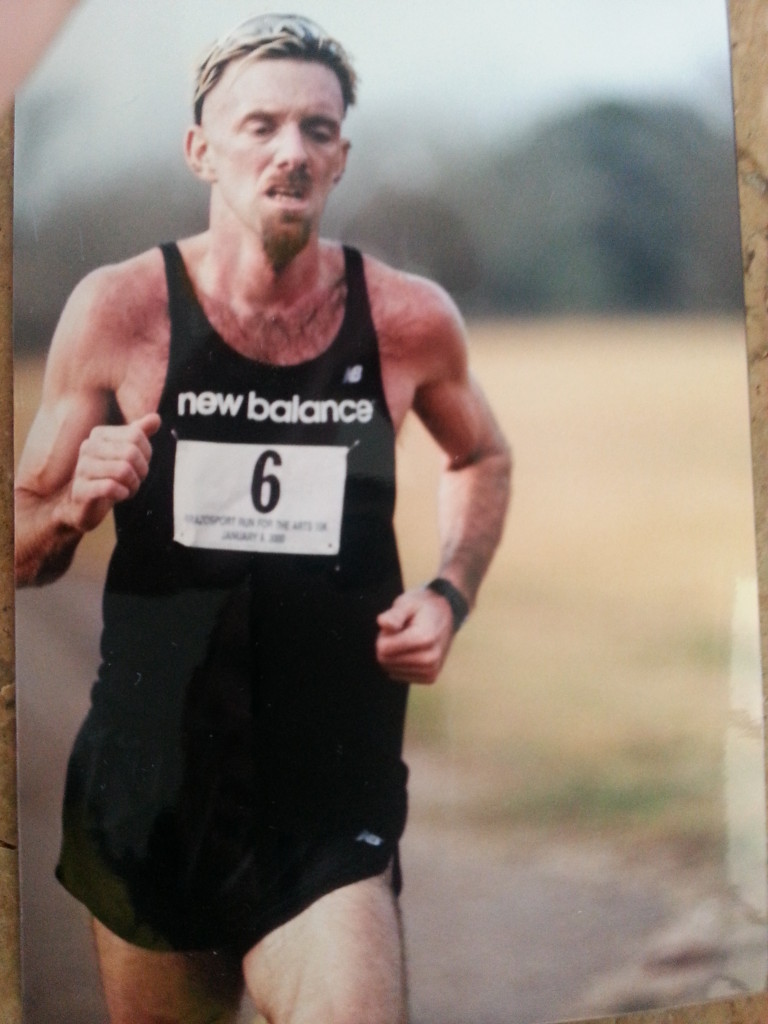 American marathon record holder Jerry Lawson (2:09:35, Chicago, 1997) was in the race but was a dnf.  Happens to the best.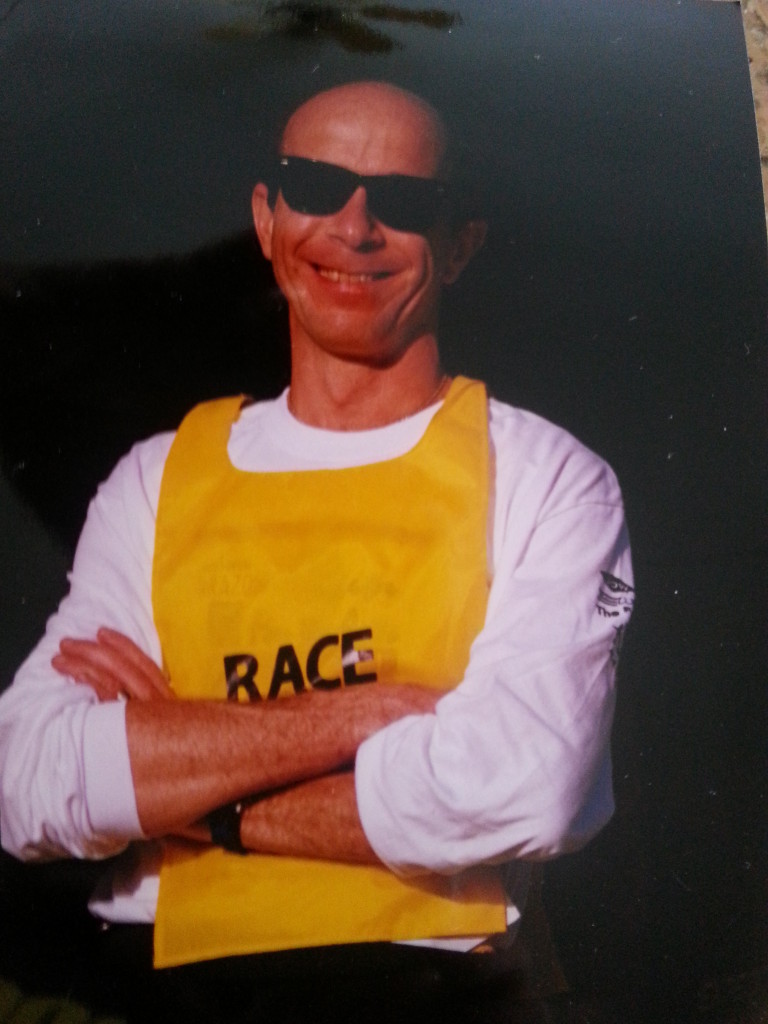 I was happy then, I'm happy now.  My craft, my joy, my passion.