Big Tips starting off to my and your good buddy James McGown for his overall win (2:43:44) at the State Fair Marathon in Grand Island.  Only more Good Stuff to come for our Nebraska Run Guru Elite Masters Stud.  Kaci Lickteig won the women's in 2:50:49, good enough for second overall.  There was also a half marathon, Luka Thor (1:10:34), Colin Morrissey (1:15:37), and Kyle Smith (1:17:50) took top nods for the men, Pasca Myers (1:20:32), Ashley Miller (1:26:07), and Kayte Partch (1:30:30) were top ladies.
Fast is last!  Not so fast!  Blast from past, Kicks some ass!
Masked man, hand picked ringer
Showed true grit, predicted winner
Barefoot Steve, his girl got wood
The champion heave, that show was good
Runners hailing both sides the river
Searing lungs and quivering liver
Bar None Beer Mile, all done with smile
Booze Cruise fun, liquor and run
Burgers and more under canopied shade
Real Friends, Real People, Real Memories made.

Yeah, it was like that.  The ringer set a new Open Male Road Beer Mile and left the 40 or so other people just wagging their heads and tongues.  I start the race, a beer goes down, run a quarter (USATF measured course) down one, another quarter, down one, another quarter another beer and then mad dash to finish line.  Eighty eyeballs popping out of forty heads as the clock flashes 6:06 for the winner.  Six minutes, six seconds.
Forty year old Ivan Marsh shows he's more than a one trek pony taking second overall and setting a new Masters Road Beer Mile record in a very fast 6:37.  NRGE VP Jerrod Anzalone was next in 6:45.  Rob came in next in 7:20, and next was our Overall Female Stacy Shaw in 7:24, just nipping Jared at the line.  Her time was 11 seconds faster than Kyle's winning time last year.  Kyle Clouston was dq'd this year for "preliminary discharge".  Steve Stender was next in 8:48, just ahead of The Badwater Badass Pete Kostelnick's 8:59.  Melly Markowski scored her first ever hardware turning in a burpy 10:20 and Jessica Pape showed she is much more than just a pretty face by grabbing the final coveted, custom made, top 3 memento in 19:17.  Bill Weeks in at a wobbly 14:06.  David Bohlken has some legit wheels, he trundled in at 15:57, and Jimmie Doherty reprised his DFL from last year in 19:18.  
Hey it ain't easy.
Especially for those like Jessica that did the Double Trouble (Booze Cruise and Beer Mile).  The Cruise went smoothly with participants doing 8 laps around the Bar None Produce garden.  Pete set a World Record by finishing both the Cruise and NRGE Elite Beer Mile in under 9 minutes each.  
100 milers are for the determined.  Local runner Angie Hodge had a 2500 word write up in yesterday's OWH.  She made the 30 hour cut off at Leadville by a mere nine seconds and now enjoys local celebrity status.  The running continuum span is vast, let's not forget the excellent in our celebrations too.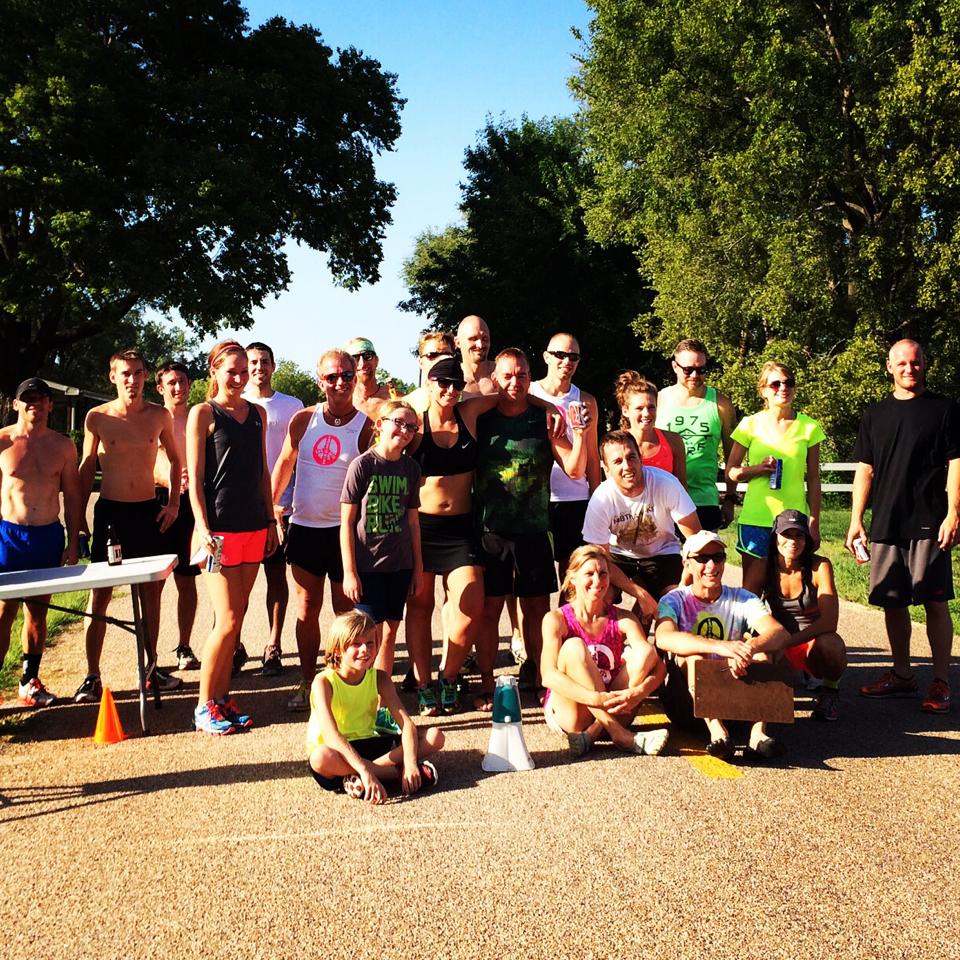 Still bringing runners together from both sides of the Platte, only this time its FUN!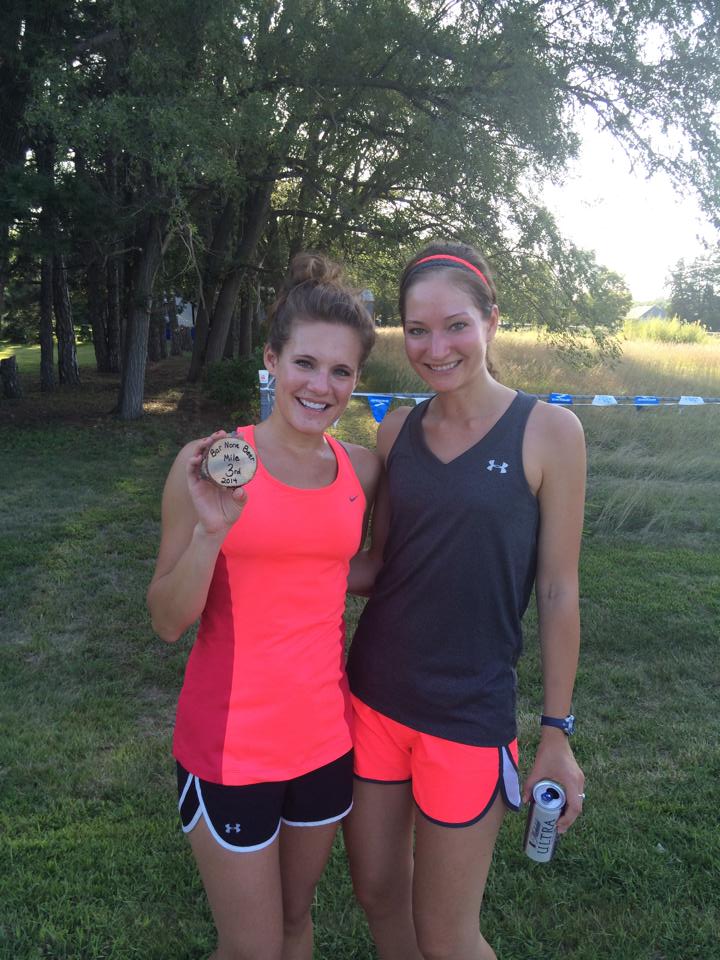 Jessica proudly shows her 3rd Overall award.  Her sister joined in for the fun too!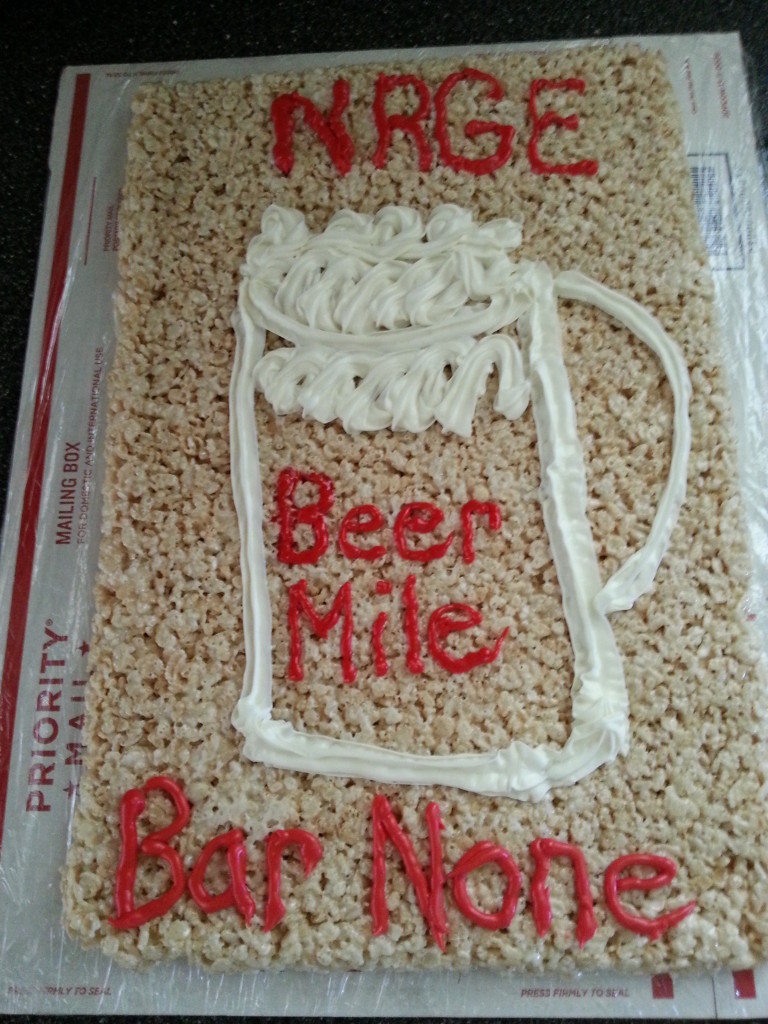 Coach John's rice krispie creation went down as quickly as the suds.