Plus or minus a couple.  Seven years ago, actually September 29, 2007, I grabbed Omaha and Nebraska by its competitive juevos and the grip hasn't relented yet.
I crafted a field to begin the re-writing of Nebraska USATF Certified road races.  Trumpeted and promised the first sub 4:00 road mile in state history.  Did it.
Not everyone got it or appreciated what was going on.   Questions of why would I want people to come in town and run all over my Team.  Questions of how did these studs end up in Omaha to begin with.  So many questions.  Short answer was the support of the Knights of Ak-Sar-Ben and several key sponsors.  Hotel rooms, meals, prize purse, travel stipend, same as it ever was.
The end result didn't surprise me at all.  It turned a group of fine local young men into Much Better Athletes.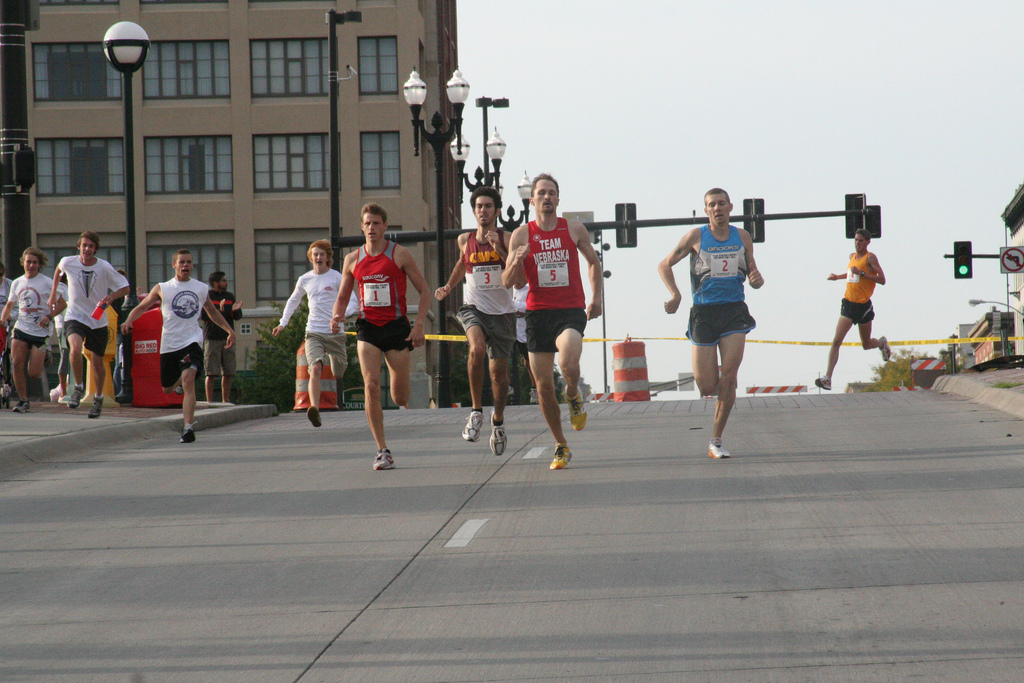 The moment that changed everything in Nebraska.  Shannon Stenger grew a huge set this morning, leading a national class field through the first 1200 meters.  His team of high schoolers on the left about to wet themselves.  Those of us in the press truck too.  My Old Buddy Dave Sutej doing great work behind the wheel.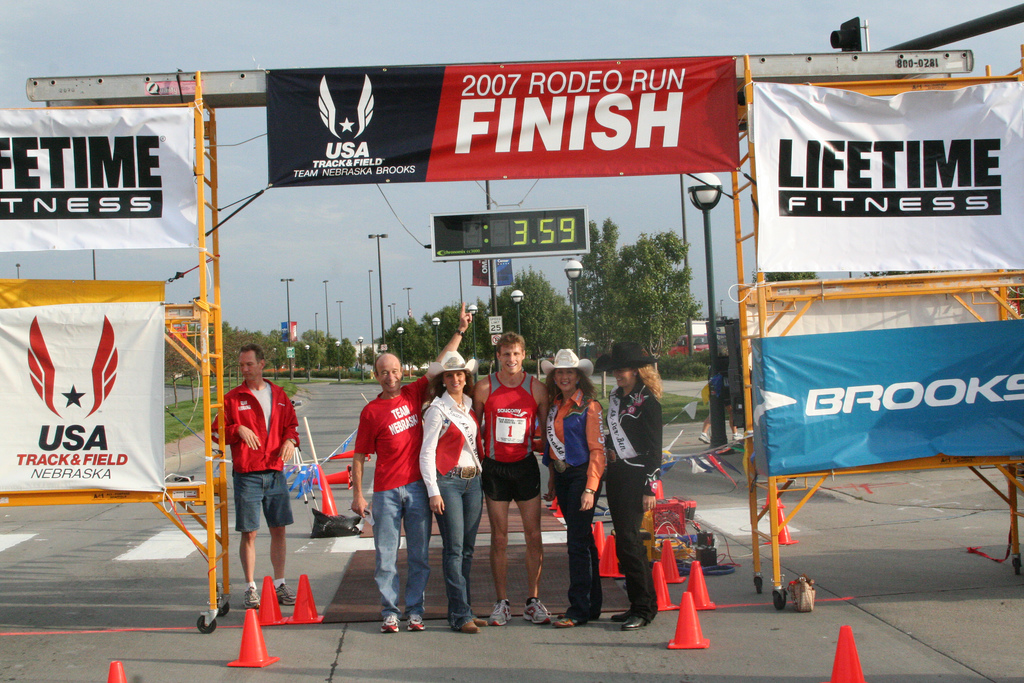 1 Ryan Kleimenhagen     Madison WI         25 M     1/8       3:59 
    2 Rob Duncan            Ironwood MI        25 M     2/8       4:01 
    3 David Juliano         Boulder CO         26 M     3/8       4:04 
    4 Shannon Stenger       Omaha NE           28 M     4/8       4:07 *Mate
    5 Josh Moen             Readlyn IA            M     5/8       4:10 
    6 Paul Wilson           Omaha NE           26 M     6/8       4:16 *Mate
    7 Dustin Llewellyn      Omaha NE           29 M     7/8       4:16 *Mate
    8 Mark Hall             Omaha NE           23 M     8/8       4:31 *Mate
    9 Brady Murphy          Omaha NE           37 M     1/3       4:36 
   10 Jim Hacket                               28 M     1/5       4:39 
   11 Craig Christians      Bellevue NE        46 M     1/4       4:42 *Mate
   12 Jorge Zuniga          Lincoln NE         28 M     2/5       4:43 
   13 Kevin Vanderlinden    Sioux City IA      45 M     2/4       4:45 
   14 Michael Pecha         Omaha NE           26 M     3/5       4:46 
   15 Bob Garcia            La Vista NE        52 M     1/7       4:48 *Mate
   16 Casey Owens           Des Moines IA      25 F     1/6       4:48 ***First Female
   17 Benjamin McKinley     Council Bluffs IA  17 M     1/2       4:48 
   18 David Pecha           Omaha NE           32 M     2/3       4:55 
   19 Bob Prince            Sioux City IA      52 M     2/7       4:57 
   20 Robert Butler         Omaha NE           40 M     3/4       5:01 
   21 Kristi Feldman        Des Moines IA         F     2/6       5:04 
   22 Jim Ruppelt           Lincoln NE         53 M     3/7       5:05 
   23 Ron Lampe             Omaha NE           45 M     4/4       5:07 
   24 Angie Henry           Omaha NE           31 F     3/6       5:09 *Mate
   25 Paul Braunschweiler   OMAHA NE           55 M     4/7       5:12 *Mate