The Chicago Marathon is this weekend.   When I "rode herd", you likely were directed to select either Twin Cities or Chicago for your fall marathon.  Took large contingents to both.  I won't swear to it but looking at the TCM results I didn't find a single Nebraska USATF athlete in the marathon (and only JR in the 10 Mile).  I'm hoping they all selected Chicago.
Marathoning.  What used to be the litmus for Real Runners, seems to have fallen out of fashion of late.
The Race For The Cure is also this weekend.  Grant Wintheiser turned in the fastest 5K of 2016 (14:37) at the event, besting Luka Thor by nearly  :45.  Point being,  man its fast!  And another throwback here, a fast course in and of itself used to be enough to draw Real Runners.
Grant won't be defending his title, Jay Welp will be running a xc meet.  They've already established themselves as the two fastest guys  in Nebraska, so wide open for  the fellas.
So whom will step up?  Maybe Nick or maybe Tristan.  See?  Same as it ever was.  Find a fast, certified course, get your athletes entered, compete.  Simple.  Liz Starbuck has shown some flashes of wheels this fall.  She's the favorite for the women.  Someone please come  push her to a fast time!  I want her to win but would much rather a competitive race resulting in fast times.
Bill Rodgers and Nick Rose.  Please google if you don't know them.  Racing the USA Cross Country National Championships at Buffalo Bayou, Houston, circa 1979.  Nick and Bill leading the  pack.  Nick looks over, sees an alligator scrambling on the bank, about drops the deuce.  Why the anecdote?  I was shocked to see the Metro XC Meet cancelled yesterday due to, I think it must have been rain?
Galloping Bohunk.  Ralston beat Bennington last night,  Number 2 for Ralston is Noah Oellerich Kunasek, my nephew!  He's a star.  Sophomore and the fastest guy on the team.  Returns punts and kick offs, plays tail back, caught some passes and had some nice long runs, prompting the announcer (the game was aired live on tv) to call him "shifty".
My old "Boss" Virginia Brophy Achman is the RD for Twin Cities.  The Marathon and 10 Mile and all the other TC events.  If you buy me a beer I'll tell you tales about my 7 years as the head of the Women's National  Championships.  Buy  me a whiskey and I'll tell you how it all went down.  This past Sunday the 10 Mile featured an "Equalizer Bonus".  The women to get a pre determined head start, 6 minutes eighteen seconds.  According to reports by Robert Johnson of LetsRundotCom, the timing company  erred by starting the men 6 minutes and 10 seconds after.  Kipchirchir caught Sara Hall one step from the finish- ostensibly winning the $10,000 bonus.  So a nod to VBA for stepping up and paying Sara as well as Kipchirchir.  Costly mistake, if I know her-and I do- I'm sure heads will roll.  She doesn't cotton to Rosy Red Cheeks.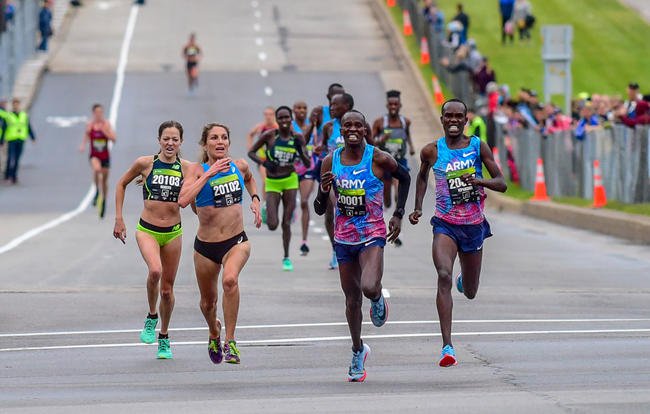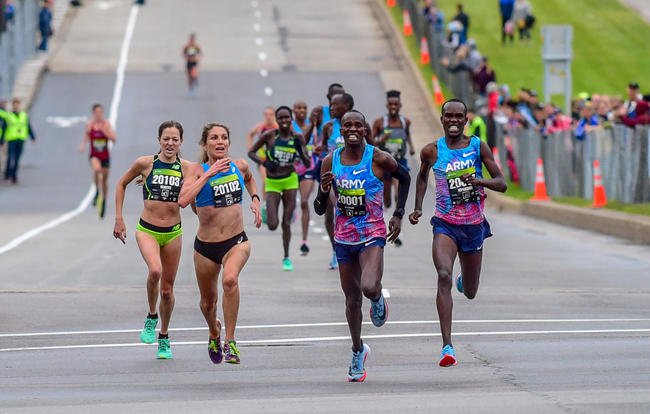 No fanny packs, no walking, no headphones, no ski poles, no six pockets in their shorts.  Just Real Racing.