VELO Press, Copyright 2017, by Jonathan Beverly
I've been a fan of Jonathan's for a very long time.  As Editor-In-Chief of Running Times his was the only elite beacon in a sea of otherwise.  His words, much more eloquent, echoing my grunts that we are not all the same.
Run Strong Stay Hungry gives a glimpse into those  that have set themselves apart from the masses.  Through perseverance, toughness, dedication and suffering that a lifetime of running has bestowed.  Jonathan interviewed dozens of lifetime competitors from the Olympic down to the merest.  The bond of many thousands of miles forging a cast whose stories are truly inspiring.
The most prolific female marathoner in Nebraska history, Roxi Erickson shares her story.  Craig Christians tells his too.  Ann Ringlein is in there as well.  All part of the fabric of distance running history in Nebraska.
Joanie.  Deena Kastor and Colleen DeReuck.  Olympians.  Both served with me on USATF's WLDR Executive Committee.  Bill Rodgers, his 180,000 lifetime miles mind boggling.
And finally the merest.   I feel honored that Jonathan felt me worthy to be included with so many of my running heroes, icons and peers.  I smiled when I read the title of my section- LISTEN TO THE TRUTH.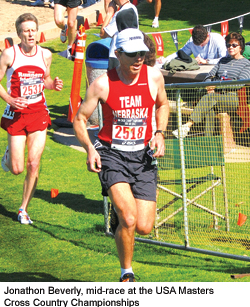 Jonathan and I share more than many miles.  Our personal bests are nearly identical.  Our philosophies pretty darned close.  And he ran for me back in the day.  Thank you for everything old buddy!