I've used the Platte River metaphorically to describe a Great Divide in Nebraska.  And a Red & White Bridge that lasted just over a decade.  Such Hubris for My Span!  Greatest Strength only  in the Very Middle.  Naïve to the undercurrents.   What remains is USATF, this guru's vision for athletics in Nebraska.
Two Rivers State Park in Waterloo.  Junction of the Platte and Elkhorn Rivers.  Just minutes west of Omaha at 27702 F Street.  And a Very Easy ride up Hwy 77 from Lincoln.  Especially with the new bypass around Wahoo (unless you need to stop and grab a Wahoo Locker Wiener).
Our Two Rivers Valentine's Day 5K (February 10th) has been selected as the 2018 USATF Nebraska Association 5K Road Championships.  Many of you have run out on the pancake flat, closed road course.  Lightning fast as evidenced by Grant Wintheiser's 15:06 5K and 24:12 8K turned in on the 1.5 mile loop.  Colin and Cory and Johnny and Jay and Tim have also run very well at the park.
I've sent out a fistful of invitations to Nebraska's best runners.  And offered a hefty entry fee discount for all USATF members.   Demonstrating no favor to one club or athlete over another.  Fair Competition for all.  Showing support to Club 402, Team Nebraska, Lincoln Running Co. Racing, Run Guru Elite, Women Run Nebraska and some unattached athletes.  Hoping you will take advantage.
All the while making the event accessible to those who don't carry a USATF membership.  Offering the casual runner, the first timer, and walkers the same opportunity to "Get and  Be Fit".  Multiple restrooms on the course.  The loop surrounding three spring fed lakes.  The mighty Platte on your left.  Beautiful.
'We had such a great race this morning! Very well organized, the best race swag I have ever seen and the most wonderful race volunteers. This was my sons first ever race and everyone, including the other runners, was so supportive and positive! As a running momma I couldn't be happier to have this race be my sons first race experience. As long as this race and Psyco Wyco don't conflict next year, we'll be back!! High fives all around!"  Kate Zajicek Duncan
"Thanks for a fun race, Run Guru! Fun atmosphere, well organized, and great prizes!"  Regan Bold
"Beautiful course! Excellent Race! Well organized, supported, and fun!" Gail Illlich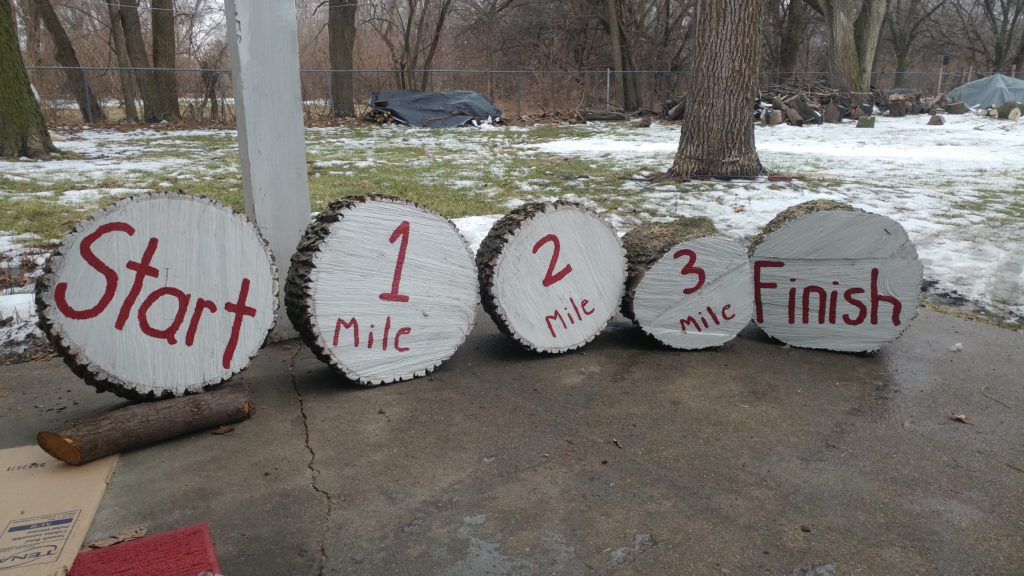 Some hackberry from our wood pile made into markers.  It doesn't matter where you finish, only that you dare to start!