Pluck- To snatch quickly
Pluck- Spirited Determination and Courage.
We're going with the latter this morning.  Perfect descriptor for Liz Starbuck.  Rhymes with Pluck.  Liz has that spirited determination and courage.  And more.  Sweet, polite, congenial, earth aware, family oriented, respectful young lady.  Its what smolders just below the surface that has me admiring the cut of  her jib.  She gives off a vibe on the starting line that I wish I could bottle.
Liz took the Overall for the Lasses at the Des Moines Leprechaun Chase yesterday.  We're darned proud of her.  But not surprised.  Liz kicked off the year with a 17:54 Certified & Sanctioned Full Wolf Moon 5K on January 20.   Safe bet that she takes another minute off that before year's end.
Liz came to us from the Colorado School of Mines.  Works in the environmental department for a Fortune 500 contractor based in Omaha.  Lofty goals in running and in life.
I've lamented for 6 years the loss of an advocate for Nebraska's Track & Field athletes.  I see a time when that need will once again be addressed.   Point is as much as I believe in the talent across all disciplines of Athletics in Nebraska, inside this old man beats an LDR heart.
Which is why I'm pretty jacked to see Liz moving up.  She made her 10K (39:32) road debut at last September's Freedom  Run 10K in Valley.  Her 38:44 on a cold and windy morning a new personal best and Run Guru Elite club record.   And a half debut on the horizon…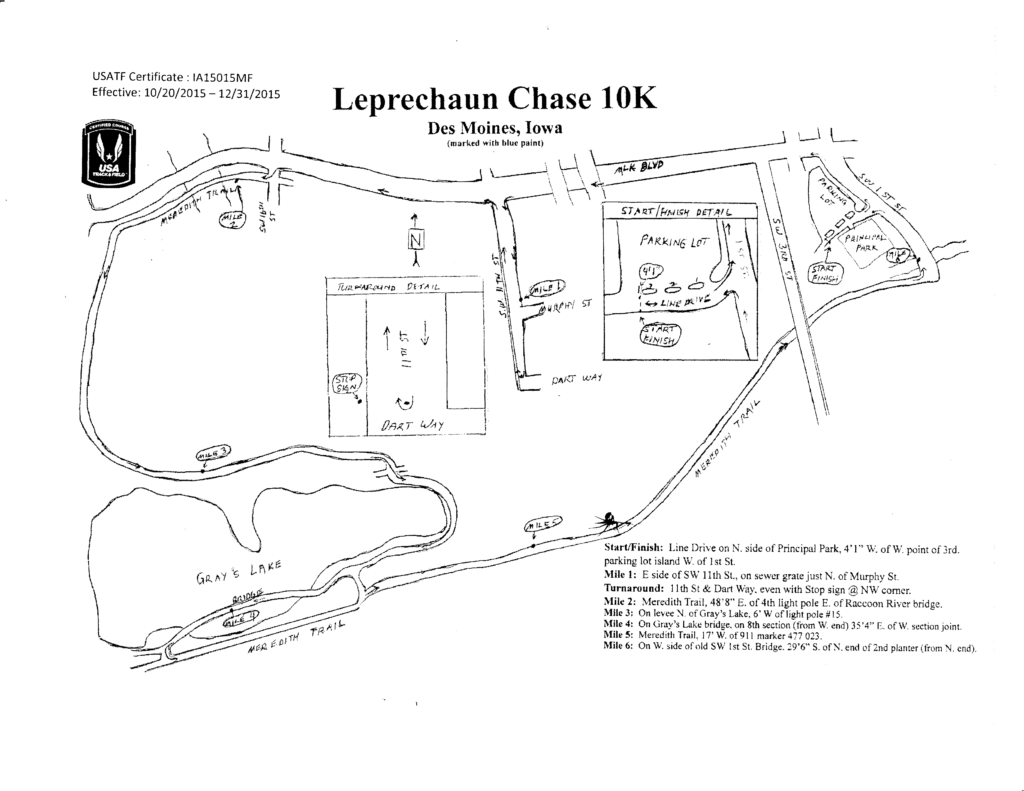 The Des Moines LC10K.   USATF Certified (IA15015MF) first couple of miles on the roads of SW 11th and MLK, the rest on the trail surrounding Gray's Lake and back.  Interesting that the Omaha LC10K was not USATF Certified or Sanctioned.**update- I've been informed the LC10K Omaha is indeed certified through 2023 though it is not currently listed on the USATF website, http://www.usatf.org/events/courses/search/