First things first.  Looking forward to seeing everyone tomorrow at noon at the Zorinsky boat ramps for the 4th annual Jingle Bell Run.   Our fundraiser for the Open Door Mission is especially close to my heart.    $5 and a new or gently used donation of gloves, hats, blankets, jackets, etc.  And please do go ahead and mark your calendar for January 1st at 10:00 a.m., same Zorinsky boat ramps,  for the Hair of the Dog Run.  Also the 4th annual and our fundraiser for the Food Bank of the Heartland.  $5 and non perishable food item donation.

Watershed week.  The last seven days has seen my return to  Real training.  Two long runs, a workout, and a race on Saturday.  I can put as much lipstick on that pig as I want but my 49:00 10K was ugly.   And painful.  Dry retching at the finish painful.  And filled with elation that I was able to get myself to that point.  Realizing at 3 miles that I needed to push much closer to redline effort in order to achieve the benefit I sought.  Getting there and then holding.  Onset of queasiness letting me know that I'd hit that sweet spot of suffering I would hold for the next 25 minutes.  Fabricating phantom footsteps to keep my focus razor sharp.  Not a single runner either, rather a fast duo on my heels.  Me pulling, them pushing, then a quick glance at the final turn, hoping for mortal instead of etheral, just my imagination.  Running away with me.
The race turned out to be a debut of sorts for the NRGE men's team.  Jerrod Anzalone (aka moxie) had set his sights on 35 flat, 36:00 took the win for him, good effort considering the 15 degree temps.  Kyle Clouston had to make up ground on Mike Wasson and Walter Key after the turnaround.  And he did, Walter would catch Mike giving NRGE a 1-2-3 sweep in the low key, non certified event.
Make that 4.  I was introduced to Mike post race and as it turns out we share some Very Good Friends (Roger Soler, Raindy Reina) down in Texas.  After discussing competitive philosophies and shared backgrounds it was an instant match.  And with that we welcome Mike as our newest mate.  Mike is 48 years old and his resume guarantees some exciting masters races this coming year.  I'm very impressed by his 2:39 marathon at age 46.  And his range is remarkable.
– High school cross country champion
– Still hold my high school records for 1600m/3200m
– 3 time Sunshine State Conference champion while running at Univ of Tampa
– Member of Air Force XC team since 1999
– Member of Air Force Marathon team several times from 2001-2012
– A few PRs
— 5K: 14:56
— 10K: 31:25
— 21K: 69:09
— 42K: 2:39:09 (at age 46)
— 50m: 7:06
"I still race any distance from 5K to 50M, but especially love cross country and trail running.  For 2014, I'm currently training for USATF Winter XC Nationals in Boulder on Feb 15 and will run the Ice Age 50m in Wisconsin in May"
Described as " by far the most fit senior officer in the United States Air Force", Mike is a Colonel with expertise in space operations.  A Real High Flyer, "Deputy Director of the Joint Space Operations Center which provides Space Situational Awareness and command and control for 60 joint space units to deliver global and theater space effects to users worldwide."  Crazy stuff man!
Excellence. Excellent!  Welcome to Nebraska Run Guru Elite Mike!!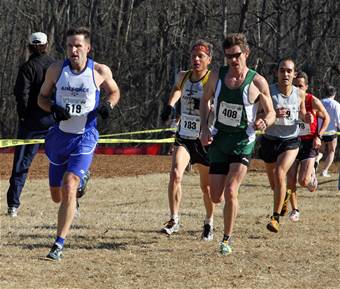 That's Mike in the blue at the USA Cross Country Open National Championships.  More information on Mike in this interview:  http://naturalrunningcenter.com/2012/09/23/flying-high-46/