The Des Moines Marathon/Half/5Mile/5K had a combined total entries of 6157.   The first 5 fellas in the full were Kenyan.  Kibet, Rotich, Cheptoo, Kosgei, and Pyatich.  The first 3 under 2:22.
The half had a more decidedly American feel.  Brogan Austin for the win 1:06:20, Austin O'Brien 2nd in 1:08:33, Eric Noel (LRC Racing) 3rd in 1:08:38, Tyson Wieland 4th in 1:09:50, and LRC Racing's Johnny Rutford 5th in 1:10:15.  The women's  race had most all my interest though.  Emma Bates ran a sterling 1:15:10 for the "W" followed by Kazakstani runner Yelena Nanaziashvili in 1:20:34.  Mary Hillis (LRC Racing) next in 1:21:03.  The battle for 4th though, that is what I'm talking about!  Nicole Norris.  She and Jennifer Vandevegte both credited with 1:25:45.  Nicole's half marathon personal best at the start of the year a respectable 1:33.  Lowered it at Lincoln to 1:29:40, another 4 minutes chopped off yesterday.
Proud that she is our mate.  Proud to be her coach.  No philosophical differences.
The Nebraska Marathon/half/5K  were also  yesterday. No  results posted  yet.  Just like the 80s
I do know that Abby Schlater made her Run Guru Elite debut by finishing 2nd o/a woman in the 5K.  And I know Justin Mollak ran 2:46:18 but don't know where that placed him.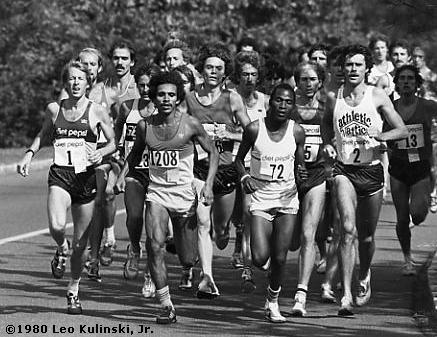 Back in 1980 we would run a race and then wait up to a month for the "Official" results to be sent via snail mail.  Now I'm too spoiled,  expecting race results posted the same day as the race.