An update for the curious.
Linda, Desi, and I have hit the three week mark with the rpod as our home.  It has been every bit the expected adventure.  We've explored new running routes, incorporated walking and biking sessions, strict adherence to consistency the primary denominator.  Hills and  more hills, some gargantuan.   Occasional two a days, easy sessions intended towards capillarization.
The question comes up "What are you doing these days?"  Our pat answer is "getting fit."  I haven't felt this good in over a decade.
We've explored Branched Oak Lake north of Lincoln.  We've trespassed for views of pristine Johnson Reservoir.  We've taken every minimum maintenance road encountered.  On foot, on wheels, moving at a vagabond's pace.
We're plugged in at the 2 Lazy 2 Ranch in Yutan.  15 amps trickling in enough juice for refrigerator and television.  We need 30 to run the air conditioning, a luxury we'll appreciate when provided.  We awoke last night to a downburst, 65 mph winds rocking our little trailer, visions of Dorothy and Toto running through my mind as I threw my body over Linda's.
I am still filled with excitement and wonder over our future.  Not completely sure what we'll be doing once the Big Chill arrives.  Do we go south?  Do we winterize and hunker down?
We'll map out some plans after this weekend's Twin Rivers YMCA runs.  We have our biggest ever field signed up, build it and they will come.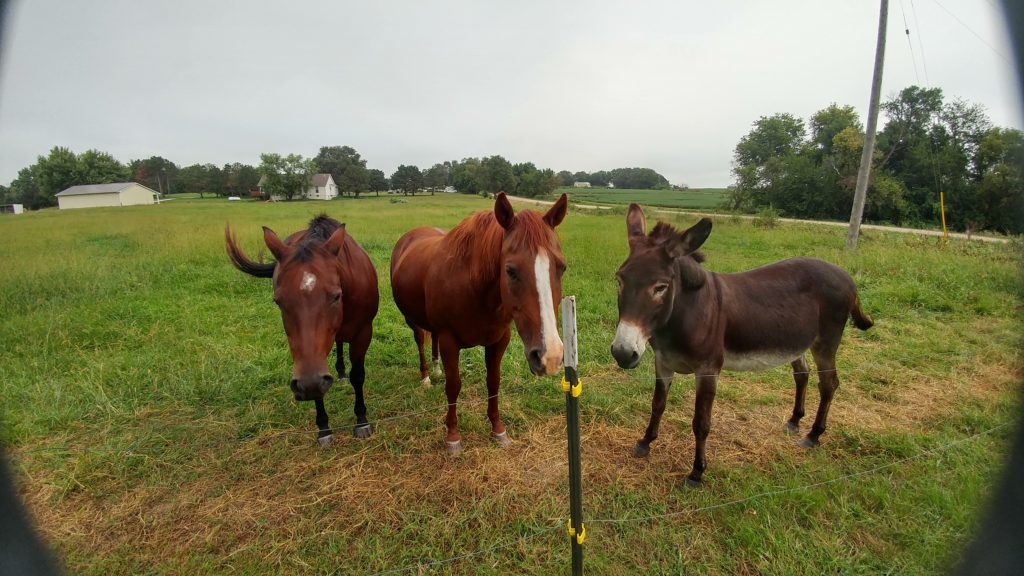 These three greet our daily excursions.  Sorry the Ass on the right, his brays joining the cock's crow to greet each day.  Country living at its best.