USA 1 MILE ROAD CHAMPIONSHIPS RECAP
Quite the whirlwind in Des Moines but glad to be back at the home office.  A couple of big surprise winners, that's why they run these races!  Garret Heath (4:02.79) and Kate Grace (4:43.02) shocked just about everyone.  For Real fans please read the official USATF press release here: http://www.usatf.org/News/Grace,-Heath-take-home-USA-1-Mile-Road-Championshi.aspx
And if you'd like to see the quick videos of the race, thanks to our friends at RunnerSpace for having a camera and shooting from the lead vehicle:  http://runnerspace.com/
It was great to see Alice Schmidt, what a class act.  At 31 years old, mentoring and still mixing it up.  And fellow Nebraskan Ashley Miller too.
Over 4500 participants in the "Iowa Kids Strong", "Recreational" and "Competitive Race".  Nebraskan Craig Christians took his 50-54 age group in the "Competitive Race" in 5:11.  Nice run Craig.
But it was the National Championships that was the Real luster amongst the bluster.  Cold temps and high winds didn't dampen the efforts of the invited field as both event records fell.  Nice work by RD Chris Veriengia on crafting an outstanding group.  The Grand Blue Mile will host the USA Championships again in 2014.
Having lunch with the athletes yesterday the conversation turned to Leo Manzano 'moving up' in distance.  He was fairly certain that an increase was not in his foreseeable future.  I thought at first he was thinking 10K, half marathon, etc.  But it was 5K.  Too many miles he said.  When I told him I've run 80,000+ miles in my career his jaw dropped.  These middle distance cats are a quick breed with no desire to suffer for long periods of time.  His Silver Medal in the London Olympic 1500 entitles him to whatever opinions he may wish.
Please excuse the blurry photos.  Taken with my cell, maybe someday I'll buy a Real camera.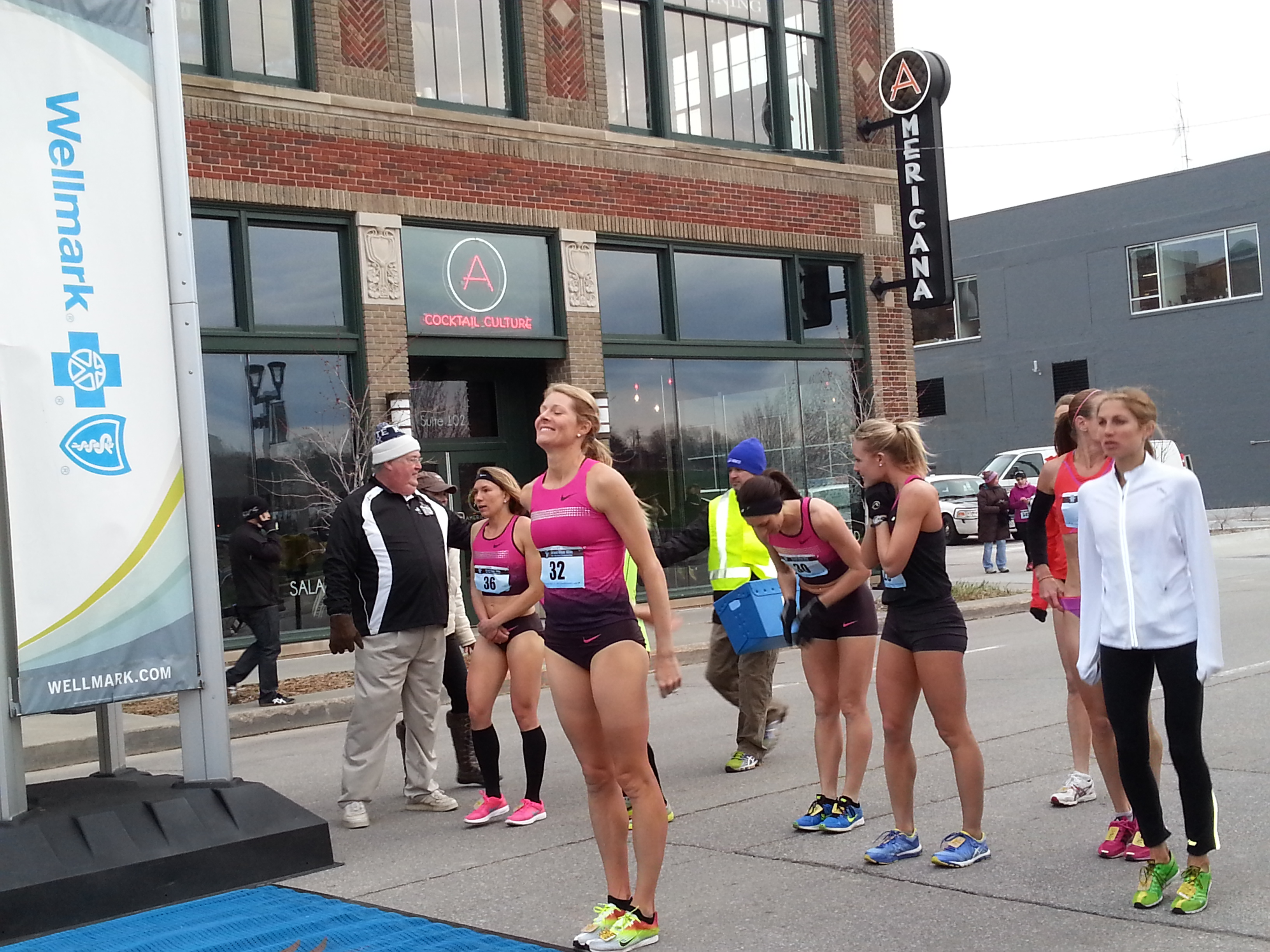 Alice Schmidt during the chilly pre race introductions.  38 degrees and a 17 mph headwind for the first half of the race.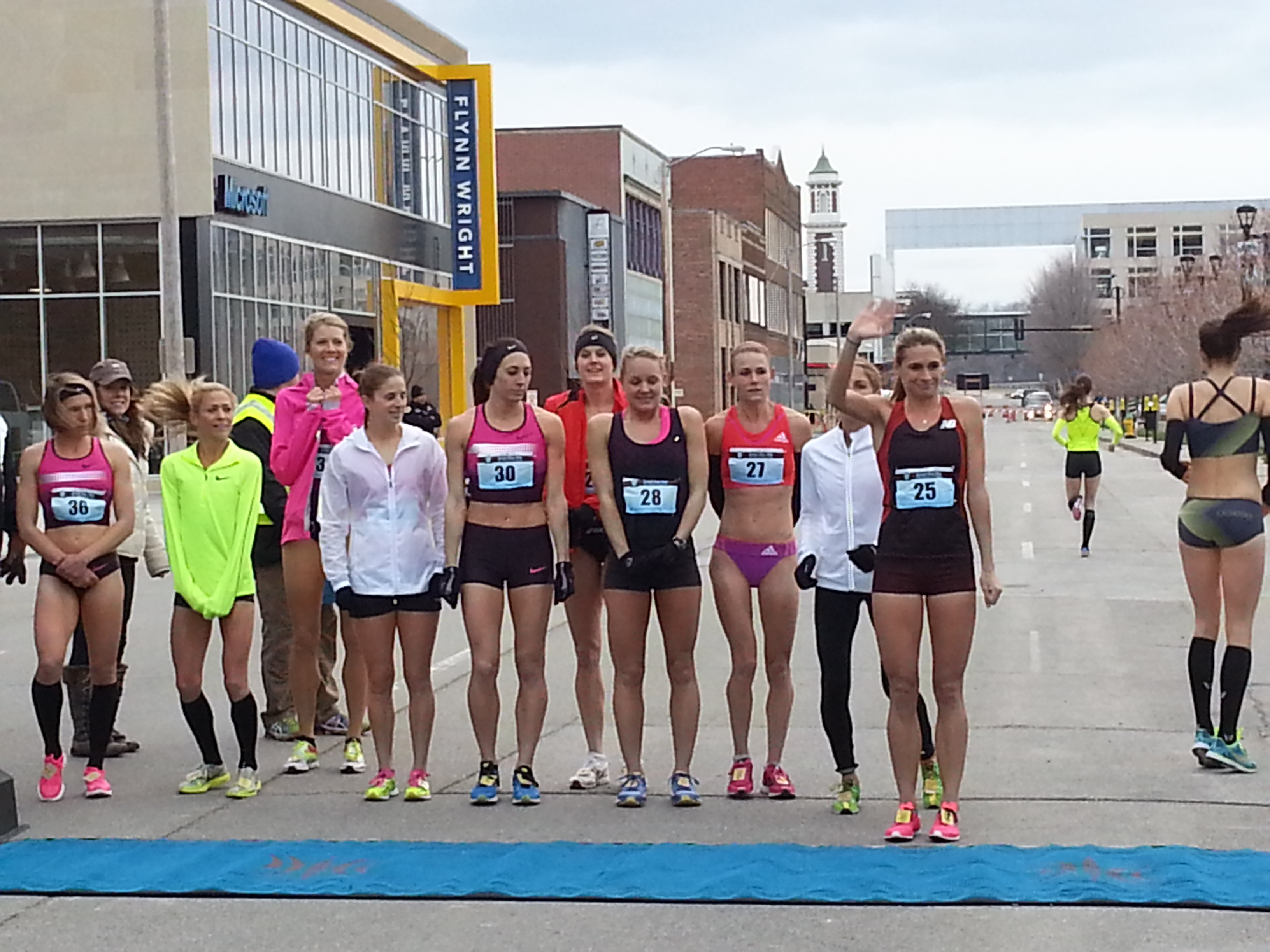 The ladies were cold but would soon heat up.  Eventual winner Kate Grace on the right facing rearward, would out kick last year's winner Sara Hall for the upset.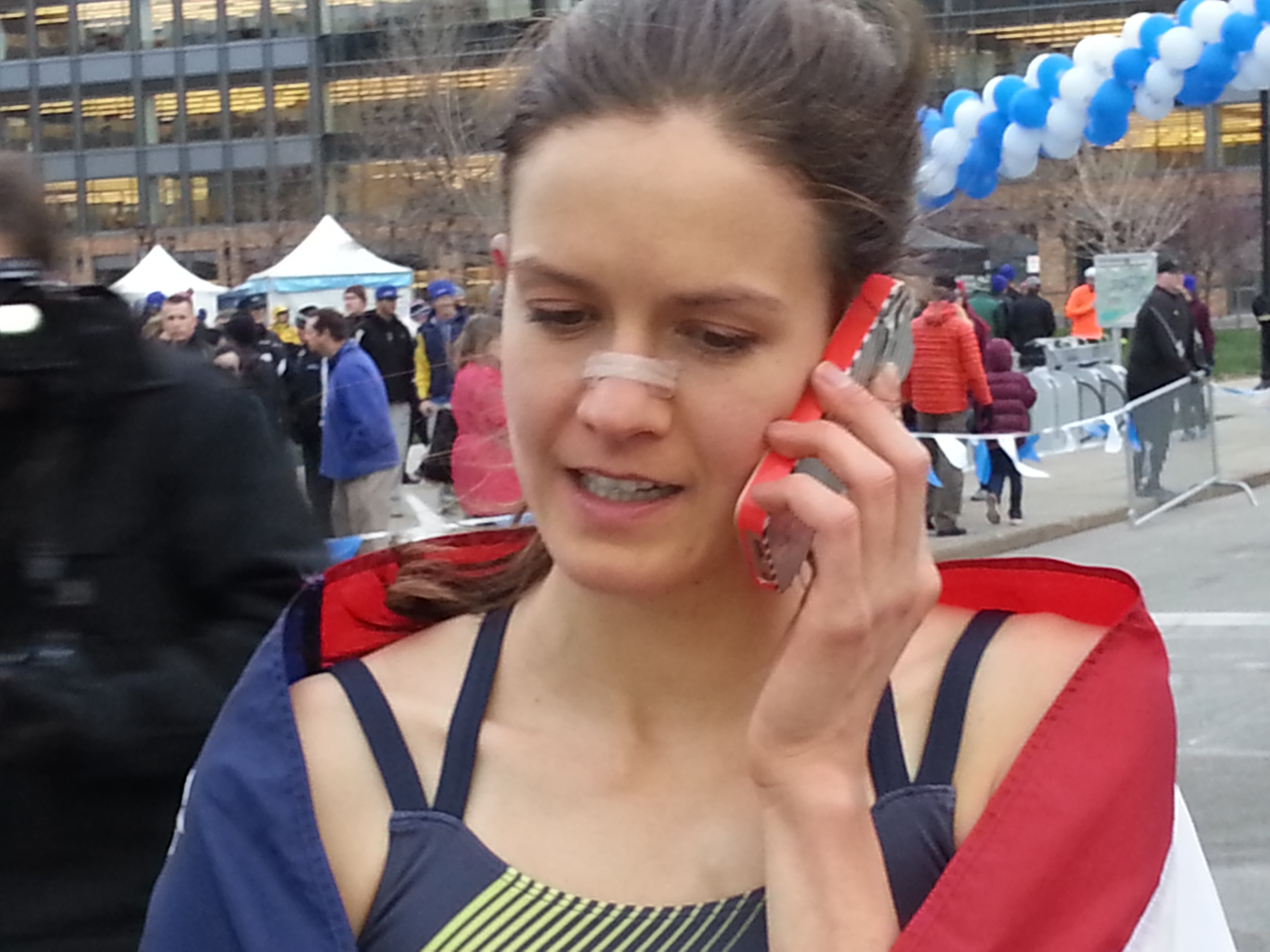 And the darling of the media just a short time later.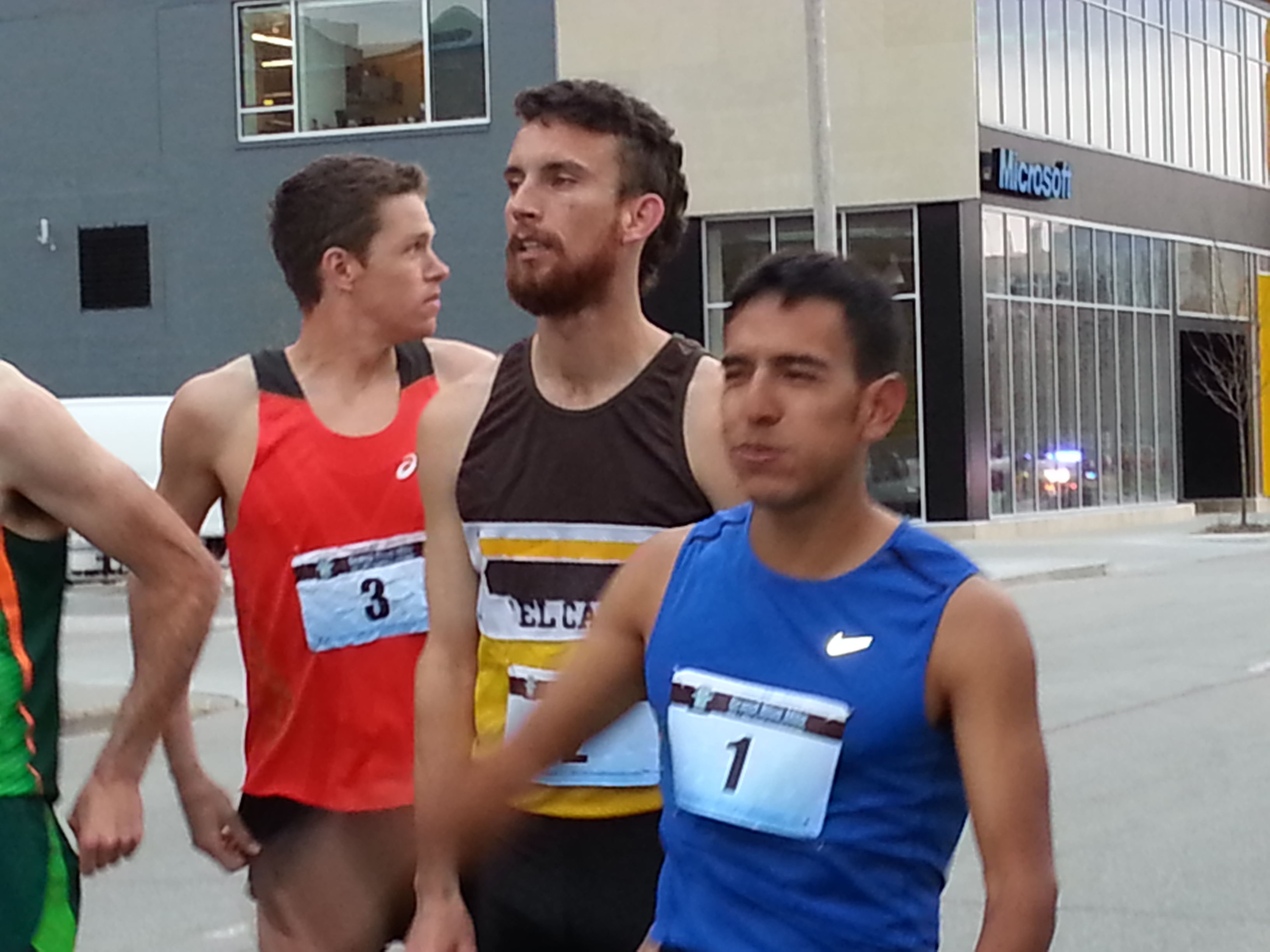 Leo Manzano had the #1 bib and took it out hard but would finish 3rd in 4:04.  A.J. Acosta next to Leo, with "El Camino" on his kit, was one of the most interesting and entertaining characters in the race.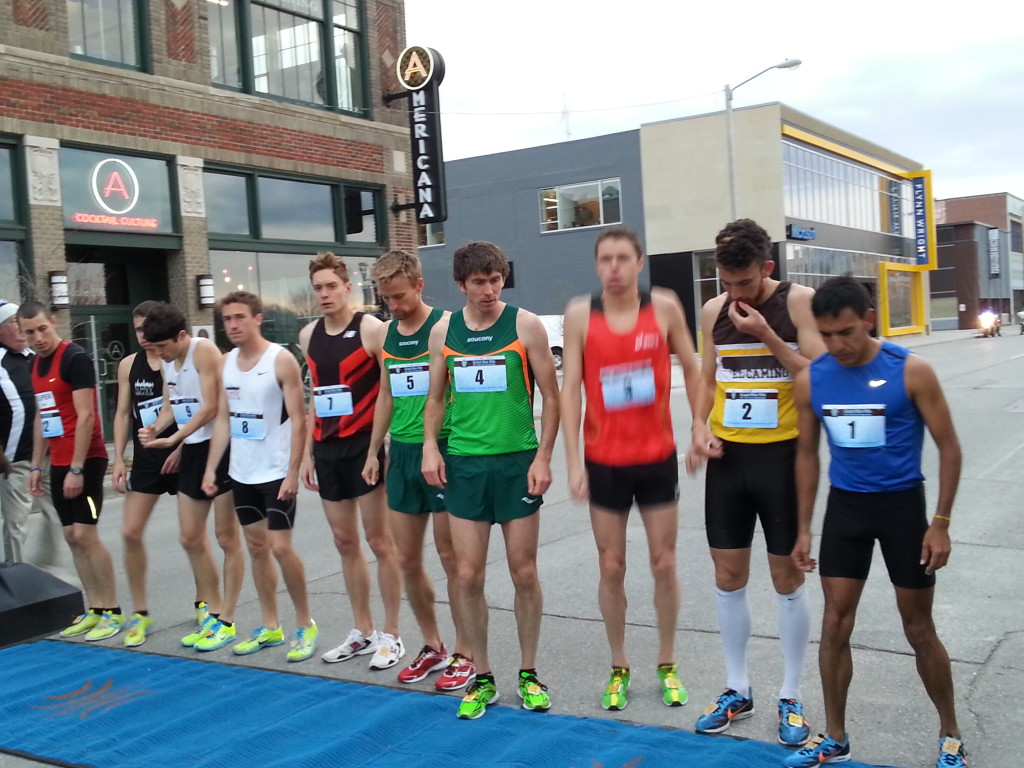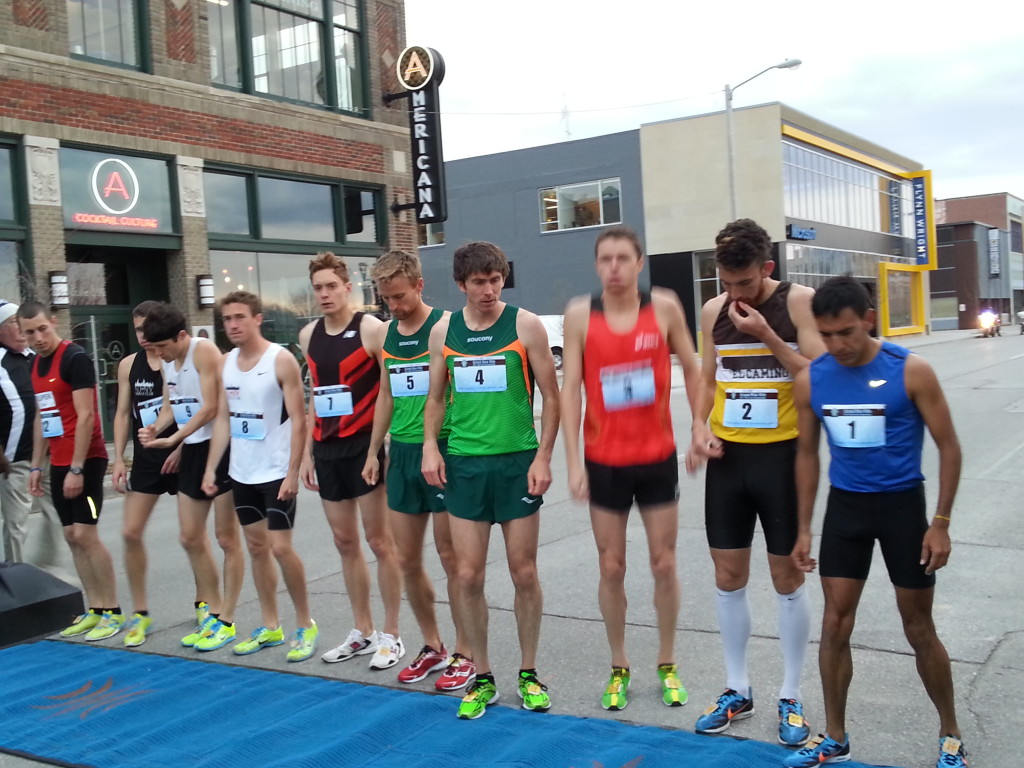 Garret Heath, #4,  would shock the field and those of us that were handicapping the race.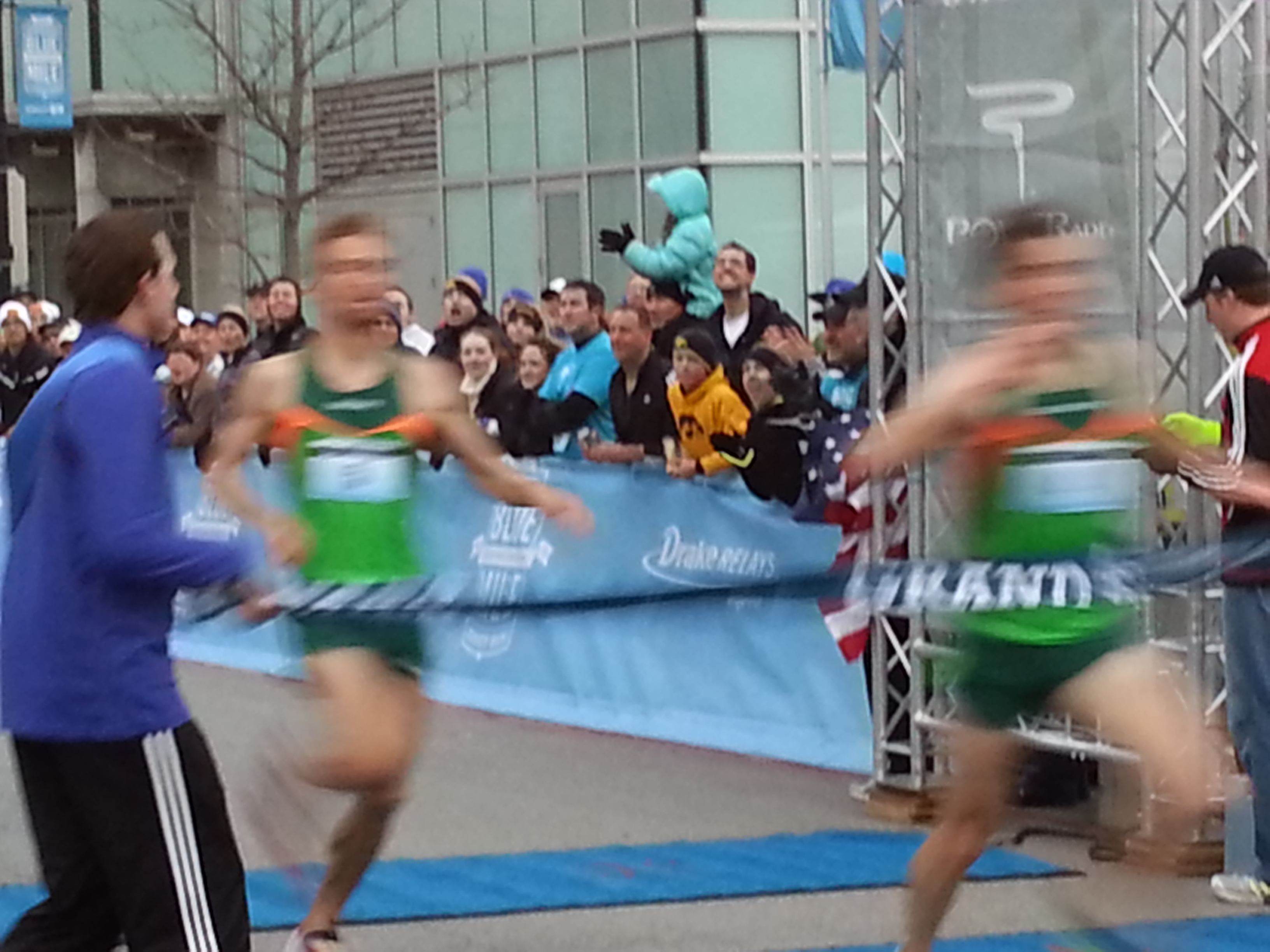 Garret Heath and his teammate Jeff See went 1-2 so quickly it was a blur.  You've got to love road miles!
He too was a happy champ.  Both Garret and Kate earned $5000 for their wins, and an additional $2500 for setting event records.
And a sad reminder of how road racing has changed forever.